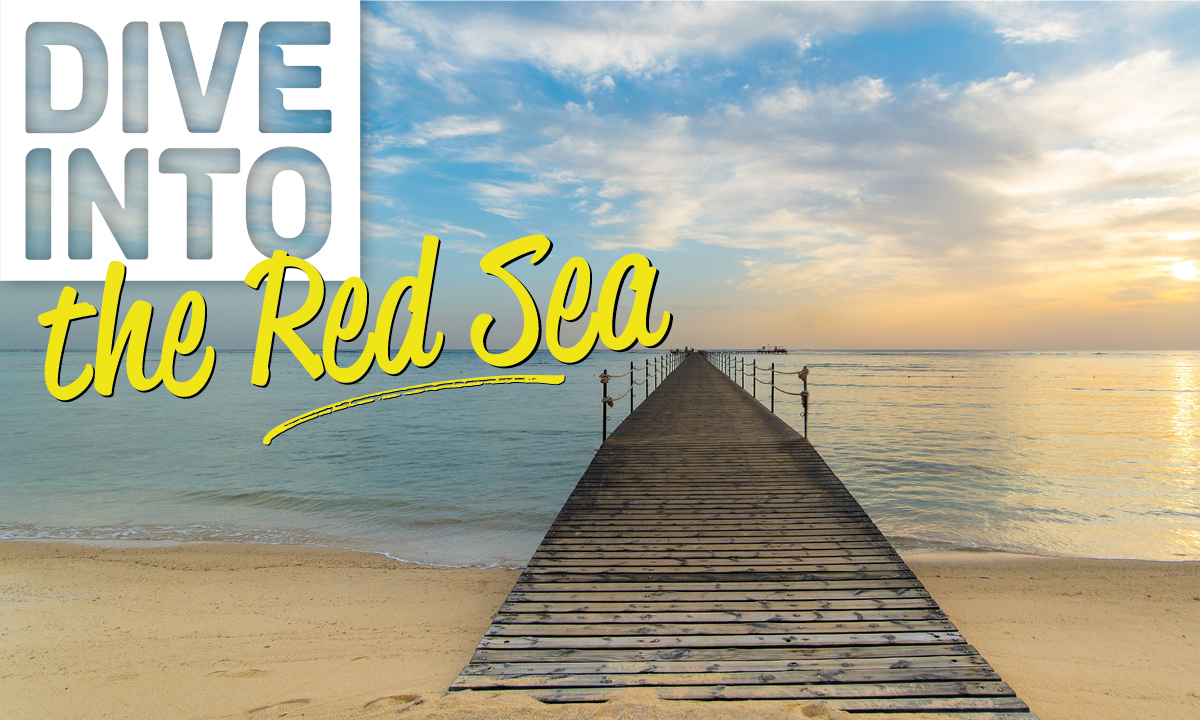 The Red Sea is a constant in the top spot on the list of most diver's favourite destinations. Consistent warm, clear waters year-round, a fantastic range of dive sites, and superb corals and marine life make Egypt one of the most popular dive destinations worldwide… But the Red Sea also offers plenty of other tempting dive spots: Jordan, Sudan, Djibouti and Saudi Arabia to name a few, just waiting to be discovered by you.
Read on for some of our highly recommended dive destinations and enjoy your next dive travel adventure taking in the underwater magic of the Red Sea…
---
Aqaba Adventure Divers – Aqaba, Jordan
Tel: +962 7 9907 8450
Email: info@aqaba-diving.com
Web: www. aqaba-diving.com

Our Resort has something for everyone! Whether you're an experienced diver, a beginner looking for adventure or just in need of some relaxation, bring the whole family and enjoy the fun and friendly atmosphere.
Aqaba Adventure Divers rests on a quiet hillside and provides a magnificent view over Egypt, Israel, Jordan and Saudi Arabia surrounding the Red Sea, Spend the morning exploring one of the many beautiful sites of the Aqaba marine park guided by a member of our experienced dive team.
In the afternoon, after enjoying some lunch, take some time out and relax around the pool, or challenge our team to a game of pool. Then as the evening draws in, order a coffee or Hubble bubble (water pipe) while watching the breathtaking views of the Red Sea sunset. Don't want to go home? No problem, stay the night in one of our 15 poolside rooms where you can get a good night's sleep before starting it all again tomorrow!
There are many things that make Aqaba the best place to go diving in the Red Sea. The diving along the shores of Aqaba, South Beach, is as good as you can find it anywhere in the Red Sea; there are extensive efforts into coral preservation and restriction on fishing which helps to assure that divers will meet lots of fish, crustaceans, octopus, turtles and everything you wish to see. The local dive centers are very active in clean up dives and often the guests participate, this shows the involvement of both the local dive industry and the guests.
Facebook: @aqabaadventuredivers | Instagram: @aqaba_adventure_divers
---
Saeed Rashid: Wrecks of Aqaba at the NUPG meeting (Watch Video)
This Northern Underwater Photography Group (NUPG) meeting saw another top-notch guest speaker take to the virtual stage. Saeed Rashid joined the group to talk about diving in Aqaba and in particular the wreck photography opportunities this unique destination offers…
---
Roots Red Sea – El Quseir, Red Sea, Egypt
Tel: +20 106 554 0900
Email: info@rootsredsea.com
Web: www.rootsredsea.com
Roots Red Sea is a small friendly resort aimed at scuba divers, snorkelers and those who want a quiet, peaceful, relaxed atmosphere. Roots Red Sea is managed by British owned and run Pharaoh Dive Club who have an unsurpassed reputation for friendly helpful staff delivering great personal service.
Owners Steve and Clare have vast experience of the Red Sea having been working in the region for over 30 years. Their simple mantra is to deliver the holiday the guest wants and treat everyone the way they would like to be treated themselves; it is certainly a winning formula. There is a distinct no problem attitude and nothing is too much trouble for the team.
El Quseir has the reputation of providing the very best shore based diving in the Egyptian Red Sea. Diving all around El Quseir is extremely varied with a myriad of pristine coral gardens, challenging wall dives, offshore ergs, sea grass meadows and extensive cavern systems.
Whether its Learn to Dive in the Red Sea, shore diving, boat diving, camel safari diving, cavern diving, technical diving, rebreather diving, wreck diving safaris, unlimited house reef diving, or any other diving activity in the Red Sea, look no further. Pharaoh Dive Club at Roots Red Sea is the ideal location
There is something for every diver with options for shore diving, zodiac diving or hard boat diving. Further afield there are even opportunities to take excursions to visit world renowned sites such as Elphinstone and the Salem Express.
Special Offer
Roots Red Sea is offering Scubaverse readers a special bonus when they book a package for travel any time in 2022. Simply quote ref 'DAVE SAID' to receive a 50% discount on any course taken during your stay at Roots.
Facebook: @RootsRedSea
---
The Scuba Place (and MV Big Blue) – Hurghada, Egypt
Tel: +44 (0)20 3515 9955
Email: reservations@thescubaplace.co.uk
Web: www.thescubaplace.co.uk
Big Blue is the brand new, standard-setting Red Sea Safari vessel sailing in and out of Hurghada and Port Ghalib on Southern itineraries. Huge cabins, huge dive decks, huge dive platform and of course, a real focus on delivering the very best diving. British owned and operated means excellent standards, particularly when it comes to safety, food and service.
Nitrox is included for all charters, and Big Blue can cater for recreational, technical and rebreather divers.
A maximum of 24 passengers means there is space in abundance – even for sidemount, twin-set and CCR divers.
Itineraries include the favorites such as Northern Wrecks and Reefs, Brothers and the North, Brothers, Daedalus and Elphinstone and the Deep South, and then there is the exclusive 3 Wars Wreck Safari, diving 17 wrecks in one week, and venturing up into the Northern Suez. Bolt on Ras Mohammed and Tiran too on our Northern Safaris – they really pack a punch! Custom built itineraries are standard for full charters too – you tell us where you want to go, and we deliver!
FREE NITROX on all full charters comes as standard!
Facebook: @thescubaplace | Instagram: @the.scuba.place
---
Scuba Diving & Marine Life: Hawksbill Turtle, Red Sea (Watch Video)
Scubaverse Underwater Videographer and Editor-at-Large Jeff Goodman takes us on a tour of some of his favourite marine life in this video series…
Watch more Red Sea marine life videos HERE
---
Emperor Divers – Port Ghalib, Marsa Alam, Egypt
Tel: +20 (0) 122 737 2126
Email: info@emperordivers.com
Web: www.emperordivers.com
Emperor Divers offers the best and most convenient location for diving in Marsa Alam.
Located directly on the Port Ghalib marina jetty, we provide the finest service in the Marsa Alam area with a range of trips from shallow wrecks and bays to world-class Elphinstone.
Our fleet of day boats are moored right on the marina and we provide complimentary transfers from a number of hotels in the area. So, because of our perfect location, you can enjoy easy diving from your first day in a venue which is great for both learners and experienced divers.
Emperor's standard boat diving includes two dives per day with guide, tanks and weights, and the sites we will take you to offer excellent corals, great visibility and a chance to see sharks, dugong, turtles and dolphins.
Marsa Alam is one of three Red Sea destinations we offer, with dive sites and a fleet of boats also based in Sharm el Sheikh.
We regularly update our website with special offers so visit www.emperordivers.com to see what is available or sign up for our newsletter to get exclusive deals. You can also call us on +44 (0) 161 504 2822 where you will be given the personal touch to help you plan and book your perfect Emperor Divers holiday.
Facebook: @emperordiversofficial | Instagram: @emperordivers_
---
Camel Dive Club & Hotel – Sharm El Sheikh, Egypt
Tel: +20 69 3600700
Email: info@cameldive.com
Web: www.cameldive.com
The One Stop base for your perfect diving holiday in the Red Sea.
Camel Dive Club & Hotel in Sharm El Sheikh is a PADI five-star Instructor Development Dive Resort located in the heart of Na'ama Bay, just five minutes' walk from the jetty from where dive trips depart.
Spend your days diving, snorkeling with our team of PADI professionals, and relaxing on our custom-built dive boats. Return to dine in our Italian inspired restaurant, enjoy our evening divers' gatherings, and watch the stars from our rooftop bar. Retire in the comfort of our boutique hotel, wake refreshed and ready to do it all again.
We run daily boat trips to Tiran, Ras Mohammed, wreck excursions like Thistlegorm, Dunraven and Million Hope, as well as night dives and shore dives from the house reef. We offer a complete range of PADI diving lessons.
Here we have everything under one roof for your perfect Red Sea diving holiday.
Dive & Stay Special Offer
Dive back into the holiday scene!
Offer includes:
7 nights at Camel Hotel, including breakfasts
5 days guided diving (two boat dives a day, tanks and weights)
Free nitrox (two 12lt tanks per day, 32%)
Airport transfers
556 Euro per person sharing a double room.
764 Euro in a single room.
Valid for bookings until 30 June 2022. Limited availability. Contact us at info@cameldive.com mentioning the promo code 'SCUBAV22' to get a special price.
Facebook: @cameldive.sharm | Instagram: @camel_dive_club
---
Top Five Snorkeling Sites in Sharm El Sheikh

One of the best things about Sharm el Sheikh is that not only is it a short flight from Europe and the UK, it also boasts some of the best marine life in the world combined with 30 metre plus visibility. Sharm is already well known for top-class diving and year-round sunshine but there is also a plethora of sites that are ideal for snorkeling…
---
Al-Haddad Scuba – Jeddah, Saudi Arabia
Tel: +966 56 020 7606
Email: reservations@haddadscuba.com
Web: www.haddadscuba.com
Al-Haddad Scuba is the leading scuba diving company in the Kingdom of Saudi Arabia and offers the ultimate experience for all levels of diver. We are an SSI Instructor training center and offer a wide range of courses from Open Water to Instructor level, including specialties such as Deep, Wreck, Boat, Shark, Night, and many more.
We offer a professional and safe experience for all our divers. Our facility and its staff have trained and guided more than 5,000 divers in the past 11 years and your enjoyment and safety while you are with us are our top priority.
We are the only boat trip provider offering daily trips in Jeddah, where you can discover amazing dive sites such as Coral Garden, Sea Pools (AKA Jeddah Maldives), Nemo Garden, Giant Garden, and multiple wrecks. We also offer shore diving day or night, and dive trips to Rabigh, a small town nearby with beautiful untouched reefs and amazing corals that are teeming with marine life. And with other activities such as snorkeling, water skiing and sightseeing, you will always get the best experience with Al-Haddad Scuba.
Special Offer
Scubaverse exclusive boat trip is 370 SAR (99 USD) instead of 440 SAR (117 USD).
Facebook: @haddadscuba | Instagram: @haddad_scuba
---
Calling all ocean torchbearers in Hurghada, Egypt!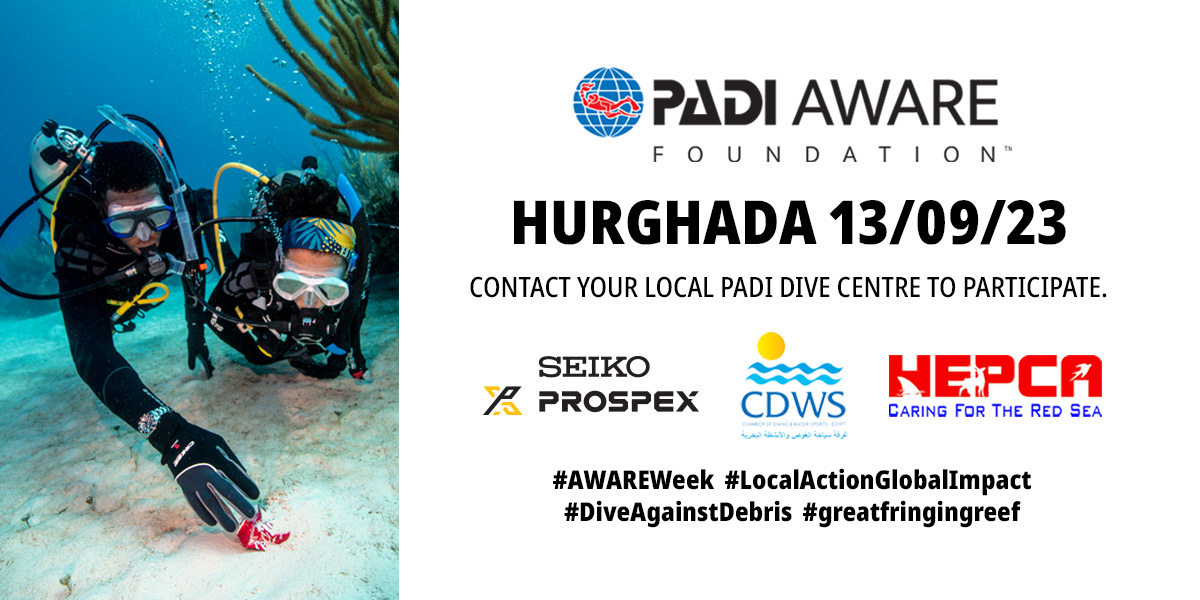 As part of PADI AWARE Week, we are thrilled to announce an exciting collaboration between PADI, PADI AWARE, Seiko, HEPCA, and CDWS. Join them for an extraordinary underwater clean-up event at Magawish Island, Hurghada, on the 13th September 2023.
Guided by local PADI dive centers and marine experts from HEPCA, you can participate in a Dive Against Debris and make a tangible difference in saving our ocean.
Imagine diving into the crystal-clear waters of the Red Sea, surrounded by vibrant marine life, while actively contributing to its preservation. Plus, you'll have the opportunity to connect with your local dive community and experience the wonders of this remarkable ecosystem.
Participants can also enjoy some fantastic giveaways, including hats, T-shirts, metal water bottles, and more.
Key Information
Date: 13th September 2023
Time: 10am
Location: Magawish Island, Hurghada
Requirements: Participants must be PADI Open Water certified
To secure your spot simply sign up here or contact a participating local PADI Dive Center in Hurghada.
Participating PADI Dive Centers at time of writing:
Emperor Divers welcome divers to Seven Seas with 20% off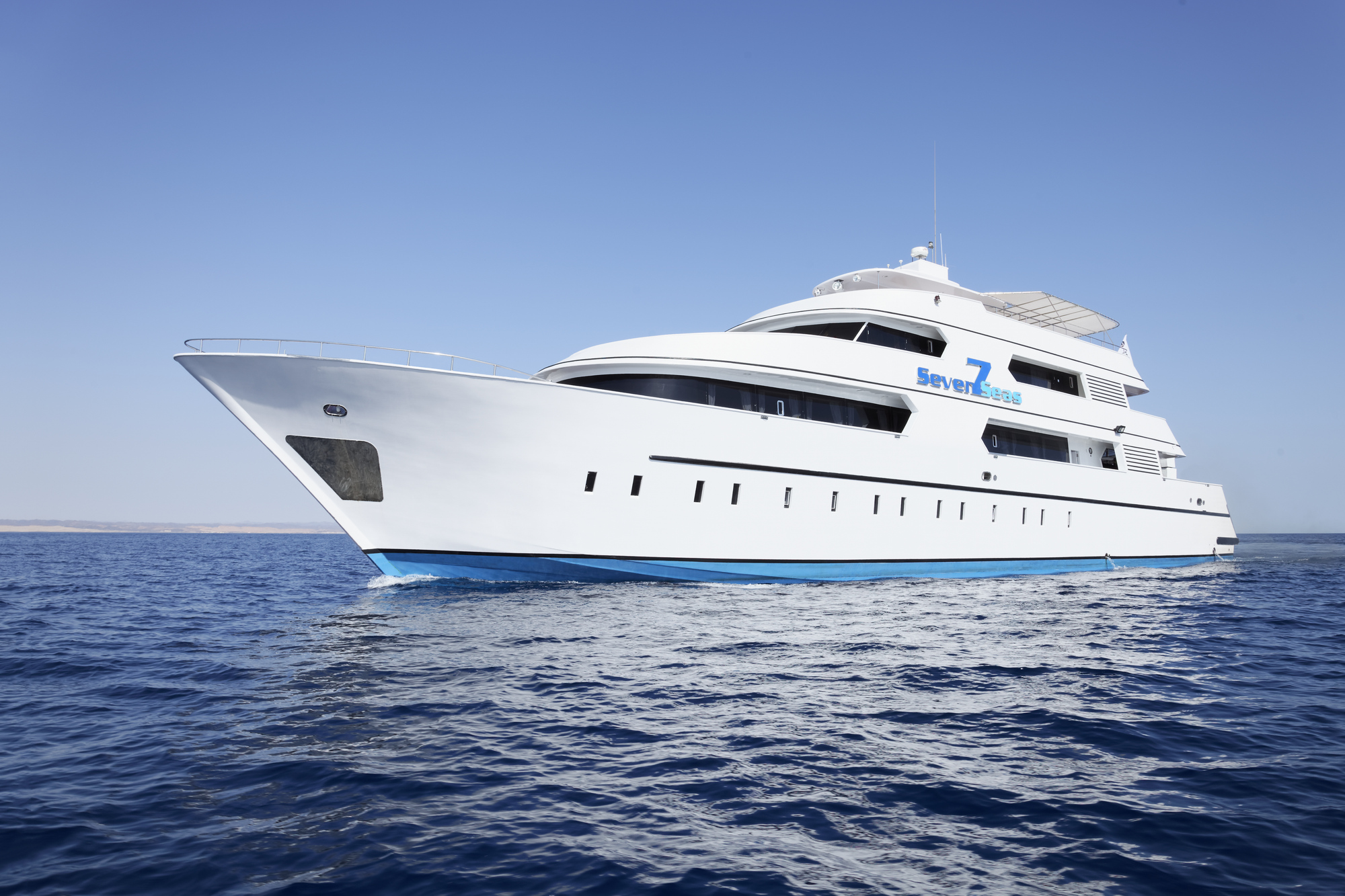 The much-loved Red Sea liveaboard Seven Seas has become a full member of the Emperor Divers fleet.
Having worked in collaboration with the Seven Seas team in recent months, Emperor have now integrated her into their fleet to make her their flagship vessel in the region.
Seven Seas has won the "Best Liveaboard in the Red Sea" award on five occasions which speaks volumes for the quality of trip she offers. She is a true icon of liveaboard holidays in this region providing a great diving experience from truly elegant surroundings.
At 41 metres long with 12 spacious cabins – each with marble clad en-suite and separate shower room – there is plenty of room to relax, while the five-star service on board includes sensational food and wonderful facilities. She is perfect for diving as the large deck has spacious and powerful zodiac tenders with ladders.
The view from the barbecue lounge – where freshly-grilled food is produced – on the upper deck is amazing while there is also a large dining room, welcoming bar and beautiful sundeck.
Bringing such a fantastic boat into the team is a real cause for celebration at Emperor who will now do everything they can to continue providing the high-quality diving holidays for which Seven Seas is renowned.
SPECIAL WELCOME OFFER – GET 20% OFF!
Anyone booking a 2023 sailing on Seven Seas will receive 20% off the cost of their trip. That's a massive saving and a great way to welcome Seven Seas to the Emperor family.
For more, visit www.emperordivers.com