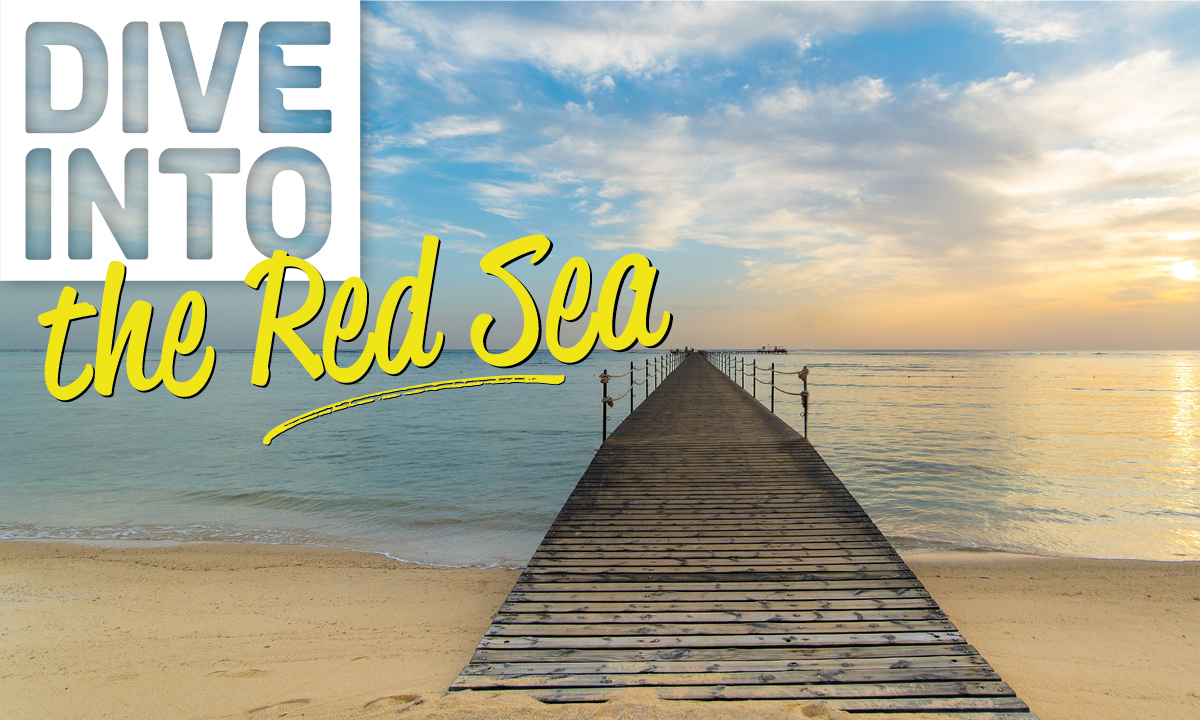 The Red Sea is a constant in the top spot on the list of most diver's favourite destinations. Consistent warm, clear waters year-round, a fantastic range of dive sites, and superb corals and marine life make Egypt one of the most popular dive destinations worldwide… But the Red Sea also offers plenty of other tempting dive spots: Jordan, Sudan, Djibouti and Saudi Arabia to name a few, just waiting to be discovered by you.
Read on for some of our highly recommended dive destinations and enjoy your next dive travel adventure taking in the underwater magic of the Red Sea…
---
Aqaba Adventure Divers – Aqaba, Jordan
Tel: +962 7 9907 8450
Email: info@aqaba-diving.com
Web: www. aqaba-diving.com

Our Resort has something for everyone! Whether you're an experienced diver, a beginner looking for adventure or just in need of some relaxation, bring the whole family and enjoy the fun and friendly atmosphere.
Aqaba Adventure Divers rests on a quiet hillside and provides a magnificent view over Egypt, Israel, Jordan and Saudi Arabia surrounding the Red Sea, Spend the morning exploring one of the many beautiful sites of the Aqaba marine park guided by a member of our experienced dive team.
In the afternoon, after enjoying some lunch, take some time out and relax around the pool, or challenge our team to a game of pool. Then as the evening draws in, order a coffee or Hubble bubble (water pipe) while watching the breathtaking views of the Red Sea sunset. Don't want to go home? No problem, stay the night in one of our 15 poolside rooms where you can get a good night's sleep before starting it all again tomorrow!
There are many things that make Aqaba the best place to go diving in the Red Sea. The diving along the shores of Aqaba, South Beach, is as good as you can find it anywhere in the Red Sea; there are extensive efforts into coral preservation and restriction on fishing which helps to assure that divers will meet lots of fish, crustaceans, octopus, turtles and everything you wish to see. The local dive centers are very active in clean up dives and often the guests participate, this shows the involvement of both the local dive industry and the guests.
Facebook: @aqabaadventuredivers | Instagram: @aqaba_adventure_divers
---
Saeed Rashid: Wrecks of Aqaba at the NUPG meeting (Watch Video)
This Northern Underwater Photography Group (NUPG) meeting saw another top-notch guest speaker take to the virtual stage. Saeed Rashid joined the group to talk about diving in Aqaba and in particular the wreck photography opportunities this unique destination offers…
---
Roots Red Sea – El Quseir, Red Sea, Egypt
Tel: +20 106 554 0900
Email: info@rootsredsea.com
Web: www.rootsredsea.com
Roots Red Sea is a small friendly resort aimed at scuba divers, snorkelers and those who want a quiet, peaceful, relaxed atmosphere. Roots Red Sea is managed by British owned and run Pharaoh Dive Club who have an unsurpassed reputation for friendly helpful staff delivering great personal service.
Owners Steve and Clare have vast experience of the Red Sea having been working in the region for over 30 years. Their simple mantra is to deliver the holiday the guest wants and treat everyone the way they would like to be treated themselves; it is certainly a winning formula. There is a distinct no problem attitude and nothing is too much trouble for the team.
El Quseir has the reputation of providing the very best shore based diving in the Egyptian Red Sea. Diving all around El Quseir is extremely varied with a myriad of pristine coral gardens, challenging wall dives, offshore ergs, sea grass meadows and extensive cavern systems.
Whether its Learn to Dive in the Red Sea, shore diving, boat diving, camel safari diving, cavern diving, technical diving, rebreather diving, wreck diving safaris, unlimited house reef diving, or any other diving activity in the Red Sea, look no further. Pharaoh Dive Club at Roots Red Sea is the ideal location
There is something for every diver with options for shore diving, zodiac diving or hard boat diving. Further afield there are even opportunities to take excursions to visit world renowned sites such as Elphinstone and the Salem Express.
Special Offer
Roots Red Sea is offering Scubaverse readers a special bonus when they book a package for travel any time in 2022. Simply quote ref 'DAVE SAID' to receive a 50% discount on any course taken during your stay at Roots.
Facebook: @RootsRedSea
---
The Scuba Place (and MV Big Blue) – Hurghada, Egypt
Tel: +44 (0)20 3515 9955
Email: reservations@thescubaplace.co.uk
Web: www.thescubaplace.co.uk
Big Blue is the brand new, standard-setting Red Sea Safari vessel sailing in and out of Hurghada and Port Ghalib on Southern itineraries. Huge cabins, huge dive decks, huge dive platform and of course, a real focus on delivering the very best diving. British owned and operated means excellent standards, particularly when it comes to safety, food and service.
Nitrox is included for all charters, and Big Blue can cater for recreational, technical and rebreather divers.
A maximum of 24 passengers means there is space in abundance – even for sidemount, twin-set and CCR divers.
Itineraries include the favorites such as Northern Wrecks and Reefs, Brothers and the North, Brothers, Daedalus and Elphinstone and the Deep South, and then there is the exclusive 3 Wars Wreck Safari, diving 17 wrecks in one week, and venturing up into the Northern Suez. Bolt on Ras Mohammed and Tiran too on our Northern Safaris – they really pack a punch! Custom built itineraries are standard for full charters too – you tell us where you want to go, and we deliver!
FREE NITROX on all full charters comes as standard!
Facebook: @thescubaplace | Instagram: @the.scuba.place
---
Scuba Diving & Marine Life: Hawksbill Turtle, Red Sea (Watch Video)
Scubaverse Underwater Videographer and Editor-at-Large Jeff Goodman takes us on a tour of some of his favourite marine life in this video series…
Watch more Red Sea marine life videos HERE
---
Emperor Divers – Port Ghalib, Marsa Alam, Egypt
Tel: +20 (0) 122 737 2126
Email: info@emperordivers.com
Web: www.emperordivers.com
Emperor Divers offers the best and most convenient location for diving in Marsa Alam.
Located directly on the Port Ghalib marina jetty, we provide the finest service in the Marsa Alam area with a range of trips from shallow wrecks and bays to world-class Elphinstone.
Our fleet of day boats are moored right on the marina and we provide complimentary transfers from a number of hotels in the area. So, because of our perfect location, you can enjoy easy diving from your first day in a venue which is great for both learners and experienced divers.
Emperor's standard boat diving includes two dives per day with guide, tanks and weights, and the sites we will take you to offer excellent corals, great visibility and a chance to see sharks, dugong, turtles and dolphins.
Marsa Alam is one of three Red Sea destinations we offer, with dive sites and a fleet of boats also based in Sharm el Sheikh.
We regularly update our website with special offers so visit www.emperordivers.com to see what is available or sign up for our newsletter to get exclusive deals. You can also call us on +44 (0) 161 504 2822 where you will be given the personal touch to help you plan and book your perfect Emperor Divers holiday.
Facebook: @emperordiversofficial | Instagram: @emperordivers_
---
Camel Dive Club & Hotel – Sharm El Sheikh, Egypt
Tel: +20 69 3600700
Email: info@cameldive.com
Web: www.cameldive.com
The One Stop base for your perfect diving holiday in the Red Sea.
Camel Dive Club & Hotel in Sharm El Sheikh is a PADI five-star Instructor Development Dive Resort located in the heart of Na'ama Bay, just five minutes' walk from the jetty from where dive trips depart.
Spend your days diving, snorkeling with our team of PADI professionals, and relaxing on our custom-built dive boats. Return to dine in our Italian inspired restaurant, enjoy our evening divers' gatherings, and watch the stars from our rooftop bar. Retire in the comfort of our boutique hotel, wake refreshed and ready to do it all again.
We run daily boat trips to Tiran, Ras Mohammed, wreck excursions like Thistlegorm, Dunraven and Million Hope, as well as night dives and shore dives from the house reef. We offer a complete range of PADI diving lessons.
Here we have everything under one roof for your perfect Red Sea diving holiday.
Dive & Stay Special Offer
Dive back into the holiday scene!
Offer includes:
7 nights at Camel Hotel, including breakfasts
5 days guided diving (two boat dives a day, tanks and weights)
Free nitrox (two 12lt tanks per day, 32%)
Airport transfers
556 Euro per person sharing a double room.
764 Euro in a single room.
Valid for bookings until 30 June 2022. Limited availability. Contact us at info@cameldive.com mentioning the promo code 'SCUBAV22' to get a special price.
Facebook: @cameldive.sharm | Instagram: @camel_dive_club
---
Top Five Snorkeling Sites in Sharm El Sheikh

One of the best things about Sharm el Sheikh is that not only is it a short flight from Europe and the UK, it also boasts some of the best marine life in the world combined with 30 metre plus visibility. Sharm is already well known for top-class diving and year-round sunshine but there is also a plethora of sites that are ideal for snorkeling…
---
Al-Haddad Scuba – Jeddah, Saudi Arabia
Tel: +966 56 020 7606
Email: reservations@haddadscuba.com
Web: www.haddadscuba.com
Al-Haddad Scuba is the leading scuba diving company in the Kingdom of Saudi Arabia and offers the ultimate experience for all levels of diver. We are an SSI Instructor training center and offer a wide range of courses from Open Water to Instructor level, including specialties such as Deep, Wreck, Boat, Shark, Night, and many more.
We offer a professional and safe experience for all our divers. Our facility and its staff have trained and guided more than 5,000 divers in the past 11 years and your enjoyment and safety while you are with us are our top priority.
We are the only boat trip provider offering daily trips in Jeddah, where you can discover amazing dive sites such as Coral Garden, Sea Pools (AKA Jeddah Maldives), Nemo Garden, Giant Garden, and multiple wrecks. We also offer shore diving day or night, and dive trips to Rabigh, a small town nearby with beautiful untouched reefs and amazing corals that are teeming with marine life. And with other activities such as snorkeling, water skiing and sightseeing, you will always get the best experience with Al-Haddad Scuba.
Special Offer
Scubaverse exclusive boat trip is 370 SAR (99 USD) instead of 440 SAR (117 USD).
Facebook: @haddadscuba | Instagram: @haddad_scuba
---
New Red Sea Aggressor IV to explore Southern Egyptian Red Sea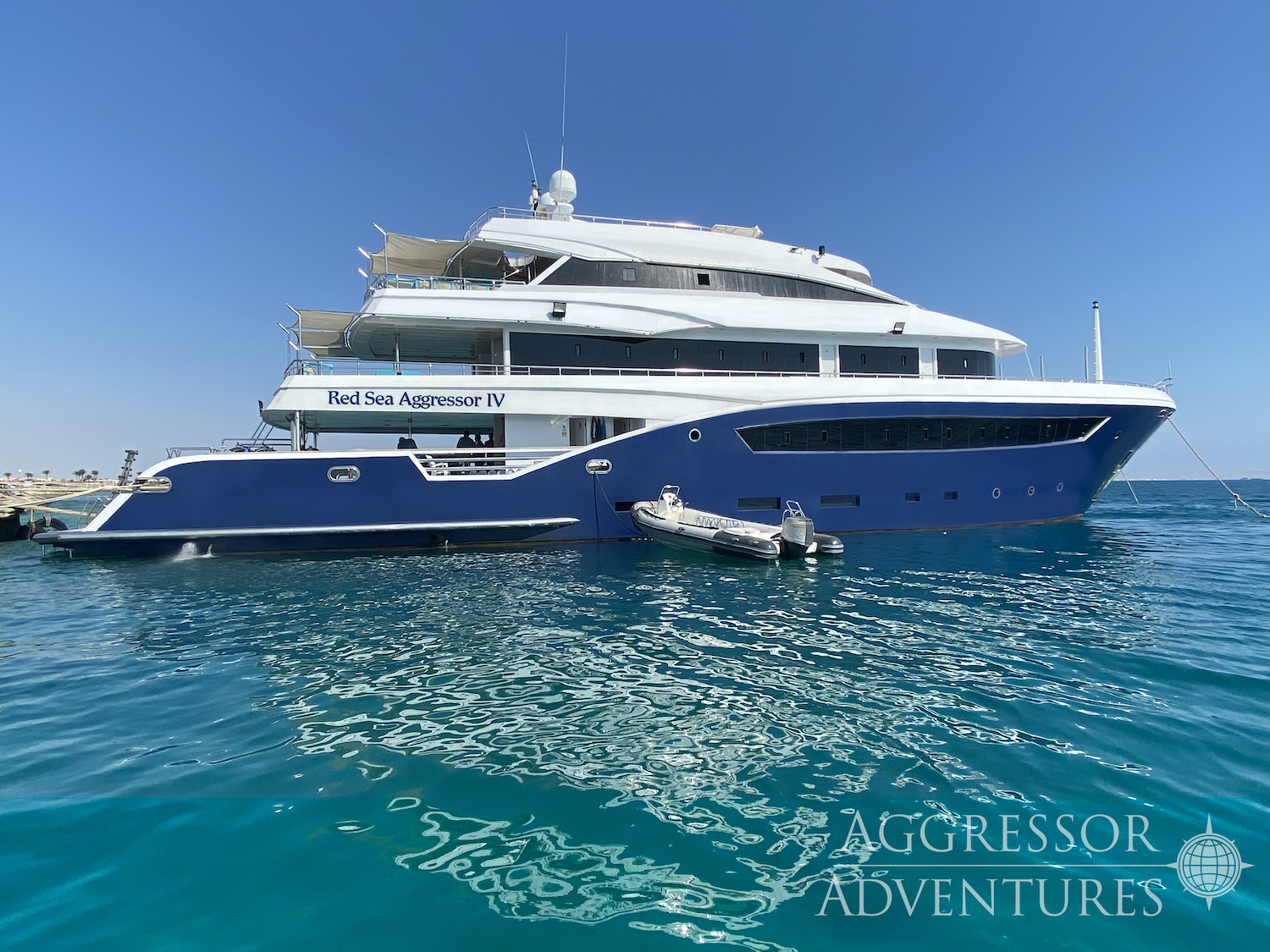 Aggressor Adventures® introduces new Red Sea liveaboard in March 2023
On March 4, 2023, the new Red Sea Aggressor IV® dive yacht will cast off from Port Ghalib, Egypt for the liveaboard's seven-day maiden voyage exploring the magnificent dive sites of St. John's Reef, Marsa Shoana, Sataya Reef and Daedalus Reef.
Up to 26 guests will cruise the southern Red Sea aboard the 143-foot/44-meter liveaboard, which features the ultimate personal amenities including 13 spacious staterooms, a restaurant serving chef-prepared meals, state-of-the-art dive center with Nitrox fills, multiple open-air lounges with wet bars, two hot tubs and a fly bridge for enjoying memorable sunsets. All scuba dives are safely conducted from three, 21-foot/6.4-meter dive tenders.
The yacht's St. Johns route is just one of three thrilling, southern Egypt itineraries explorers may choose. The second dive program, Brothers-Daedalus-Elphinstone, begins at the shark-filled waters of the two Brothers Islands, then moves to the Daedalus Reef. The week culminates with stops at Elphinstone and Sha'ab Maksour with its pristine hard coral gardens.
The third Red Sea Aggressor IV® itinerary ventures even farther south beyond Ras Banas. The Deep South dive schedule makes stops at Fury Shoal and Habili Orman before reaching its destination—the remotes sites of Habili Aly, Habili Gaffar and Dangerous Reef. All three itineraries provide guests underwater pelagic encounters with sharks, manta rays and friendly dolphins, and up-close views of the Red Sea's trademark brilliantly colored soft corals.
"The southern Egyptian Red Sea is a very special place to the Aggressor Adventures® family. It has been an Aggressor destination since 2014 and we are so excited to welcome the new Red Sea Aggressor IV® into our fleet," says Wayne Brown, CEO of Aggressor Adventures. "It's a spectacular yacht operated by a five-star staff."
Saturday-to-Saturday from the Port Ghalib, Egypt yacht marina, Red Sea Aggressor IV® adventures start at $2,699.00 per person and include scuba diving, snorkeling, deluxe onboard accommodations, scrumptious meals, snacks, soft beverages, beer, wine and service from a professional staff.
For more, visit www.aggressor.com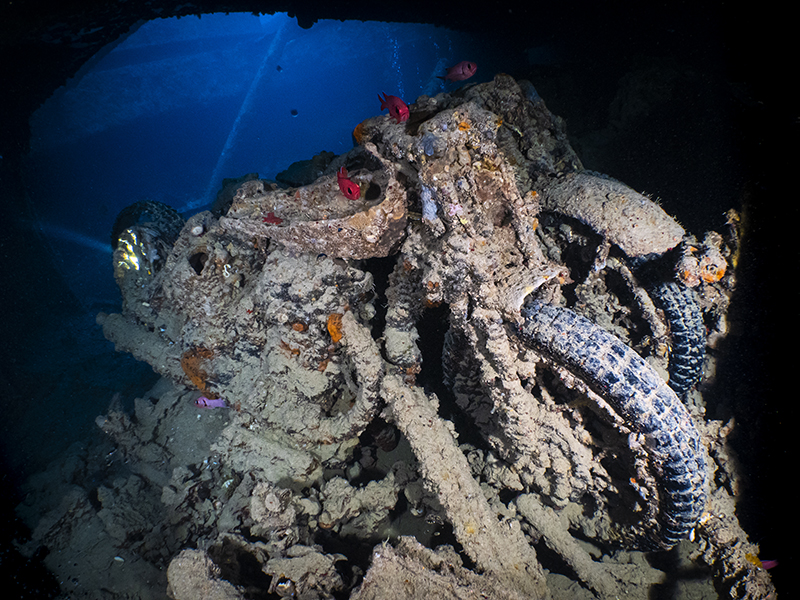 By now, you will have hopefully read the first blog from my recent trip to the Red Sea with The Scuba Place on M/Y Big Blue. If you haven't, you can find the link to the blog here.
I've been diving since 2011, although I didn't get really serious about diving until 2013. In the November of that year I joined Scuba School on a trip to Sharm El Sheikh to complete my Advanced Open Water course. That was the first time I heard about the famous SS Thistlegorm and its cult status in the wreck diving world. Unfortunately, as I, along with a lot of the group were novice divers, and so we were unable to dive it on that 2013 trip, along with a lot of the other famous wrecks from the North. Little did I know, I wouldn't return to the Northern Red Sea until this trip in September 2022 with The Scuba Place. The wrecks remained mysterious all those years but I was soon getting the full experience. After the first two and a half days exploring the amazing reefs, it was time to break my Thistlegorm virginity and get the true "lust for rust" experience of the Northern itinerary.
As we moored up at the SS Thistlegorm for the afternoon dive, I got a strange sense of anticipation run through my body. More so than at any other specific dive site. Strange really, as I don't normally get excited about wreck diving, but here was a site that I'd heard so much about but was still so mysterious. I'd always thought it was a difficult dive and had a slight fear of it, as I wasn't allowed to do it all those years back. Then, after watching a 20 minute film explaining the story of the wreck and listening to the stories of survivors,. I knew it was a site that demanded respect. As Mo went through the dive briefing, I quickly realised it seemed a lot more simple than I had in mind. I then became more excited than fearful as me and my dive buddy went through our plan. 
There was an eerie feeling as we submerged below the gentle swell. The visibility was a lot more milky compared to the clear blue I was used to in the Red Sea. However, the wreck soon came into view as we dropped down the shot line. The first thing that struck me and in my opinion just made the wreck extra special, was the life on it.
Instantly, crocodile fish and scorpion fish were spotted resting on the wreck, as we made our way to the anti-aircraft gun on the stern. I made a quick visit to take some photos before we turned back and penetrated the wreck for the first time. A surreal experience but the numerous glassfish and lionfish at the entry point kept me entertained before seeing the remnants of yesteryear. The different vehicles that still keep their place in the decks are the main highlight, but it was the boots that struck a chord with me: signs of the human lives that were present on the fateful day the bomb hit. I got a real buzz from my first time on the Thistlegorm, with a school of batfish greeting us on our safety stop finishing off the adventure. John and I ascended from a great dive with a high five, knowing I'd fulfilled a special memory.
I enjoyed three more dives on the Thistlegorm, giving me chance to explore a little more and see a little more life. Some cool nudibranch and a cuttlefish making their home inside the wreck added to the array of life I'd already seen. It was the night dive that truly hit the marine life spot. It really came to life at night and I soon lost count of the amount of scorpionfish I saw. The contrast of the dark and wreck against the blue spotted stingrays made their colours really pop as around six or seven were spotted. Eels, lionfish and crocodilefish making up the rest of the weird and wonderful sights on the wreck at night. Amazing memories from my first time exploring the Thistlegorm that will last forever.
After the two morning dives on the Thistlegorm, we headed off to the Barge wreck site for an afternoon and night dive. It's not much of a wreck when you compare it to the others on the trip. It lies like a flat platform on the seabed with some sides rising out from the reef providing extra space for coral growth and marine life to enjoy. While it doesn't provide a real wreck fix with penetration, it is a haven for marine life, littered with all types of hard and soft corals. Look closely and the Barge is a great spot for the weird and wonderful. The numerous nudibranch and grey moray eels provided my macro fix on the night dives, while the occasional buzz from huge hunting giant trevally provided the entertainment. A nice contrast of wrecks before moving on to Abu Nuhas.
Abu Nuhas is a really unique place. Its submerged reef has been bad luck for five passing ships, with five cargo shipwrecks lining its northern slopes. While it was more than unfortunate for some, the wrecks have provided fortune for those looking for a wreck diving haven. Our day consisted of diving three of the wrecks  – The Carnatic, Giannis D and Marcus/Chrisoula K in that order.
Going into the trip, it was the Giannis D that I was most keen to dive. I'd always admired the wide angle stern shots I'd seen over the years, with it staying pretty much intact and creating a dramatic image as it lies on its side. It was a fantastic dive with some interesting and easy penetration; I also took some shots of the stern in all its glory. A huge grouper sitting inside the wreck provided the wildlife fix, as it floated with ease looking out into the blue from an opening on the wreck. I think it was the Carnatic that stole the show personally though. Her open windows out to the blue that are covered in soft coral were unique, and glassfish dancing in formation inside mesmerised into a truly memorable dive. The Marcus provided the adventure as penetration was a little more difficult to work my way through the wreck.
The day at Abu Nuhas was the best of the trip for me and that wasn't solely because of the wrecks….. YES!! Once again it was marine life that had me screaming with joy underwater and a buzz through my body like no other. FINALLY!!!!! After 9 years of taking photos underwater, I was able to share the water with dolphins (bottlenose in this instance) and shoot them in all their glory.
Our journey to and from the wrecks on each dive took us through the channel on the ribs, where dolphins were seen on every pass playing in the slight waves. After the second dive, the guides asked if we wanted to try to snorkel with them. It was a resounding yes and as the speedboat whipped up a wave storm, the dolphins headed to the surface to play. I dropped in with no elegance at all, as my excitement took over. I was wondering whether they would stay once we entered, but how they stayed and played was beyond anything I could imagine. Bringing seaweed to us and then, with a flick of their tails, speeding off after teasing with a slow approach. There were nine in total and they even came by to show off the baby of the group. It was definitely up there as one of my greatest moments in the water. 
We finished the liveaboard trip with three more amazing reef dives, with the highlight being a small cave full of glassfish and MANY lionfish. I entered to take photos of the glassfish before the lionfish started to sneak out of every crevice and reveal themselves from their camouflaged rest spots.
It got a little hairy but made for a truly interesting moment to finish the week on Big Blue. The fun wasn't done though, as John eluded to the fact that I was on the same late flight as them on the Saturday and asked if I'd like to join his group for a night at Roots Red Sea. Sounds like a good plan!! Also, if we got there in time, a night dive on the house reef that's a haven for the weird and wonderful would be on offer. What an amazing surprise end to the trip at an amazing dive resort: secluded, with a beautiful desert backdrop, sitting just metres from the sea. Thankfully, we made it for a night dive and it was as incredible as John said it would be. Reef squid, numerous cuttlefish, a bouncing stonefish jumping over sea moths AND a dwarf lionfish made this one of the best night dives ever, and a perfect end dive to a perfect trip. A final day of relaxation at Roots pool and enjoying the beautiful food finished it in style. 
For more information about diving on Big Blue: