Calling all ocean torchbearers in Hurghada, Egypt!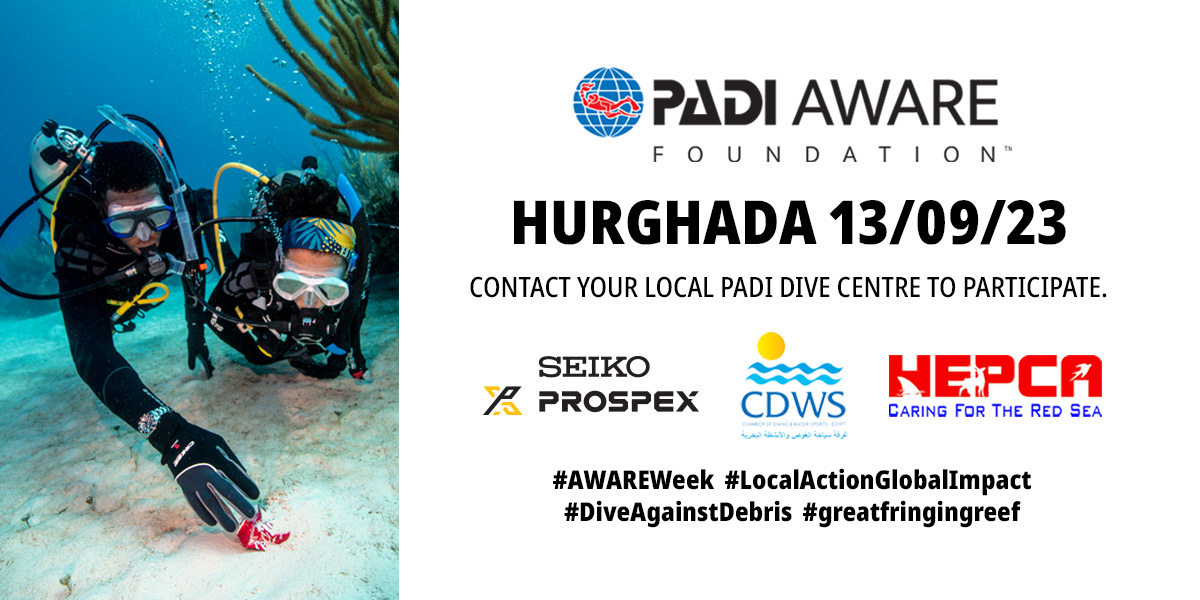 As part of PADI AWARE Week, we are thrilled to announce an exciting collaboration between PADI, PADI AWARE, Seiko, HEPCA, and CDWS. Join them for an extraordinary underwater clean-up event at Magawish Island, Hurghada, on the 13th September 2023.
Guided by local PADI dive centers and marine experts from HEPCA, you can participate in a Dive Against Debris and make a tangible difference in saving our ocean.
Imagine diving into the crystal-clear waters of the Red Sea, surrounded by vibrant marine life, while actively contributing to its preservation. Plus, you'll have the opportunity to connect with your local dive community and experience the wonders of this remarkable ecosystem.
Participants can also enjoy some fantastic giveaways, including hats, T-shirts, metal water bottles, and more.
Key Information
Date: 13th September 2023
Time: 10am
Location: Magawish Island, Hurghada
Requirements: Participants must be PADI Open Water certified
To secure your spot simply sign up here or contact a participating local PADI Dive Center in Hurghada.
Participating PADI Dive Centers at time of writing:
Emperor Divers welcome divers to Seven Seas with 20% off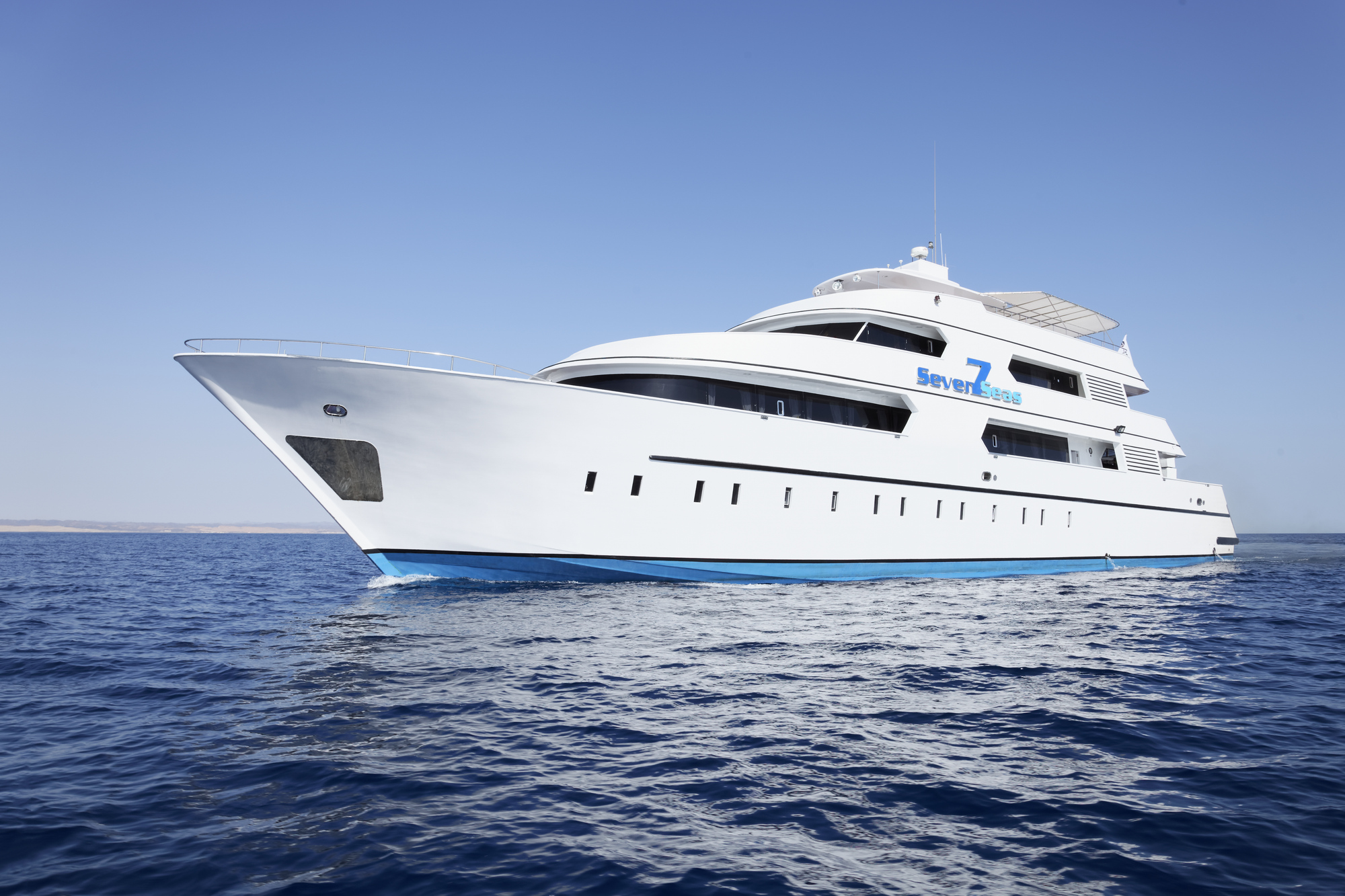 The much-loved Red Sea liveaboard Seven Seas has become a full member of the Emperor Divers fleet.
Having worked in collaboration with the Seven Seas team in recent months, Emperor have now integrated her into their fleet to make her their flagship vessel in the region.
Seven Seas has won the "Best Liveaboard in the Red Sea" award on five occasions which speaks volumes for the quality of trip she offers. She is a true icon of liveaboard holidays in this region providing a great diving experience from truly elegant surroundings.
At 41 metres long with 12 spacious cabins – each with marble clad en-suite and separate shower room – there is plenty of room to relax, while the five-star service on board includes sensational food and wonderful facilities. She is perfect for diving as the large deck has spacious and powerful zodiac tenders with ladders.
The view from the barbecue lounge – where freshly-grilled food is produced – on the upper deck is amazing while there is also a large dining room, welcoming bar and beautiful sundeck.
Bringing such a fantastic boat into the team is a real cause for celebration at Emperor who will now do everything they can to continue providing the high-quality diving holidays for which Seven Seas is renowned.
SPECIAL WELCOME OFFER – GET 20% OFF!
Anyone booking a 2023 sailing on Seven Seas will receive 20% off the cost of their trip. That's a massive saving and a great way to welcome Seven Seas to the Emperor family.
For more, visit www.emperordivers.com
Green Fins launches in Jordan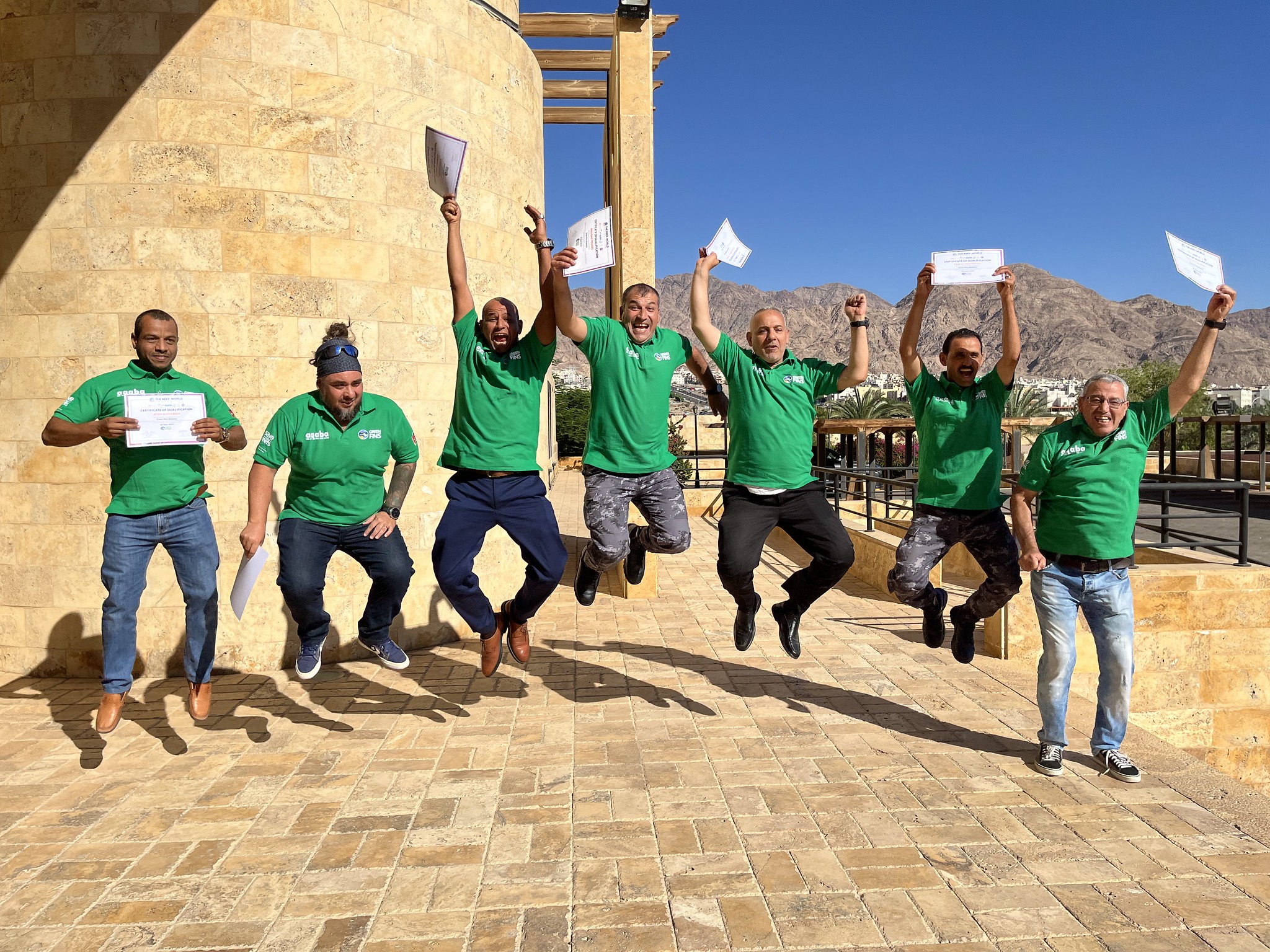 The Reef-World Foundation is delighted to announce that Jordan is now the 15th country globally to implement the Green Fins programme — a UN Environment Programme initiative. The programme's launch in Aqaba is evidence of Jordan's commitment to safeguarding its natural resources and promoting sustainable tourism as the country builds its reputation as a world-class diving destination.
Green Fins is implemented in the country by Aqaba Special Economy Zone Authority (ASEZA) with the support of the Deutsche Gesellschaft fur Internationale Zusammenarbeit (GIZ) through the "Employment-oriented MSME promotion" project on behalf of the German Federal Ministry for Economic Cooperation and Development (BMZ), with the ultimate aim of improving the communication of environmental best practice from local diving centres to environmentally conscious tourists to help protect the environment.
Dominik Lee Zaax Wyszogrodzki, Green Fins Local Team Leader, said: "Divers are willing to pay more for services provided by dive centres that follow environmental regulations, and they expect dive centres to be leading the way in protecting the ocean. Implementing Green Fins in Aqaba is going to open us up to new markets and bring us to be one of the top diving destinations in the world."
Following a week of training by an all-female-led training team from Reef-World (10 to 15 June 2023), Jordan now has a national Green Fins team comprised of five fully certified Green Fins Assessors and two Green Fins Coordinators from representatives of the Royal Jordanian Navy Forces, Aqaba Marine Reserve and the University of Jordan made up of a diverse group of local diving experts, environmentalists, and industry leaders. The Green Fins Jordan team is led by Ms Thelma Redwan, the Product Director at ASEZA, who coordinates the programme in collaboration with The Reef-World Foundation, GIZ, and other stakeholders.
The newly established local Green Fins team will be responsible for recruiting, assessing, training and certifying dive and snorkel operators to become Green Fins Members in the country. This involves providing training about the ecology and threats to coral reefs, advice for adopting simple and practical solutions to these threats and guidance to the Green Fins' environmental standards for dive and snorkel operators. Green Fins membership will help marine tourism operators identify priority areas to improve their business sustainability performance and communicate their commitment  to following environmental best practices as a way of attracting eco-minded tourists.
"I'm thrilled to welcome Jordan to the Green Fins network as the fifteenth country to adopt the initiative to secure the future sustainability of their marine tourism industry," said Chloe Harvey, Executive Director of The Reef-World Foundation. "ASEZA has shown exceptional leadership in recognising the opportunity to establish best environmental practice among their diving community with Green Fins. Jordan is a unique diving destination and home to a bountiful array of marine life. Our coral reefs are in serious trouble; it's possible that coral reefs globally could be lost in our lifetime. Reducing local, direct threats to coral reefs, such as those posed by diving and snorkelling activities, will significantly improve their chance of survival."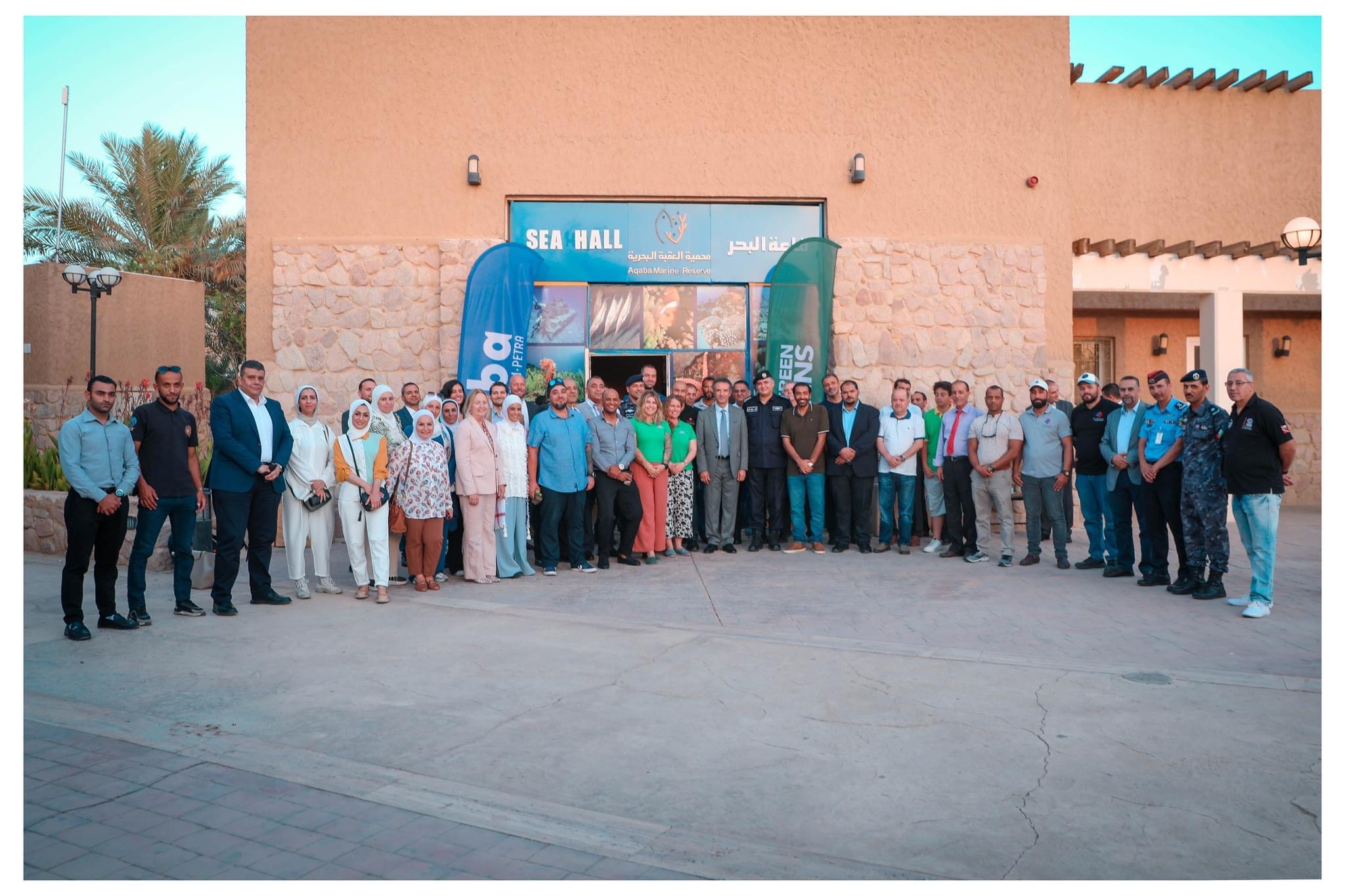 Diving and snorkelling-related damage to sensitive marine ecosystems, including coral reefs, is becoming an increasingly significant issue. This damage makes them less likely to survive other local and wider threats, such as those associated with overfishing or plastic debris and the effects of climate change. Based on robust individual assessments of business practices, the Green Fins initiative helps identify high-risk activities. The assessors then work with participating business leaders to build and commit to a tailored sustainability action plan to address these risks. Through Green Fins implementation in Jordan, Reef-World aims to improve the sustainability of the diving industry in the region by working with 15 marine tourism operators, training 75 dive guides and raising awareness of sustainability best practices among 15,000 tourists in the first year of implementation.
Abdullah, Manager at Red Sea Dive Center, said: "I signed up for the Green Fins membership and got the help and support of the Green Fins team. I saw how thorough the process was and all the things they do on the assessment day. Now I'm convinced it's an amazing programme that could really help the environment and one I'm very proud to be part of!"
Green Fins is a UN Environment Programme initiative, internationally coordinated by The Reef-World Foundation, which aims to protect and conserve coral reefs through environmentally friendly guidelines to promote a sustainable diving and snorkelling tourism industry. Green Fins provides the only internationally recognised environmental standards for the diving and snorkelling industry and has a robust assessment system to measure compliance.
To date, four dive operators in Aqaba have joined the global network of 700+ trained and assessed Green Fins Members. These are: Aqaba Adventure Divers, Arab Divers, Coral Garden Diving Center and Red Sea Dive Center.
For more information, please visit www.reef-world.org or  www.greenfins.net/countries/jordan. Dive and snorkel operators in Jordan interested in becoming Green Fins Members can sign up at: www.greenfins.net/register or contact the team at jordan@greenfins.net.