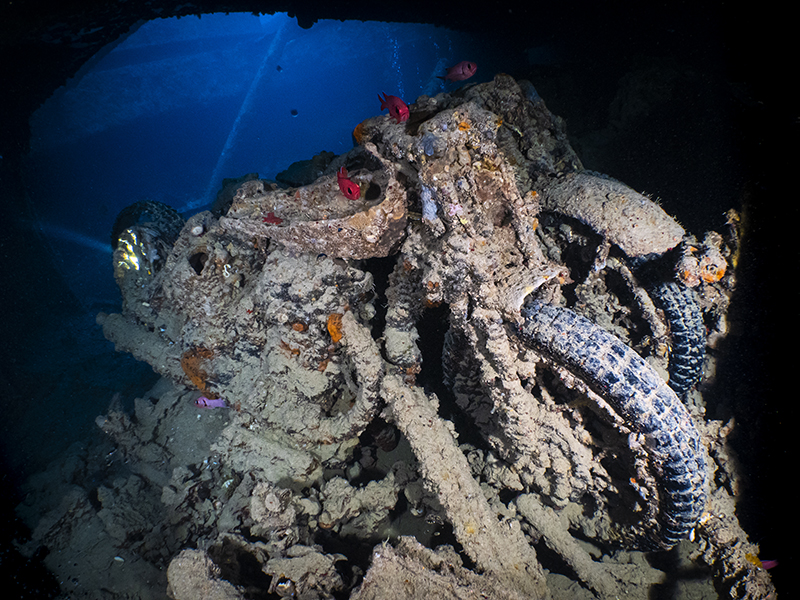 By now, you will have hopefully read the first blog from my recent trip to the Red Sea with The Scuba Place on M/Y Big Blue. If you haven't, you can find the link to the blog here.
I've been diving since 2011, although I didn't get really serious about diving until 2013. In the November of that year I joined Scuba School on a trip to Sharm El Sheikh to complete my Advanced Open Water course. That was the first time I heard about the famous SS Thistlegorm and its cult status in the wreck diving world. Unfortunately, as I, along with a lot of the group were novice divers, and so we were unable to dive it on that 2013 trip, along with a lot of the other famous wrecks from the North. Little did I know, I wouldn't return to the Northern Red Sea until this trip in September 2022 with The Scuba Place. The wrecks remained mysterious all those years but I was soon getting the full experience. After the first two and a half days exploring the amazing reefs, it was time to break my Thistlegorm virginity and get the true "lust for rust" experience of the Northern itinerary.
As we moored up at the SS Thistlegorm for the afternoon dive, I got a strange sense of anticipation run through my body. More so than at any other specific dive site. Strange really, as I don't normally get excited about wreck diving, but here was a site that I'd heard so much about but was still so mysterious. I'd always thought it was a difficult dive and had a slight fear of it, as I wasn't allowed to do it all those years back. Then, after watching a 20 minute film explaining the story of the wreck and listening to the stories of survivors,. I knew it was a site that demanded respect. As Mo went through the dive briefing, I quickly realised it seemed a lot more simple than I had in mind. I then became more excited than fearful as me and my dive buddy went through our plan. 
There was an eerie feeling as we submerged below the gentle swell. The visibility was a lot more milky compared to the clear blue I was used to in the Red Sea. However, the wreck soon came into view as we dropped down the shot line. The first thing that struck me and in my opinion just made the wreck extra special, was the life on it.
Instantly, crocodile fish and scorpion fish were spotted resting on the wreck, as we made our way to the anti-aircraft gun on the stern. I made a quick visit to take some photos before we turned back and penetrated the wreck for the first time. A surreal experience but the numerous glassfish and lionfish at the entry point kept me entertained before seeing the remnants of yesteryear. The different vehicles that still keep their place in the decks are the main highlight, but it was the boots that struck a chord with me: signs of the human lives that were present on the fateful day the bomb hit. I got a real buzz from my first time on the Thistlegorm, with a school of batfish greeting us on our safety stop finishing off the adventure. John and I ascended from a great dive with a high five, knowing I'd fulfilled a special memory.
I enjoyed three more dives on the Thistlegorm, giving me chance to explore a little more and see a little more life. Some cool nudibranch and a cuttlefish making their home inside the wreck added to the array of life I'd already seen. It was the night dive that truly hit the marine life spot. It really came to life at night and I soon lost count of the amount of scorpionfish I saw. The contrast of the dark and wreck against the blue spotted stingrays made their colours really pop as around six or seven were spotted. Eels, lionfish and crocodilefish making up the rest of the weird and wonderful sights on the wreck at night. Amazing memories from my first time exploring the Thistlegorm that will last forever.
After the two morning dives on the Thistlegorm, we headed off to the Barge wreck site for an afternoon and night dive. It's not much of a wreck when you compare it to the others on the trip. It lies like a flat platform on the seabed with some sides rising out from the reef providing extra space for coral growth and marine life to enjoy. While it doesn't provide a real wreck fix with penetration, it is a haven for marine life, littered with all types of hard and soft corals. Look closely and the Barge is a great spot for the weird and wonderful. The numerous nudibranch and grey moray eels provided my macro fix on the night dives, while the occasional buzz from huge hunting giant trevally provided the entertainment. A nice contrast of wrecks before moving on to Abu Nuhas.
Abu Nuhas is a really unique place. Its submerged reef has been bad luck for five passing ships, with five cargo shipwrecks lining its northern slopes. While it was more than unfortunate for some, the wrecks have provided fortune for those looking for a wreck diving haven. Our day consisted of diving three of the wrecks  – The Carnatic, Giannis D and Marcus/Chrisoula K in that order.
Going into the trip, it was the Giannis D that I was most keen to dive. I'd always admired the wide angle stern shots I'd seen over the years, with it staying pretty much intact and creating a dramatic image as it lies on its side. It was a fantastic dive with some interesting and easy penetration; I also took some shots of the stern in all its glory. A huge grouper sitting inside the wreck provided the wildlife fix, as it floated with ease looking out into the blue from an opening on the wreck. I think it was the Carnatic that stole the show personally though. Her open windows out to the blue that are covered in soft coral were unique, and glassfish dancing in formation inside mesmerised into a truly memorable dive. The Marcus provided the adventure as penetration was a little more difficult to work my way through the wreck.
The day at Abu Nuhas was the best of the trip for me and that wasn't solely because of the wrecks….. YES!! Once again it was marine life that had me screaming with joy underwater and a buzz through my body like no other. FINALLY!!!!! After 9 years of taking photos underwater, I was able to share the water with dolphins (bottlenose in this instance) and shoot them in all their glory.
Our journey to and from the wrecks on each dive took us through the channel on the ribs, where dolphins were seen on every pass playing in the slight waves. After the second dive, the guides asked if we wanted to try to snorkel with them. It was a resounding yes and as the speedboat whipped up a wave storm, the dolphins headed to the surface to play. I dropped in with no elegance at all, as my excitement took over. I was wondering whether they would stay once we entered, but how they stayed and played was beyond anything I could imagine. Bringing seaweed to us and then, with a flick of their tails, speeding off after teasing with a slow approach. There were nine in total and they even came by to show off the baby of the group. It was definitely up there as one of my greatest moments in the water. 
We finished the liveaboard trip with three more amazing reef dives, with the highlight being a small cave full of glassfish and MANY lionfish. I entered to take photos of the glassfish before the lionfish started to sneak out of every crevice and reveal themselves from their camouflaged rest spots.
It got a little hairy but made for a truly interesting moment to finish the week on Big Blue. The fun wasn't done though, as John eluded to the fact that I was on the same late flight as them on the Saturday and asked if I'd like to join his group for a night at Roots Red Sea. Sounds like a good plan!! Also, if we got there in time, a night dive on the house reef that's a haven for the weird and wonderful would be on offer. What an amazing surprise end to the trip at an amazing dive resort: secluded, with a beautiful desert backdrop, sitting just metres from the sea. Thankfully, we made it for a night dive and it was as incredible as John said it would be. Reef squid, numerous cuttlefish, a bouncing stonefish jumping over sea moths AND a dwarf lionfish made this one of the best night dives ever, and a perfect end dive to a perfect trip. A final day of relaxation at Roots pool and enjoying the beautiful food finished it in style. 
For more information about diving on Big Blue:
Calling all ocean torchbearers in Hurghada, Egypt!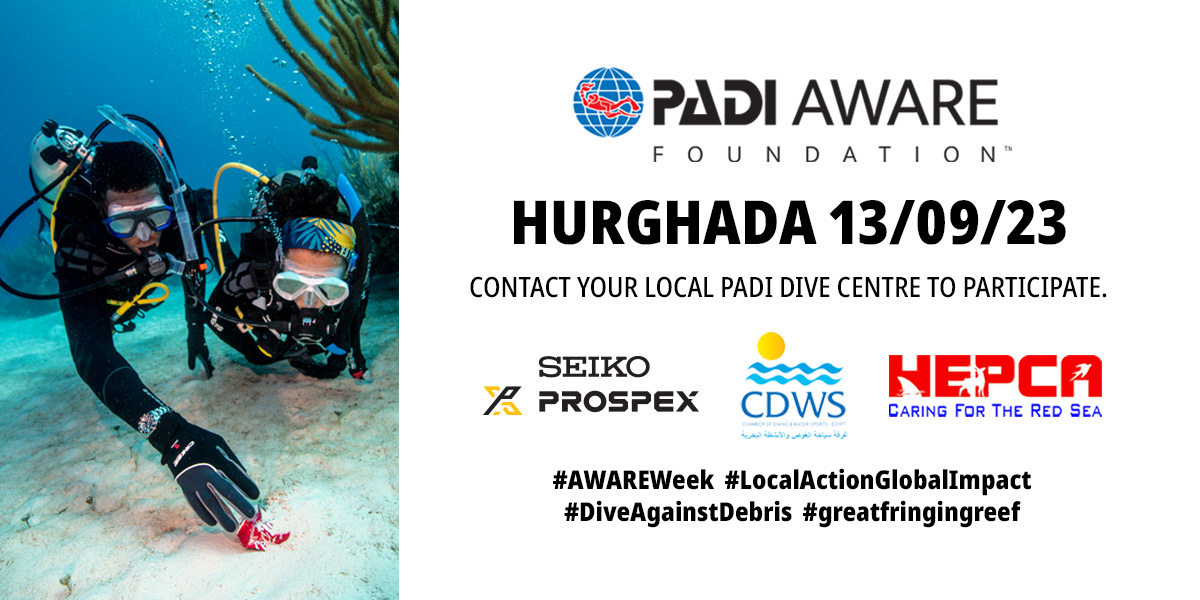 As part of PADI AWARE Week, we are thrilled to announce an exciting collaboration between PADI, PADI AWARE, Seiko, HEPCA, and CDWS. Join them for an extraordinary underwater clean-up event at Magawish Island, Hurghada, on the 13th September 2023.
Guided by local PADI dive centers and marine experts from HEPCA, you can participate in a Dive Against Debris and make a tangible difference in saving our ocean.
Imagine diving into the crystal-clear waters of the Red Sea, surrounded by vibrant marine life, while actively contributing to its preservation. Plus, you'll have the opportunity to connect with your local dive community and experience the wonders of this remarkable ecosystem.
Participants can also enjoy some fantastic giveaways, including hats, T-shirts, metal water bottles, and more.
Key Information
Date: 13th September 2023
Time: 10am
Location: Magawish Island, Hurghada
Requirements: Participants must be PADI Open Water certified
To secure your spot simply sign up here or contact a participating local PADI Dive Center in Hurghada.
Participating PADI Dive Centers at time of writing:
Emperor Divers welcome divers to Seven Seas with 20% off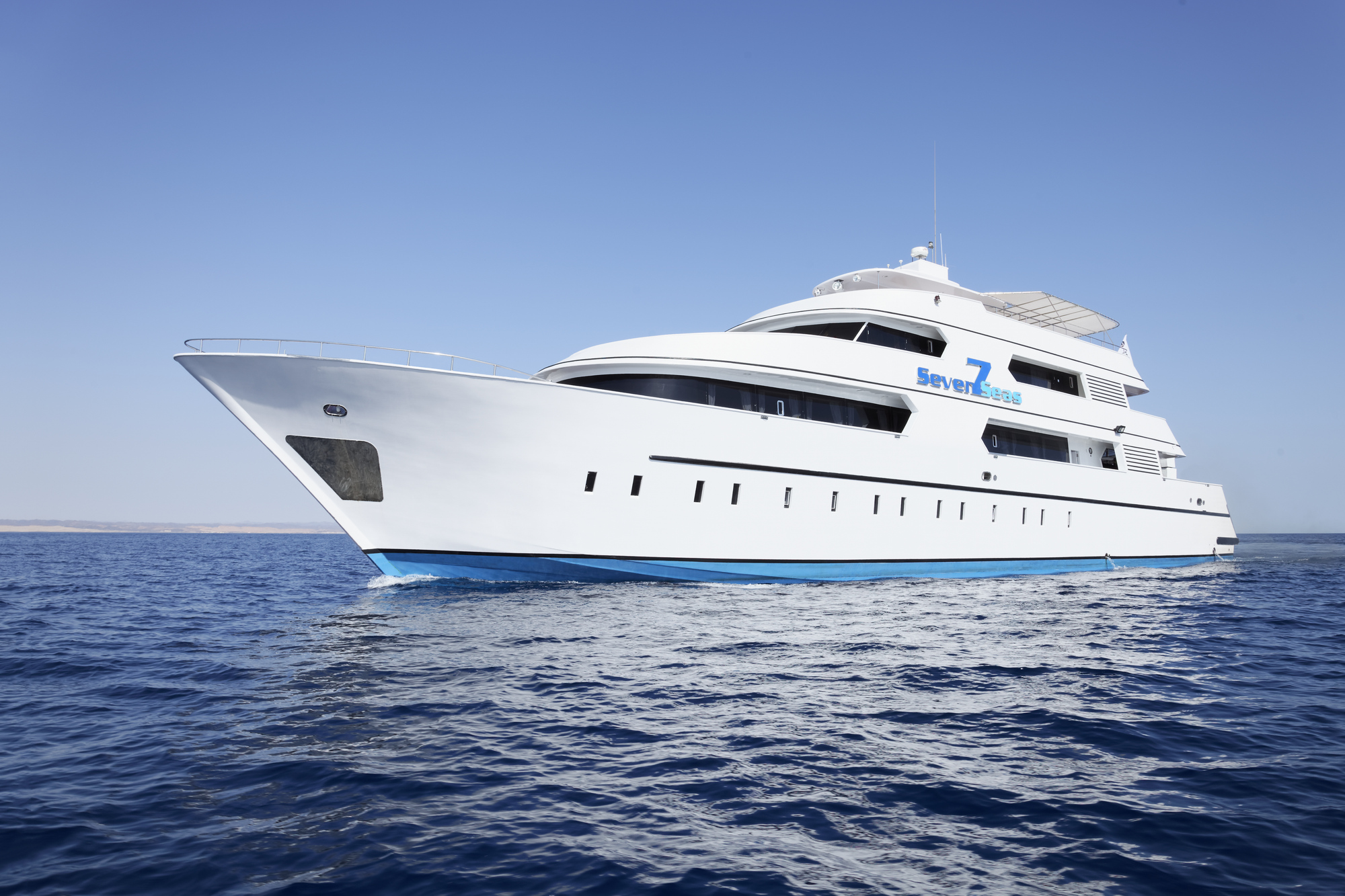 The much-loved Red Sea liveaboard Seven Seas has become a full member of the Emperor Divers fleet.
Having worked in collaboration with the Seven Seas team in recent months, Emperor have now integrated her into their fleet to make her their flagship vessel in the region.
Seven Seas has won the "Best Liveaboard in the Red Sea" award on five occasions which speaks volumes for the quality of trip she offers. She is a true icon of liveaboard holidays in this region providing a great diving experience from truly elegant surroundings.
At 41 metres long with 12 spacious cabins – each with marble clad en-suite and separate shower room – there is plenty of room to relax, while the five-star service on board includes sensational food and wonderful facilities. She is perfect for diving as the large deck has spacious and powerful zodiac tenders with ladders.
The view from the barbecue lounge – where freshly-grilled food is produced – on the upper deck is amazing while there is also a large dining room, welcoming bar and beautiful sundeck.
Bringing such a fantastic boat into the team is a real cause for celebration at Emperor who will now do everything they can to continue providing the high-quality diving holidays for which Seven Seas is renowned.
SPECIAL WELCOME OFFER – GET 20% OFF!
Anyone booking a 2023 sailing on Seven Seas will receive 20% off the cost of their trip. That's a massive saving and a great way to welcome Seven Seas to the Emperor family.
For more, visit www.emperordivers.com