New Red Sea Aggressor IV to explore Southern Egyptian Red Sea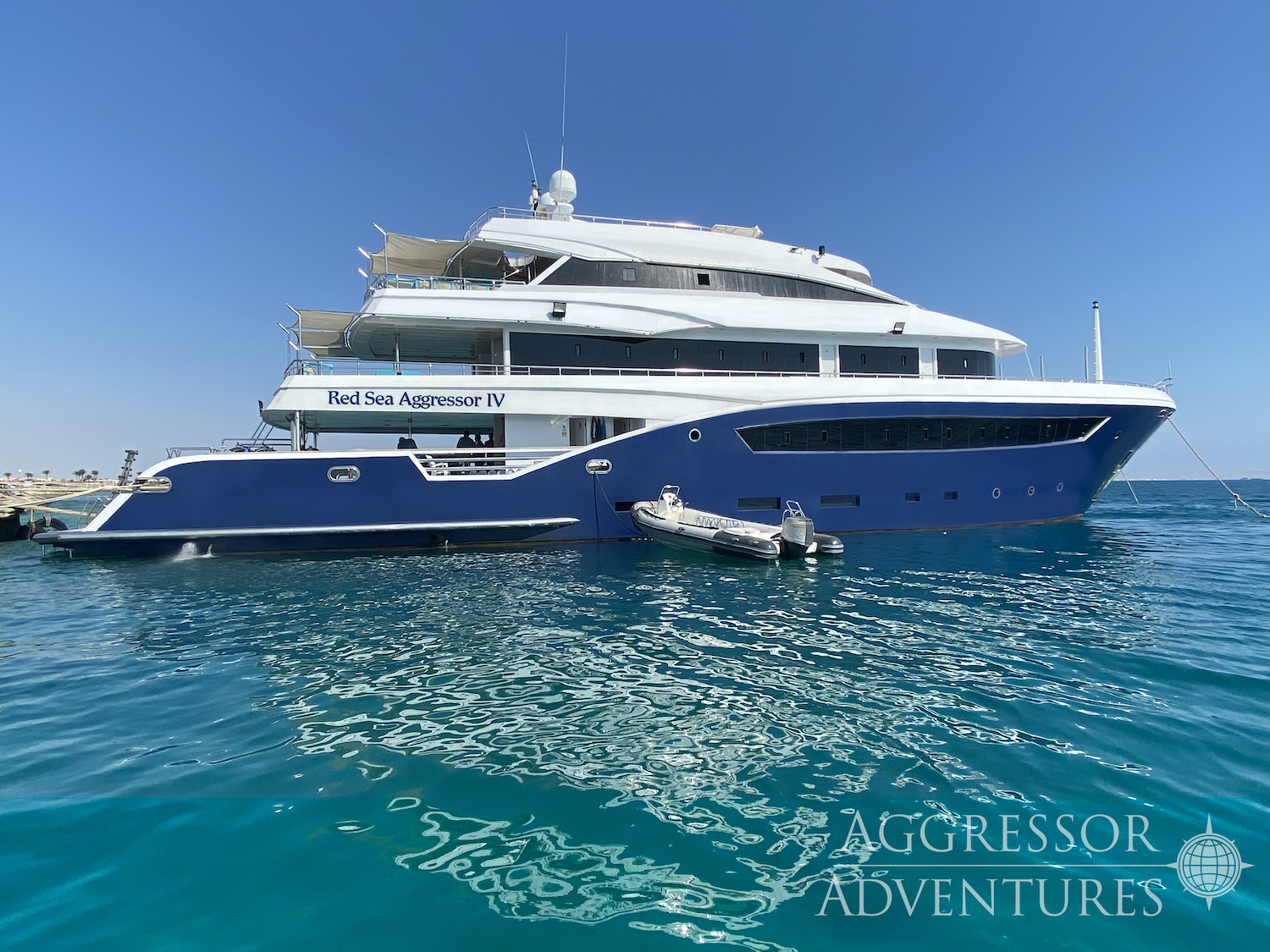 Aggressor Adventures® introduces new Red Sea liveaboard in March 2023
On March 4, 2023, the new Red Sea Aggressor IV® dive yacht will cast off from Port Ghalib, Egypt for the liveaboard's seven-day maiden voyage exploring the magnificent dive sites of St. John's Reef, Marsa Shoana, Sataya Reef and Daedalus Reef.
Up to 26 guests will cruise the southern Red Sea aboard the 143-foot/44-meter liveaboard, which features the ultimate personal amenities including 13 spacious staterooms, a restaurant serving chef-prepared meals, state-of-the-art dive center with Nitrox fills, multiple open-air lounges with wet bars, two hot tubs and a fly bridge for enjoying memorable sunsets. All scuba dives are safely conducted from three, 21-foot/6.4-meter dive tenders.
The yacht's St. Johns route is just one of three thrilling, southern Egypt itineraries explorers may choose. The second dive program, Brothers-Daedalus-Elphinstone, begins at the shark-filled waters of the two Brothers Islands, then moves to the Daedalus Reef. The week culminates with stops at Elphinstone and Sha'ab Maksour with its pristine hard coral gardens.
The third Red Sea Aggressor IV® itinerary ventures even farther south beyond Ras Banas. The Deep South dive schedule makes stops at Fury Shoal and Habili Orman before reaching its destination—the remotes sites of Habili Aly, Habili Gaffar and Dangerous Reef. All three itineraries provide guests underwater pelagic encounters with sharks, manta rays and friendly dolphins, and up-close views of the Red Sea's trademark brilliantly colored soft corals.
"The southern Egyptian Red Sea is a very special place to the Aggressor Adventures® family. It has been an Aggressor destination since 2014 and we are so excited to welcome the new Red Sea Aggressor IV® into our fleet," says Wayne Brown, CEO of Aggressor Adventures. "It's a spectacular yacht operated by a five-star staff."
Saturday-to-Saturday from the Port Ghalib, Egypt yacht marina, Red Sea Aggressor IV® adventures start at $2,699.00 per person and include scuba diving, snorkeling, deluxe onboard accommodations, scrumptious meals, snacks, soft beverages, beer, wine and service from a professional staff.
For more, visit www.aggressor.com
Calling all ocean torchbearers in Hurghada, Egypt!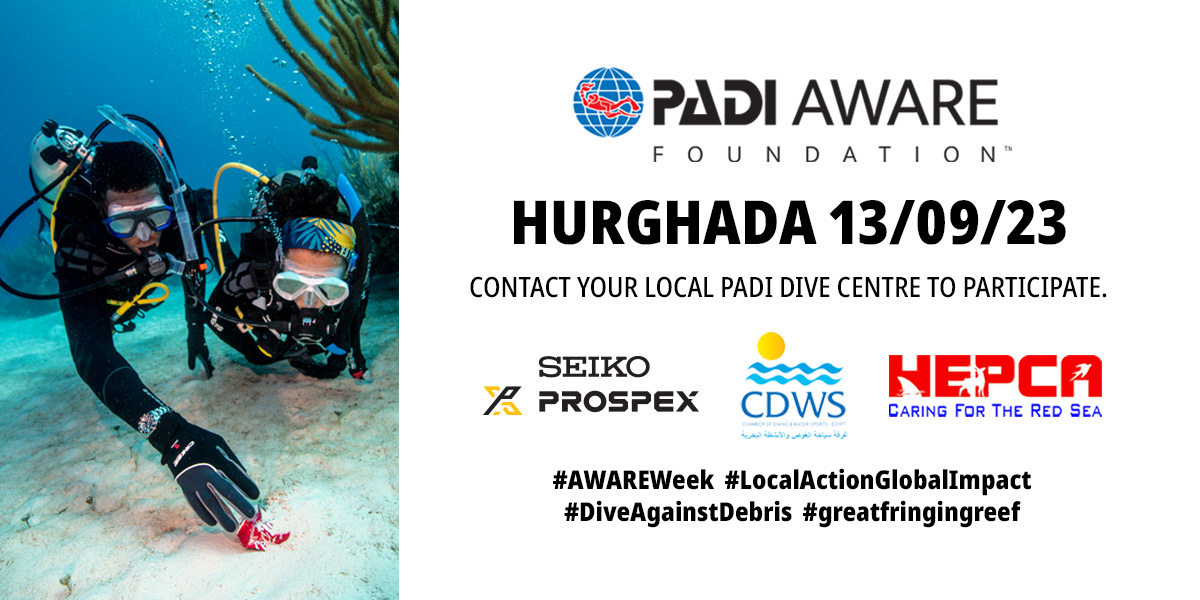 As part of PADI AWARE Week, we are thrilled to announce an exciting collaboration between PADI, PADI AWARE, Seiko, HEPCA, and CDWS. Join them for an extraordinary underwater clean-up event at Magawish Island, Hurghada, on the 13th September 2023.
Guided by local PADI dive centers and marine experts from HEPCA, you can participate in a Dive Against Debris and make a tangible difference in saving our ocean.
Imagine diving into the crystal-clear waters of the Red Sea, surrounded by vibrant marine life, while actively contributing to its preservation. Plus, you'll have the opportunity to connect with your local dive community and experience the wonders of this remarkable ecosystem.
Participants can also enjoy some fantastic giveaways, including hats, T-shirts, metal water bottles, and more.
Key Information
Date: 13th September 2023
Time: 10am
Location: Magawish Island, Hurghada
Requirements: Participants must be PADI Open Water certified
To secure your spot simply sign up here or contact a participating local PADI Dive Center in Hurghada.
Participating PADI Dive Centers at time of writing:
Emperor Divers welcome divers to Seven Seas with 20% off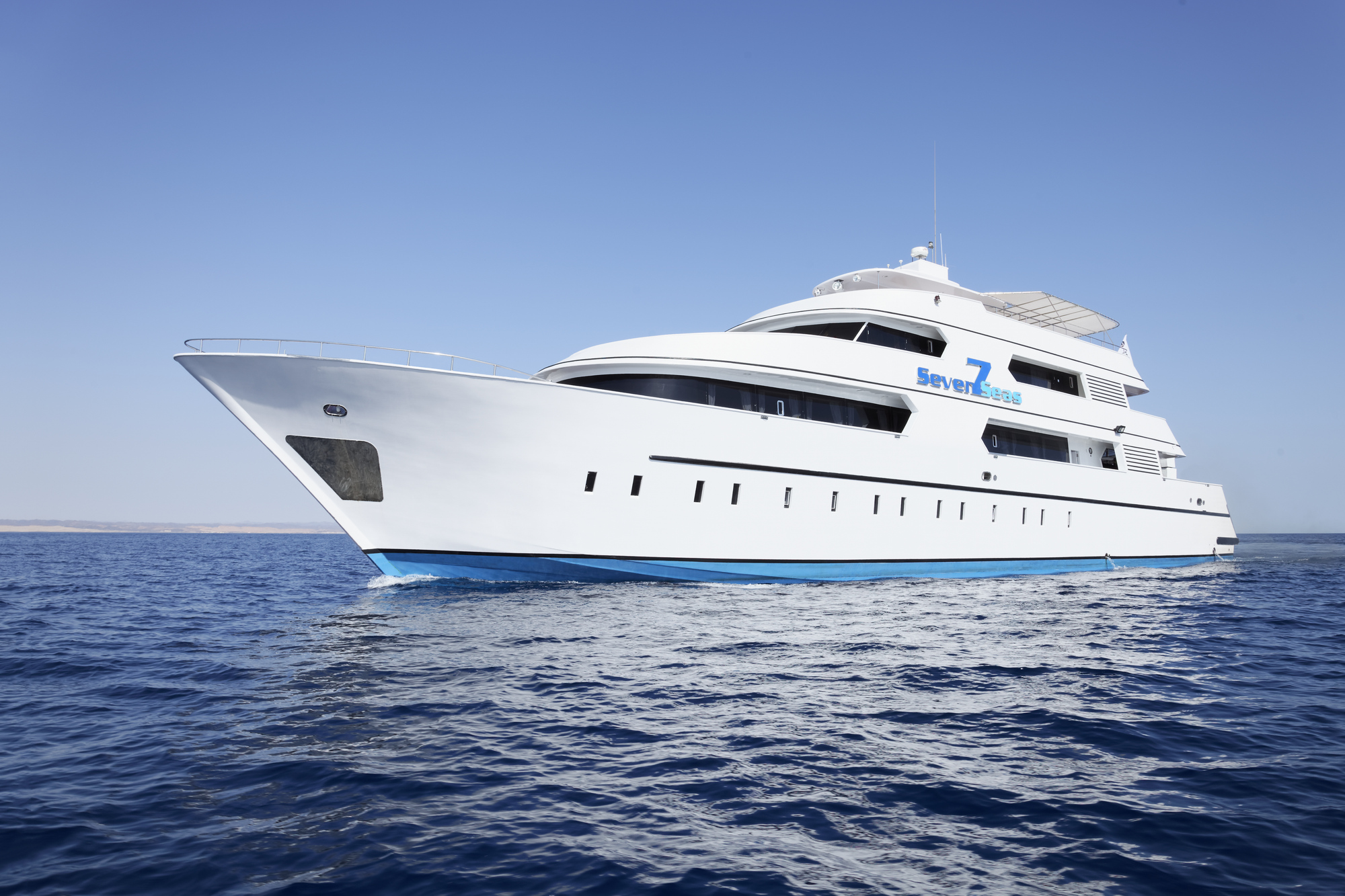 The much-loved Red Sea liveaboard Seven Seas has become a full member of the Emperor Divers fleet.
Having worked in collaboration with the Seven Seas team in recent months, Emperor have now integrated her into their fleet to make her their flagship vessel in the region.
Seven Seas has won the "Best Liveaboard in the Red Sea" award on five occasions which speaks volumes for the quality of trip she offers. She is a true icon of liveaboard holidays in this region providing a great diving experience from truly elegant surroundings.
At 41 metres long with 12 spacious cabins – each with marble clad en-suite and separate shower room – there is plenty of room to relax, while the five-star service on board includes sensational food and wonderful facilities. She is perfect for diving as the large deck has spacious and powerful zodiac tenders with ladders.
The view from the barbecue lounge – where freshly-grilled food is produced – on the upper deck is amazing while there is also a large dining room, welcoming bar and beautiful sundeck.
Bringing such a fantastic boat into the team is a real cause for celebration at Emperor who will now do everything they can to continue providing the high-quality diving holidays for which Seven Seas is renowned.
SPECIAL WELCOME OFFER – GET 20% OFF!
Anyone booking a 2023 sailing on Seven Seas will receive 20% off the cost of their trip. That's a massive saving and a great way to welcome Seven Seas to the Emperor family.
For more, visit www.emperordivers.com