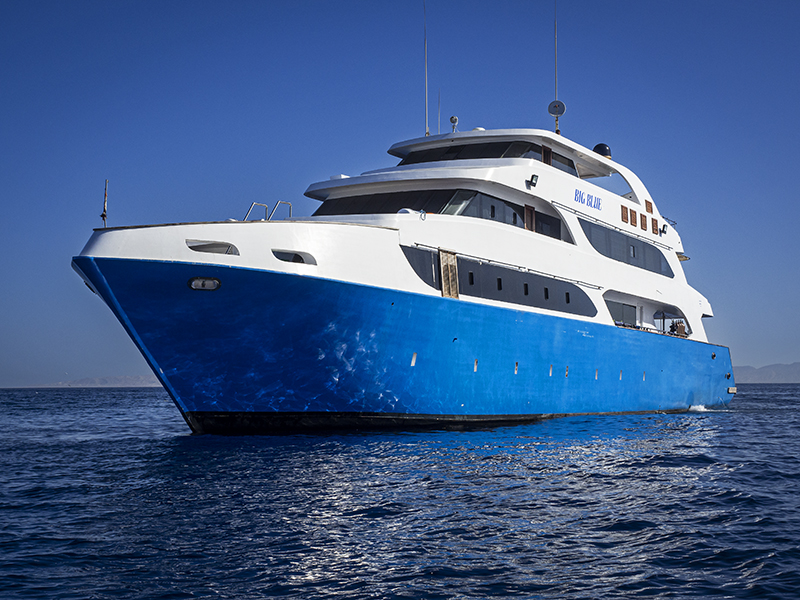 After a quiet year of no designated dive trips, September saw me return to the Red Sea thanks to The Scuba Place. M/Y Big Blue was my accommodation for the week and Northern Wrecks and Reefs was the itinerary. This was a big change for me, as I'd normally choose a Southern itinerary in search of sharks. Apart from a trip to Sharm El Sheikh back in 2013, while still a novice diver, I hadn't been to the north and certainly hadn't dived any of the major wrecks the Northern itinerary is famous for. It was a welcome change to try a different style of diving to what I was used to and YES!! It didn't disappoint!! 
The Scuba Place are the exclusive UK travel agent for the liveaboard Big Blue. With Big Blue being directly connected to Roots Red Sea, they can provide bespoke trips combining the two. I was also lucky enough to have a surprise visit to Roots at the end of my trip, but more about that later. Big Blue is a large vessel at 40m long and 8m wide, and it provides plenty of space for guests onboard. Even at full capacity with 24 divers, the spacious dive deck provides ample room for guests to kit up and prepare to dive. With 12 cabins set over 3 decks, I was lucky to get one of the twin cabins on the sundeck. Opening my door to the beautiful sunny blue skies and blue water of the Red Sea was the wake up I needed for a special day.
The whole trip was completed with the accommodating staff who couldn't do enough for you. The food was delicious and well prepared. A buffet style, with dinner always being my favourite, while sunset snack time before the night dive on the back of the main deck was always a treat. Drinks provided after every dive and always someone on hand to help you kit up and de-kit, it was the finishing touches to what were amazing dives. The diving was facilitated by Pharaoh Dive Club, and with Mohammed in charge everything ran efficiently and safety was paramount. An excellent initial boat and dive briefing was followed by expert leadership throughout the week. Always willing to listen to the guests' needs and what we'd like to do. Doing what they could to make it work, while keeping safety in mind. Last thing you want is a rigid schedule leaving room for disappointment. An extremely impressive week onboard and here's how the diving went…
We sailed north from Hurghada and it was so refreshing to be back in the beautiful clear water of the Red Sea. The first couple of days were more reefs than wrecks, as we hit some of the famous sites the north has to offer. JackFish Alley gave me a bit of déjà vu. I remembered 9 years ago doing my navigation as part of my Advanced Open Water; it was great to be back and spend more time exploring its beauty, a coral pinnacle full of glassfish and big barracuda being cleaned providing the highlights. It was Jackson Reef that was my favourite though as a Hawksbill Turtle added to the incredible life on the reef that is typical of the Red Sea. Close encounters with blue spotted stingrays, a crocodile fish and a huge puffer in one small area make the sandy bottoms as special as the reefs. Night diving provided some fun critters with devil scorpion fish, a bumbling stonefish and numerous pyjama nudibranch keeping me occupied.
While the reefs dominated the first couple of days, we did get an introduction to the wrecks on offer. Our first came on our second dive as we penetrated the Dunraven. A nice easy wreck to penetrate with a lot of life amongst it and on it. I do get why you wreck lovers get so excited getting inside and finding your way through the cracks. It is exciting and this was more evident on our second wreck of the trip – the Million Hope. Not your typical wreck on a typical northern wrecks and reef itinerary but again this shows the bespoke nature of a Big Blue liveaboard with The Scuba Place. More apparent on our visit as we were the only divers diving it. The weather has to be right due to how shallow it is with parts visible above water. This makes it a great recreational dive, and making my way into the engine room was a real treat and then back out up the stairs. A real adventure and one of my favourite wrecks of the trip.
Before the lust for rust really started halfway through the trip we headed to the Straits of Tiran and Ras Mohammed once more for Thomas Reef and the famous Shark and Yolanda Reef. Thomas Reef was another beautiful wall full of stunning coral including huge gorgonian fan coral, while a feeding Blue Spotted Ray and another Hawksbill Turtle completed the dive on the corner of the reef. Shark and Yolanda was a lot more adventurous due to the currents, as a short fight against it and then a quick drift with it had you wondering which way it would go next. It started quite calm with a gentle cruise past Anemone City, then all hell broke loose as we hit the corner. It was certainly full of life though, with schooling jacks and snapper comfortable in the raging current as we flew past. The current took us over the reef and to the Yolanda Wreck. It was good to be back after 9 years and see that it is still a great site full of life. A brilliant start to the week and we were now on our way to the famous wrecks of the North.
Stay tuned for part 2 soon.
For more information about diving on Big Blue:
Calling all ocean torchbearers in Hurghada, Egypt!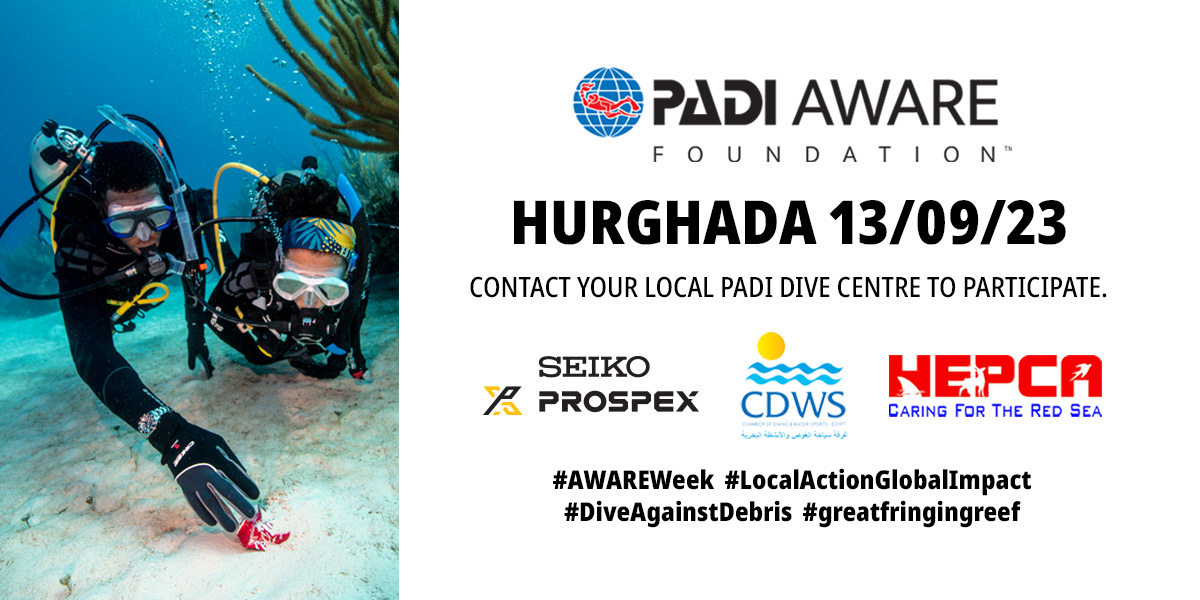 As part of PADI AWARE Week, we are thrilled to announce an exciting collaboration between PADI, PADI AWARE, Seiko, HEPCA, and CDWS. Join them for an extraordinary underwater clean-up event at Magawish Island, Hurghada, on the 13th September 2023.
Guided by local PADI dive centers and marine experts from HEPCA, you can participate in a Dive Against Debris and make a tangible difference in saving our ocean.
Imagine diving into the crystal-clear waters of the Red Sea, surrounded by vibrant marine life, while actively contributing to its preservation. Plus, you'll have the opportunity to connect with your local dive community and experience the wonders of this remarkable ecosystem.
Participants can also enjoy some fantastic giveaways, including hats, T-shirts, metal water bottles, and more.
Key Information
Date: 13th September 2023
Time: 10am
Location: Magawish Island, Hurghada
Requirements: Participants must be PADI Open Water certified
To secure your spot simply sign up here or contact a participating local PADI Dive Center in Hurghada.
Participating PADI Dive Centers at time of writing:
Emperor Divers welcome divers to Seven Seas with 20% off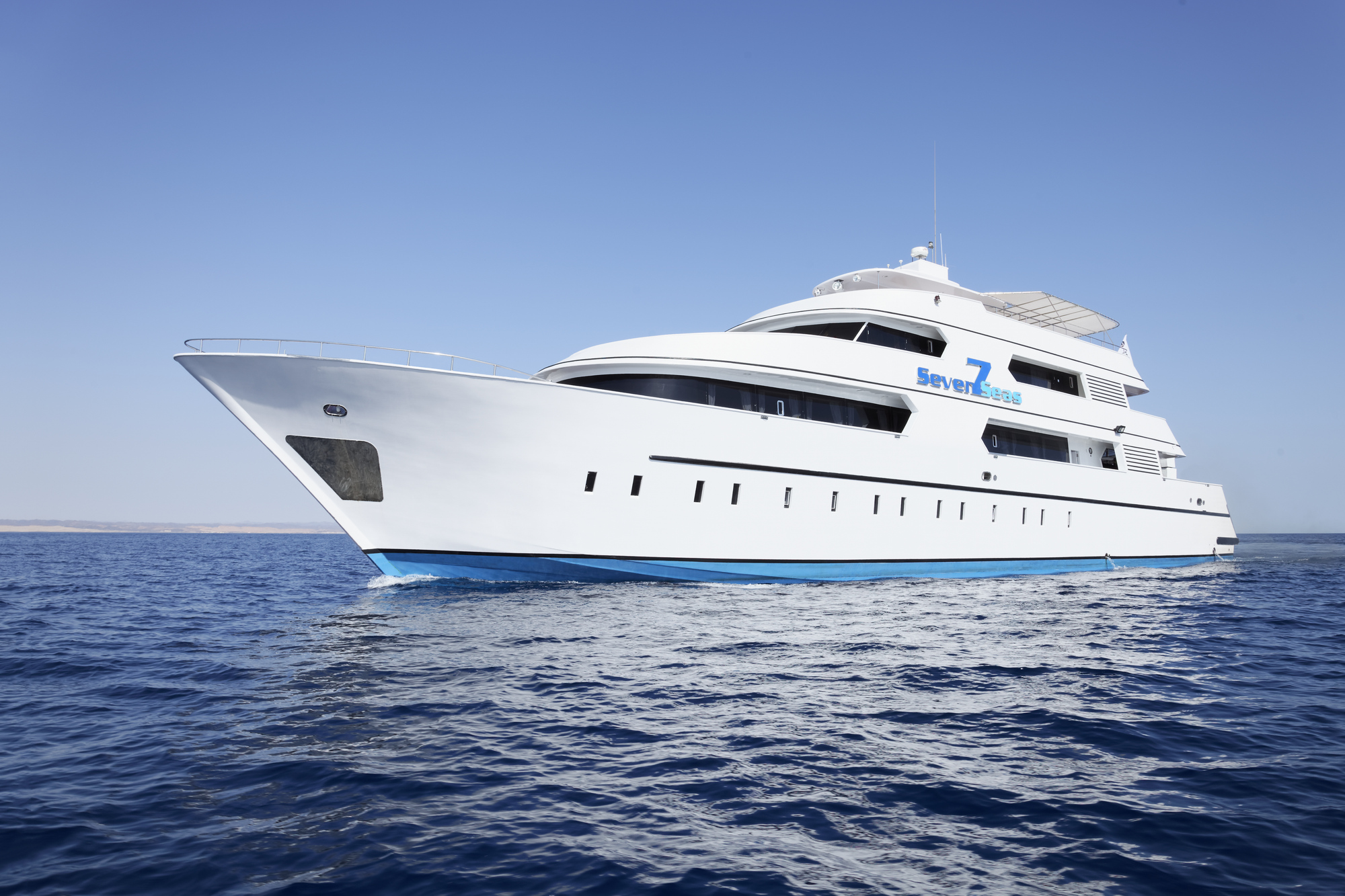 The much-loved Red Sea liveaboard Seven Seas has become a full member of the Emperor Divers fleet.
Having worked in collaboration with the Seven Seas team in recent months, Emperor have now integrated her into their fleet to make her their flagship vessel in the region.
Seven Seas has won the "Best Liveaboard in the Red Sea" award on five occasions which speaks volumes for the quality of trip she offers. She is a true icon of liveaboard holidays in this region providing a great diving experience from truly elegant surroundings.
At 41 metres long with 12 spacious cabins – each with marble clad en-suite and separate shower room – there is plenty of room to relax, while the five-star service on board includes sensational food and wonderful facilities. She is perfect for diving as the large deck has spacious and powerful zodiac tenders with ladders.
The view from the barbecue lounge – where freshly-grilled food is produced – on the upper deck is amazing while there is also a large dining room, welcoming bar and beautiful sundeck.
Bringing such a fantastic boat into the team is a real cause for celebration at Emperor who will now do everything they can to continue providing the high-quality diving holidays for which Seven Seas is renowned.
SPECIAL WELCOME OFFER – GET 20% OFF!
Anyone booking a 2023 sailing on Seven Seas will receive 20% off the cost of their trip. That's a massive saving and a great way to welcome Seven Seas to the Emperor family.
For more, visit www.emperordivers.com