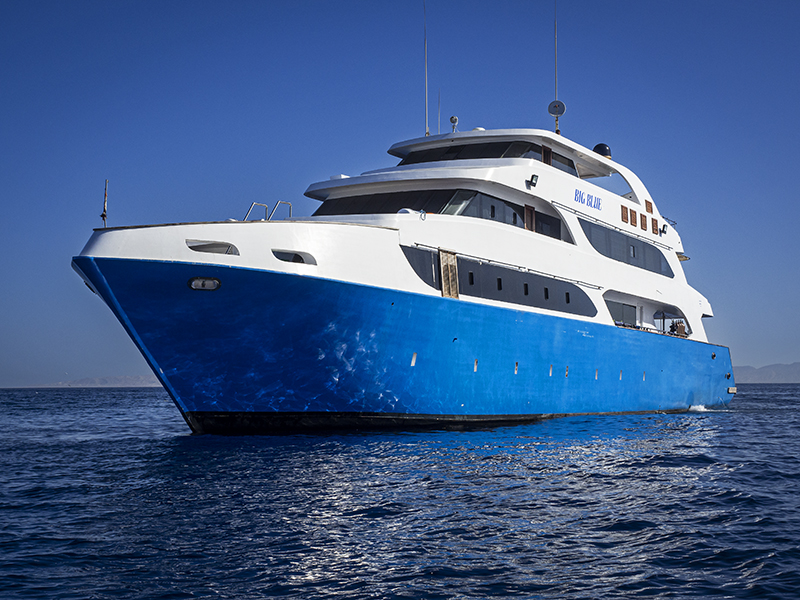 After a quiet year of no designated dive trips, September saw me return to the Red Sea thanks to The Scuba Place. M/Y Big Blue was my accommodation for the week and Northern Wrecks and Reefs was the itinerary. This was a big change for me, as I'd normally choose a Southern itinerary in search of sharks. Apart from a trip to Sharm El Sheikh back in 2013, while still a novice diver, I hadn't been to the north and certainly hadn't dived any of the major wrecks the Northern itinerary is famous for. It was a welcome change to try a different style of diving to what I was used to and YES!! It didn't disappoint!! 
The Scuba Place are the exclusive UK travel agent for the liveaboard Big Blue. With Big Blue being directly connected to Roots Red Sea, they can provide bespoke trips combining the two. I was also lucky enough to have a surprise visit to Roots at the end of my trip, but more about that later. Big Blue is a large vessel at 40m long and 8m wide, and it provides plenty of space for guests onboard. Even at full capacity with 24 divers, the spacious dive deck provides ample room for guests to kit up and prepare to dive. With 12 cabins set over 3 decks, I was lucky to get one of the twin cabins on the sundeck. Opening my door to the beautiful sunny blue skies and blue water of the Red Sea was the wake up I needed for a special day.
The whole trip was completed with the accommodating staff who couldn't do enough for you. The food was delicious and well prepared. A buffet style, with dinner always being my favourite, while sunset snack time before the night dive on the back of the main deck was always a treat. Drinks provided after every dive and always someone on hand to help you kit up and de-kit, it was the finishing touches to what were amazing dives. The diving was facilitated by Pharaoh Dive Club, and with Mohammed in charge everything ran efficiently and safety was paramount. An excellent initial boat and dive briefing was followed by expert leadership throughout the week. Always willing to listen to the guests' needs and what we'd like to do. Doing what they could to make it work, while keeping safety in mind. Last thing you want is a rigid schedule leaving room for disappointment. An extremely impressive week onboard and here's how the diving went…
We sailed north from Hurghada and it was so refreshing to be back in the beautiful clear water of the Red Sea. The first couple of days were more reefs than wrecks, as we hit some of the famous sites the north has to offer. JackFish Alley gave me a bit of déjà vu. I remembered 9 years ago doing my navigation as part of my Advanced Open Water; it was great to be back and spend more time exploring its beauty, a coral pinnacle full of glassfish and big barracuda being cleaned providing the highlights. It was Jackson Reef that was my favourite though as a Hawksbill Turtle added to the incredible life on the reef that is typical of the Red Sea. Close encounters with blue spotted stingrays, a crocodile fish and a huge puffer in one small area make the sandy bottoms as special as the reefs. Night diving provided some fun critters with devil scorpion fish, a bumbling stonefish and numerous pyjama nudibranch keeping me occupied.
While the reefs dominated the first couple of days, we did get an introduction to the wrecks on offer. Our first came on our second dive as we penetrated the Dunraven. A nice easy wreck to penetrate with a lot of life amongst it and on it. I do get why you wreck lovers get so excited getting inside and finding your way through the cracks. It is exciting and this was more evident on our second wreck of the trip – the Million Hope. Not your typical wreck on a typical northern wrecks and reef itinerary but again this shows the bespoke nature of a Big Blue liveaboard with The Scuba Place. More apparent on our visit as we were the only divers diving it. The weather has to be right due to how shallow it is with parts visible above water. This makes it a great recreational dive, and making my way into the engine room was a real treat and then back out up the stairs. A real adventure and one of my favourite wrecks of the trip.
Before the lust for rust really started halfway through the trip we headed to the Straits of Tiran and Ras Mohammed once more for Thomas Reef and the famous Shark and Yolanda Reef. Thomas Reef was another beautiful wall full of stunning coral including huge gorgonian fan coral, while a feeding Blue Spotted Ray and another Hawksbill Turtle completed the dive on the corner of the reef. Shark and Yolanda was a lot more adventurous due to the currents, as a short fight against it and then a quick drift with it had you wondering which way it would go next. It started quite calm with a gentle cruise past Anemone City, then all hell broke loose as we hit the corner. It was certainly full of life though, with schooling jacks and snapper comfortable in the raging current as we flew past. The current took us over the reef and to the Yolanda Wreck. It was good to be back after 9 years and see that it is still a great site full of life. A brilliant start to the week and we were now on our way to the famous wrecks of the North.
Stay tuned for part 2 soon.
For more information about diving on Big Blue:
Emperor Divers to work in cooperation with Seven7Seas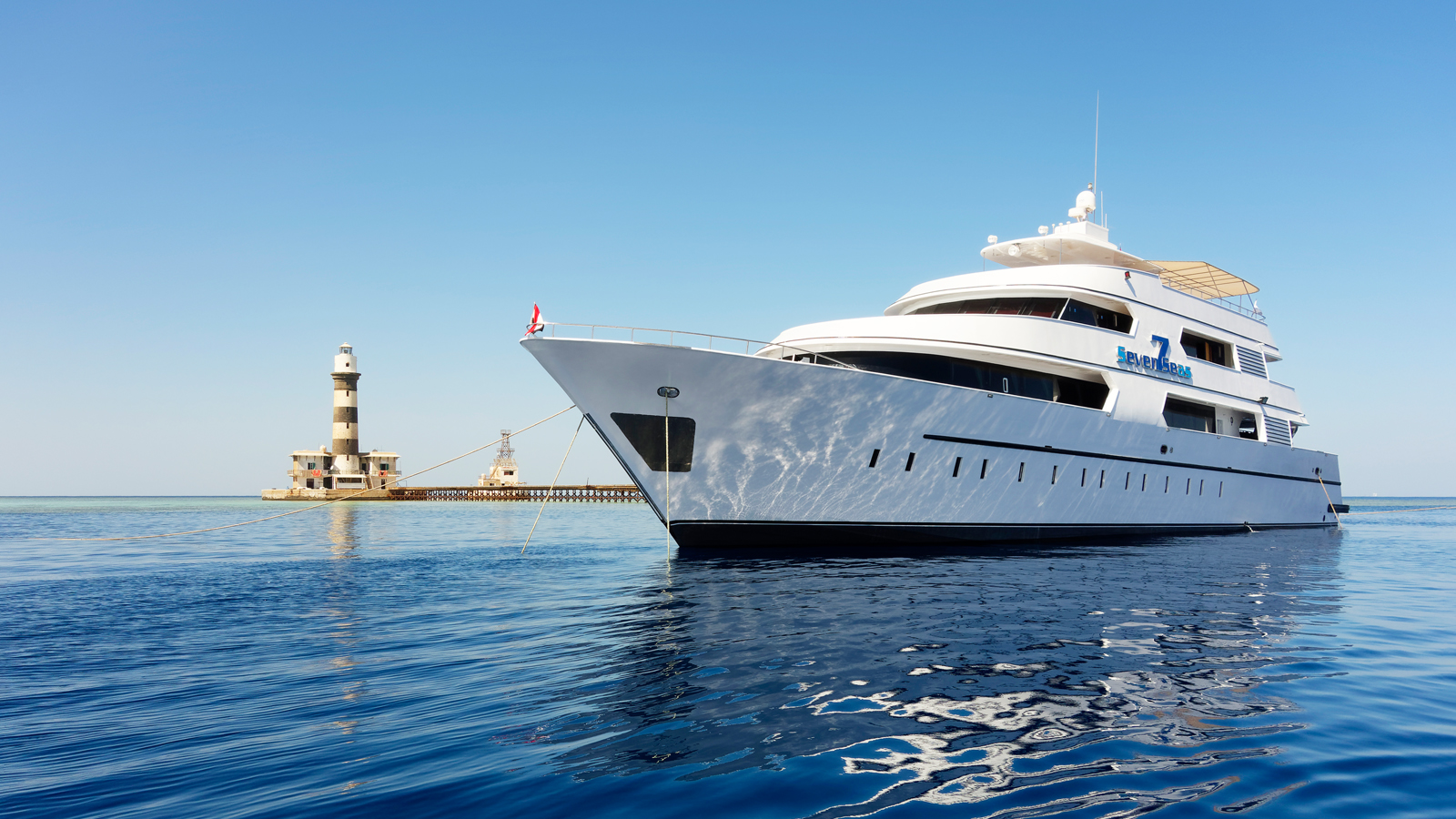 Emperor Divers is delighted to have established a new working relationship with Seven7Seas.
The cooperation will see Emperor help to promote the Seven7Seas brand and assist in the running of this hugely-popular, Egypt-based boat.
A five-time winner of the 'Best Liveaboard in the Red Sea', Seven7Seas is 41 metres long and has 12 spacious cabins each with en-suite and separate shower room.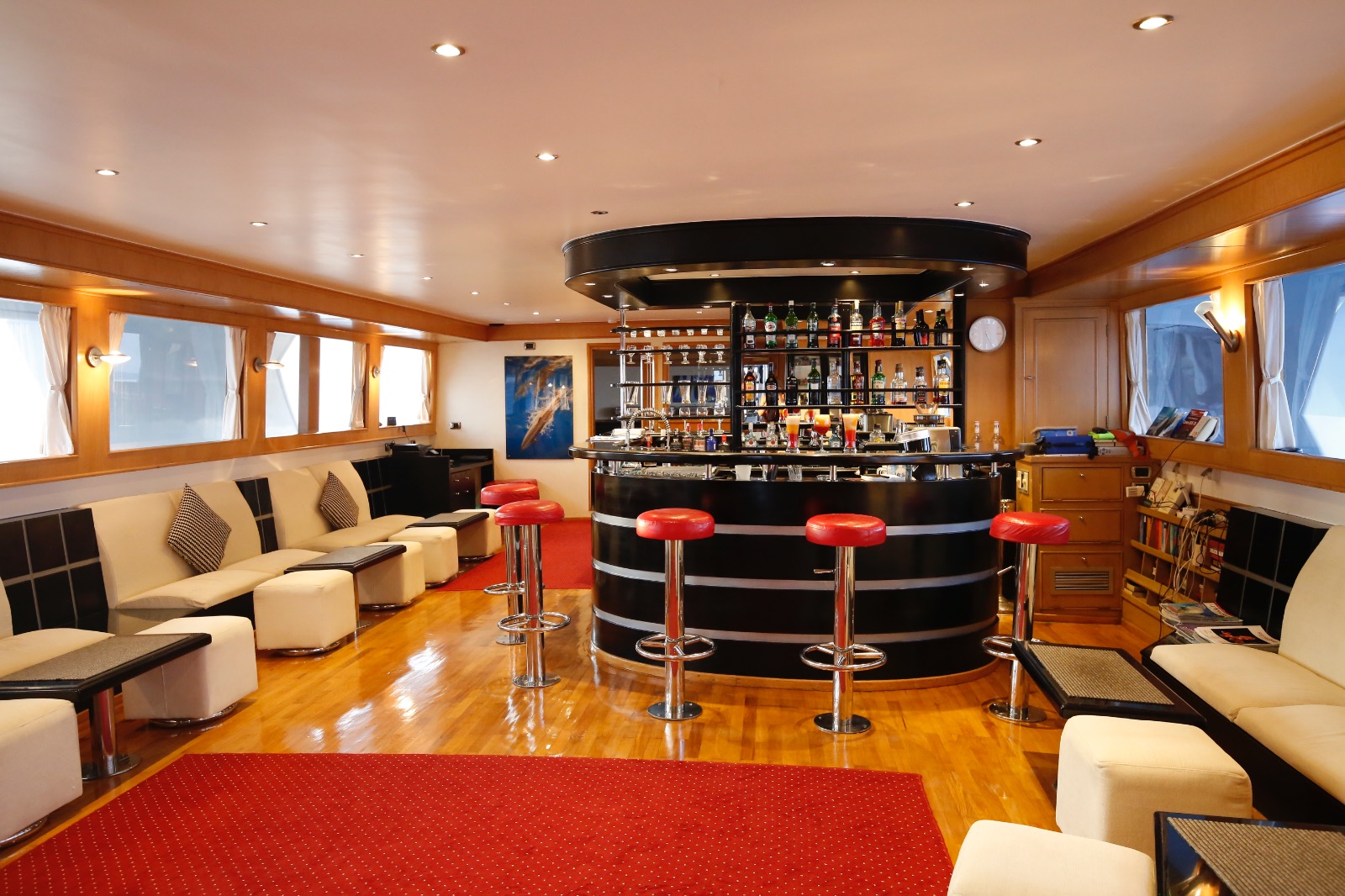 The boat's 5-star service brings great food and facilities and is perfect for exploring the waters with its large dive deck which has individual storage space and dedicated rinse tanks.
One of the most popular aspects of Seven7Seas is the view from the barbecue lounge – where freshly-grilled food is produced – but it also has a large dining room, welcoming bar and beautiful sundeck.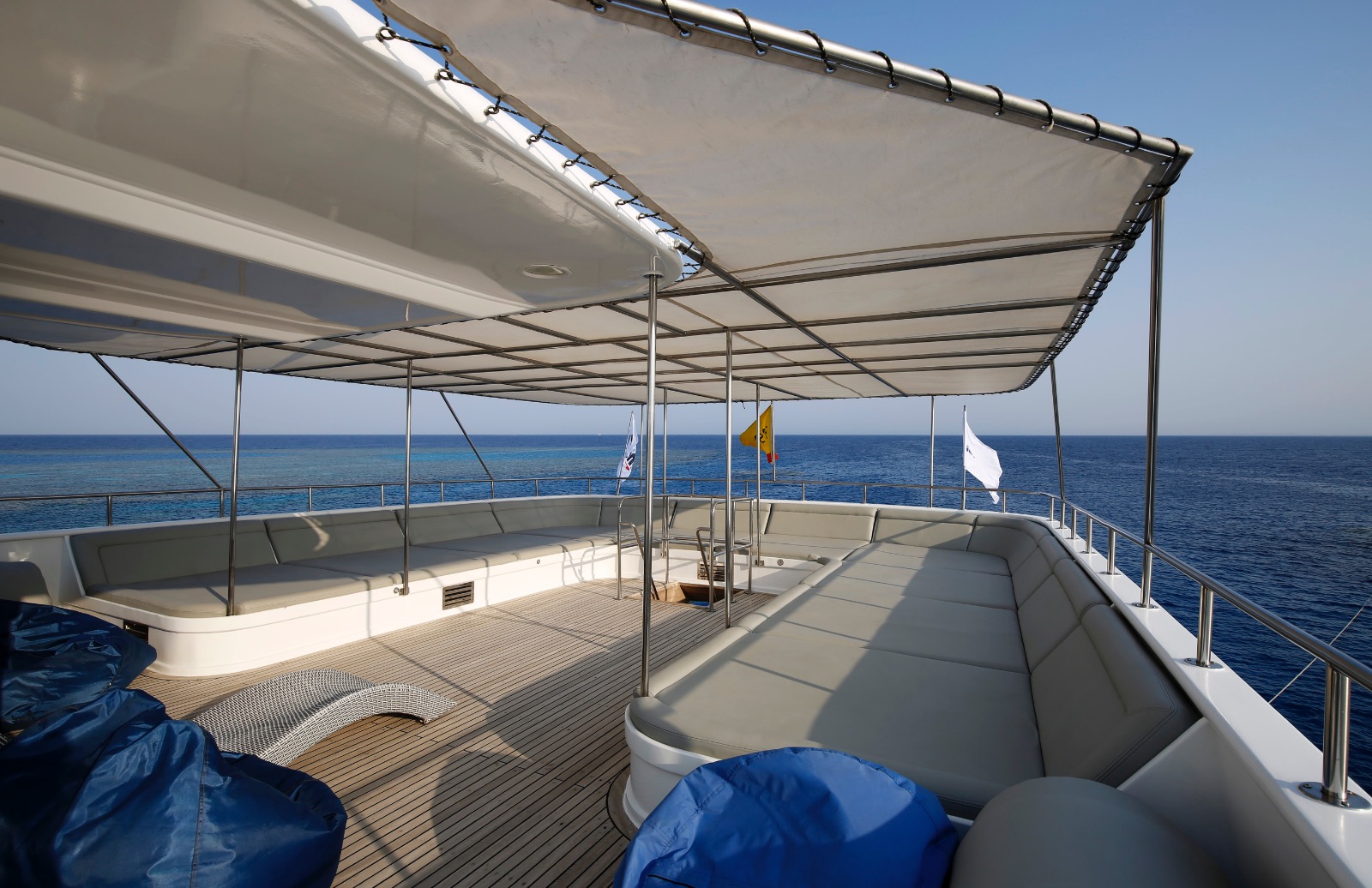 Emperor Divers CEO Alex Bryant said: "We are so happy to have been able to create this cooperation with Seven7Seas.
"She is a beautiful boat and a real favourite with divers in the Red Sea.
"With the reputation and quality Seven7Seas has, coupled with the knowledge and experience possessed by Emperor Divers, we believe by working together we can continue to create special trips for the many divers who already love visiting her and, also, for those yet to find out what a superb liveaboard she is.
"We are really looking forward to developing this relationship and seeing Seven7Seas go from strength to strength."
Anyone wanting more information on Seven7Seas can visit https://www.emperordivers.com/seven-seas-cooperation/or email reservations@emperordivers.com.
Ross Kemp on… Blue O Two's Blue Melody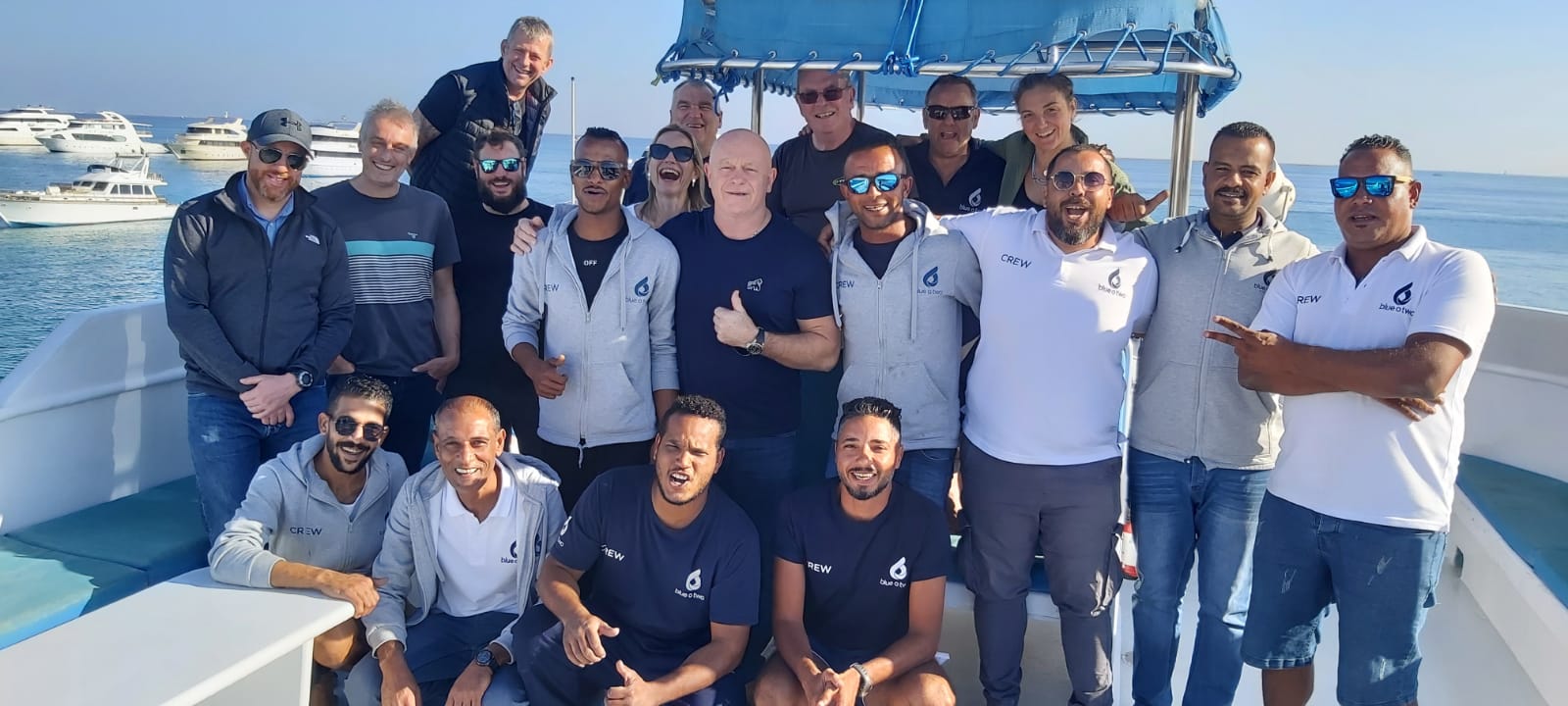 Blue O Two were recently delighted to welcome Ross Kemp on board their award-winning Red Sea liveaboard, Blue Melody. He was filming for his latest documentary series, Ross Kemp: Deep Sea Treasure Hunter, which is now on Sky History on Mondays at 9pm (UK).
The series follows Ross as he explores remnants of some of the most significant moments in British history. During his stay on Blue Melody, he uncovered some of Britain's Imperial past in the Red Sea.
Other episodes include a visit to the site of one of the most famous shipwrecks ever discovered, the Mary Rose, to mark the 40th anniversary of the ship being raised. Ross and his team also dived abandoned D-Day and Cornish wrecks. Among others in his team, Ross was joined in the Red Sea by marine archaeologist, Mallory Hass, legendary Dive Master, Neil Brock, as well as safety diver, Mark Culwick.
Aside from his many other exploits, Ross is a recognised figure in the UK diving industry. He delighted audiences at Go Diving Show 2023, as one of the speakers.
Mel Hicks, Blue O Two's customer representative in the Red Sea resort, gave the low down of her experience with Ross.
"I spent the day with him and the crew on Saturday as we had a bus to go around Hurghada and do some filming on land.  He got recognized by some Brits on holiday while we were out and was very down to earth and chilled out about it – not like his Eastenders character at all!
I asked him if he gets recognized a lot still and does he mind it. He said not at all. When he's out drinking, people often like to buy him drinks and have a good knees up, like Grant would do in the Old Vic pub, and only the occasional drunk ones want to try and fight with him.
The crew were constantly joking with him while we were driving around and he took it really well. News got around Hurghada that he was here and he said he would be happy to sign autographs/photos to send to people as he couldn't make a night out due to prepping for filming.
For his departure transfer me and Teresa did sing the theme tune to Eastenders for him, which if you have ever heard me singing karaoke, it's not a pleasant experience!"
Poor Ross! And what a lovely chap he is.
Visit www.blueotwo.com to find out more about Blue Melody and the wonders of diving in the Red Sea.