Diving with…. Suzanne Pugh, Freedive Egypt
In this ongoing series, we speak with the people who run dive centres, resorts and liveaboards from around the world about their businesses and the diving they have to offer
---
What is your name?
Suzanne Pugh, no I really don't have a middle name.
What centre are you involved with?
I run www.FreediveEgypt.com and mainly teach out of Aquarius Dive Centre at the Marriot in Hurghada as it has a quiet pool for training and boats going out to the reef every day. I also teach in Makadi Bay with I-Dive when we have AIDA 3* courses and need 20-30m as it is easier to go from the beach. For deeper training we go to Sharm el Naga as there is a buoy at 40+ metres and speed boat safety from the beach; it can get a bit choppy depending on the wind.
How long have you dived for and what qualification are you?
I learnt to scuba dive in Bristol in 1994 but hated taking my mask off so was unable to qualify in Stoney Cove and had to make my qualifying dives in Antigua. Really no comparison! I moved to Hurghada on Friday the 13th of October 2000 to do my Dive master, AI and Instructor course with Emperor Divers at the Hilton Hotel. My idea was to stay for maybe six months and get some diving experience. I was given the amazing opportunity to work as a Rep for Regaldive, which meant all my guests were divers so I could go on the boat every day and dive too.
I took my first freedive training in 2001 and competed in Hawaii in 2002 on the UK Freedive Team. I became an AIDA Freediving instructor in 2003 but didn't really start teaching freediving until 2006 when I gave up the day job.
What is your favourite type of diving?
Freediving is my favourite type of diving especially with dolphins and the amazing marine life we have here in the Red Sea. I enjoy the freedom that freediving gives me to move around in the water without worrying about deco stops or how much air is left in the tank.
What is your role within www.FreediveEgypt.com ?
I am the main Instructor teaching AIDA courses. I am also a SSI Freediving Instructor and PADI scuba diving instructor but now only scuba dive for fun.
What was your most memorable dive in Egypt and why?
I have had amazing dives with a whale shark, hammerheads and thresher sharks in the south of Egypt. My most memorable freedive though was at Dolphin House reef just outside Hurghada. I had a face to face with a dolphin scanning me up and down for what seemed like five minutes. I had never had that experience before or since. I was pregnant at the time but didn't know it, so guess that was why.
What types of diving are available in this area?
All kinds of diving are available in the Red Sea, beautiful reef dives with bright corals and hundreds of fish swimming all around you. Beginners can have a try dive in the shallow waters next to the reef. There are wreck dives at Abu Nuhas with part of the mast sticking out of the water, which makes them accessible to snorkelers, freedivers and scuba divers. There is also the famous SS Thistlegorm, which is usually dived from a liveabord boat. Technical divers enjoy the drop off at Umm Gamar and Abu Ramada. The Red Sea has it all.
What do you find most rewarding about your current role?
I love seeing people go out of their comfort zone and realising they can do something they didn't think they could. Maybe it's a two minute breath hold or diving to 20 metres depth or even just being able to dive in the sea and not be scared. I am also a yoga teacher and I love helping people get into the zone by stretching all their muscles and releasing tension they didn't even know they had. Teaching people to relax in the water and explore themselves and the amazing underwater environment of the Red Sea is such a gift that I am honoured to have.
What is your favourite underwater creature?
The octopus has got to be my favourite as I don't see them very often and when I do it is always a game of now you see him, now you don't. Take your head out of the water to say to your buddy 'wow look there is an octopus down there' and look back and not being able to see him anymore until he moves again. They are amazing creatures, changing to the environment they are in and just fitting into the smallest of spaces.
If you could tell people one thing about the Red Sea to make them want to visit you what would it be?
The Red Sea is one of the most beautiful places in the world with a vast array of corals and marine life. We have the chance to dive with wild dolphins, turtles, moray eels and Nemo! The water is warm and has visibility of 20m+ most of the time and it's only a short flight away from Europe.
If you would like to give freediving a try get in touch, email me at freedive@freediveEgypt.com or through our Facebook page Freedive Egypt
Calling all ocean torchbearers in Hurghada, Egypt!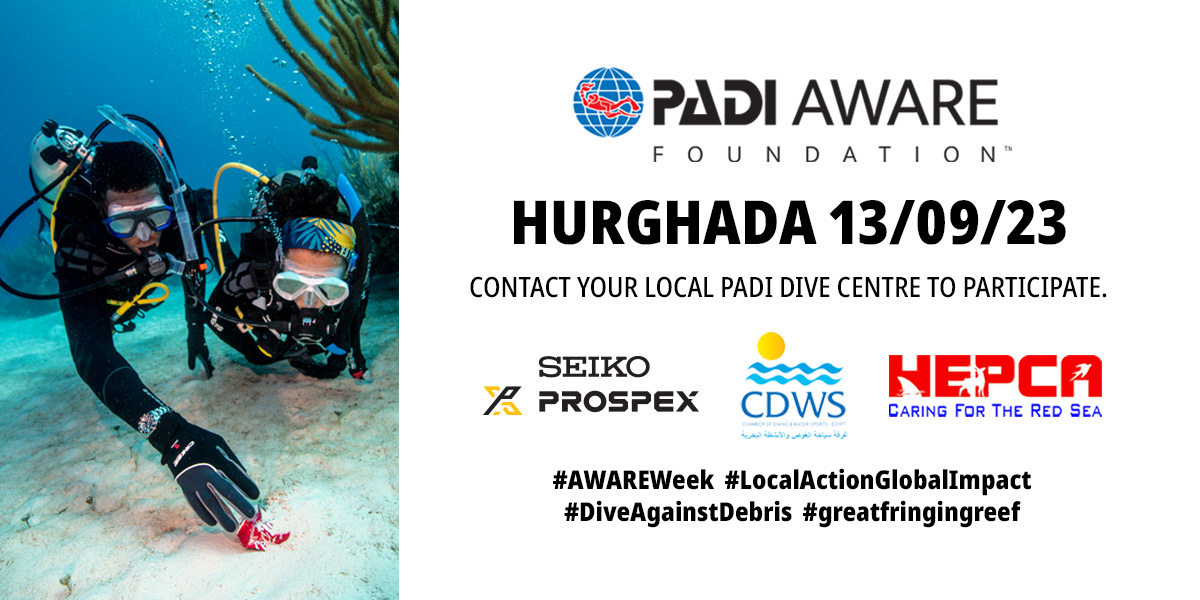 As part of PADI AWARE Week, we are thrilled to announce an exciting collaboration between PADI, PADI AWARE, Seiko, HEPCA, and CDWS. Join them for an extraordinary underwater clean-up event at Magawish Island, Hurghada, on the 13th September 2023.
Guided by local PADI dive centers and marine experts from HEPCA, you can participate in a Dive Against Debris and make a tangible difference in saving our ocean.
Imagine diving into the crystal-clear waters of the Red Sea, surrounded by vibrant marine life, while actively contributing to its preservation. Plus, you'll have the opportunity to connect with your local dive community and experience the wonders of this remarkable ecosystem.
Participants can also enjoy some fantastic giveaways, including hats, T-shirts, metal water bottles, and more.
Key Information
Date: 13th September 2023
Time: 10am
Location: Magawish Island, Hurghada
Requirements: Participants must be PADI Open Water certified
To secure your spot simply sign up here or contact a participating local PADI Dive Center in Hurghada.
Participating PADI Dive Centers at time of writing:
Emperor Divers welcome divers to Seven Seas with 20% off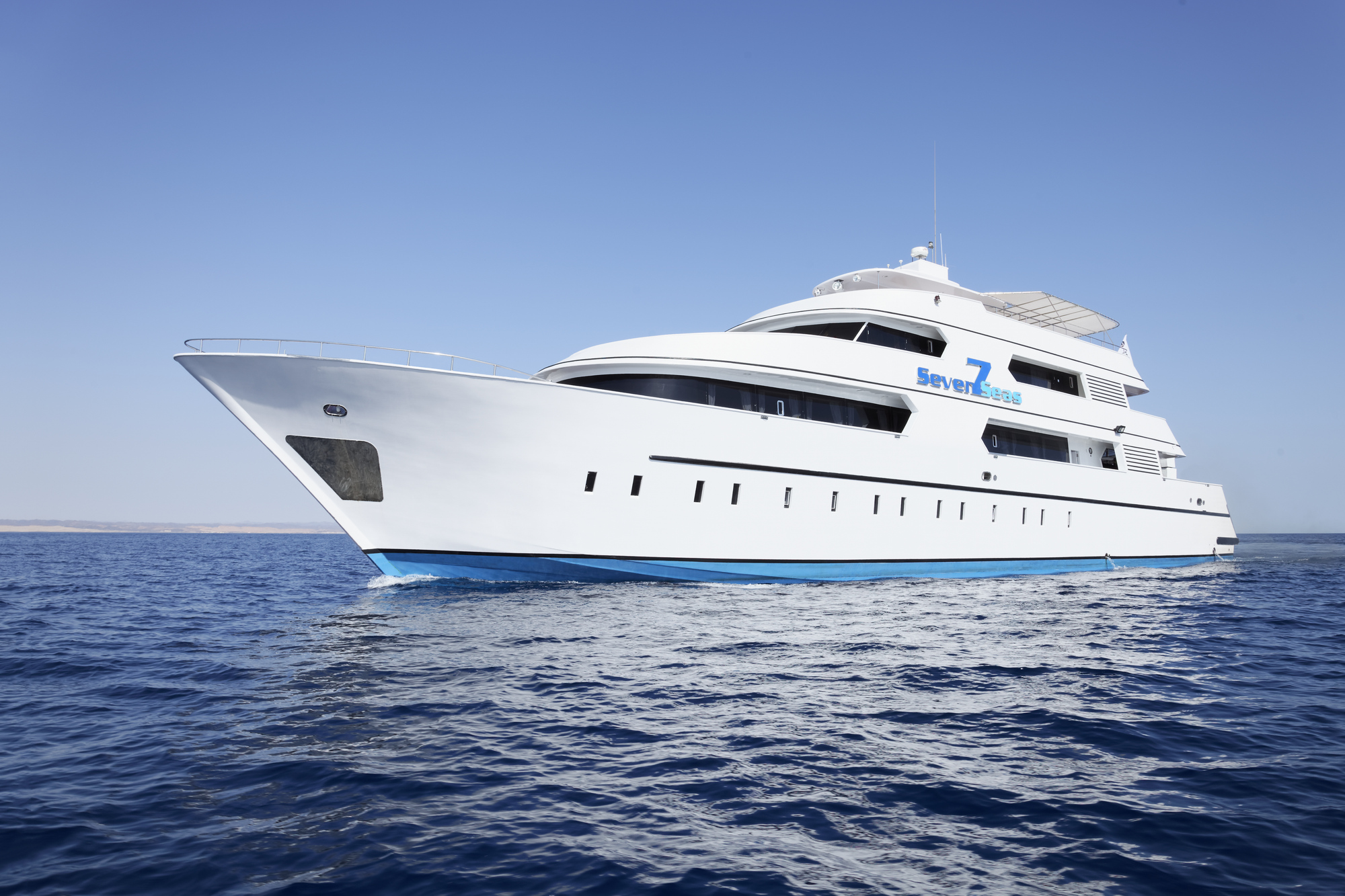 The much-loved Red Sea liveaboard Seven Seas has become a full member of the Emperor Divers fleet.
Having worked in collaboration with the Seven Seas team in recent months, Emperor have now integrated her into their fleet to make her their flagship vessel in the region.
Seven Seas has won the "Best Liveaboard in the Red Sea" award on five occasions which speaks volumes for the quality of trip she offers. She is a true icon of liveaboard holidays in this region providing a great diving experience from truly elegant surroundings.
At 41 metres long with 12 spacious cabins – each with marble clad en-suite and separate shower room – there is plenty of room to relax, while the five-star service on board includes sensational food and wonderful facilities. She is perfect for diving as the large deck has spacious and powerful zodiac tenders with ladders.
The view from the barbecue lounge – where freshly-grilled food is produced – on the upper deck is amazing while there is also a large dining room, welcoming bar and beautiful sundeck.
Bringing such a fantastic boat into the team is a real cause for celebration at Emperor who will now do everything they can to continue providing the high-quality diving holidays for which Seven Seas is renowned.
SPECIAL WELCOME OFFER – GET 20% OFF!
Anyone booking a 2023 sailing on Seven Seas will receive 20% off the cost of their trip. That's a massive saving and a great way to welcome Seven Seas to the Emperor family.
For more, visit www.emperordivers.com