Diving with… Rose Kuipers, Poseidon Divers, Dahab
In this ongoing series, we speak to the people who run dive centres, resorts and liveaboards from around the world about their businesses and the diving they have to offer…
---
What is your name?
Rose Kuipers
What is the name of your business?
Poseidon Divers
What is your role within the business?
MSDT & Front office manager
How long has the business operated for?
21 yrs
How long have you dived for, and what qualification are you?
About 12 years. Now Master Scuba Diver instructor, working as a Front office manager.
What is your favorite type of diving?
Shore diving: – don't have to go deep, love swimming along the colorful reefs of Dahab, always something to see. But I also really enjoy boat safaris once in a while.
If you could tell people one thing about your business (or maybe more!) to make them want to visit you what would it be?
We have a team of professional and enthusiastic divemasters and instructors, plus Aqualung dive equipment in tip top condition. We have high standards considering safety and reef conservation and love to show our guests all the best places in Dahab. Friendly atmosphere, easy going.
What is your favorite dive in your location and why?
It's very hard to choose as there are so many. I like the Blue Hole but I guess that's one of the obvious. So my own personal favourite:
I love Mashraba, it is a dive site in the bay and the beauty of it very underestimated by the rest of the dive centres in Dahab. I have dived there over a hundred times and still enjoy it very much! There is always something special too.
The dive starts with a sandy slope, easy entry and exit and perfect for a swimming safety stop at the end of the dive. On the slope you can find porcupine pufferfish, box fish, sea cucumbers and other creatures. Then the sand makes place for soft hills with sea grass. There are some statues placed there as an artificial reef , where you can find plenty of Lionfish, Octopus, damselfishes, stone fish, Red Sea Walkman, and seahorses!
Now the best part. To the right side you will bump into Roman's Rock, a big rock covered with beautiful corals and full with life. Photographers never make it further than this Rock. Sometimes turtles or Napoleon wrasses pass by, or if you are lucky an eagle ray is resting at the deep end of the rock (26 meters).
If you make it past that Rock, you can look forward to table corals, and a garden with rock formations in all shapes. There is a secret little swim through at 36 meters (for Deep Divers). Then in about 30 minutes of the dive a rock formation that is called "glassfish pinnacle" and time to turn around. Following the reef along the coast, a perfect route to spot stone fish scorpion fish, crocodile fish, sea bream, octopus, butterfly fish, etc.
As you can tell by now… I really looove this dive!
Its also great for night dives, amazing feather stars, little crabs, shrimps Spanish Dancer etc.
What types of diving are available in your location?
In Dahab, it is all shore diving. We can dive the whole year and most dive sites are accessible for all level of scuba divers. There is a couple of sites where you have to be AOW (for instance Canyon, Blue Hole, Caves). There are hardly any currents and an visibility is most of the times around 20 meters. Water t emp in the summer can go up to 26C, and in winter lowest temp I had in 10 years was 18C.
We also organise 1 day Boat safaris to the most Southern dive sites in Dahab, called Gabr el Bint. Camel dive Safari to the Northern dive sites in Ras Abu Gallum, daysafari's to the world famous Thistlegorm Wreck with Ras Mohamed, and this year we will be promoting more 3 day liveaboards for people that are into wreck diving and like to see sharks when the season is there.
What do you find most rewarding about your current role?
As a counter girl, I like to see the happy faces from our guests when they return to the dive centre after a great day of guided diving and the proud faces of students and instructors when students receive their dive certifications.
We also train Divemasters and Instructors. A whole different level as they usually stay with us for a longer period of time. It makes me proud when they find great diving jobs abroad and do well.
As a MSDT, I really enjoy teaching children or people that need a little bit more extra attention. The happiness on their faces when you come up from the dive is just priceless.
What is your favourite underwater creature?
Of all the underwater creatures that you can see here, I think I like the huge male Napoleon wrasses the most. They look so gentle, always keeping a fair distance but definitely interested in the divers.
Are there any exciting changes / developments coming up in the near future?
We are working together with Project Azraq, a project run by volunteers and marine biologists in Dahab. Every month they organise at least one presentation of an animal creatures that can be found here, and next month we are going to host one of their clean up dives.
Of course the new liveaboards are also very exciting and I hope I get the chance to join one.
But to be honest, every day is special. I live in Paradise and have the best job in the world.
As a center what is the biggest problem you face at the moment?
The biggest problem we're facing at the moment is the lack of affordable flights to the nearest airport, Sharm el Sheikh and the media telling people that it is not safe to come here. I have lived here now for more than 10 yrs and I have never experienced feeling unsafe. The locals are very friendly and welcoming. The expats living here form a strong community, together with the locals.
Is your center involved in any environmental work?
The C.D.W.S. (Chamber of Diving and Water Sports) is trying to implement more rules for reef conservation and protection of our National Parks. The dive centres are checked on an annually base if they follow all the rules and regulations. As a PADI 5* CDC with high standards about safety and environmental awareness it is actually not a problem. We are one of the supporters of Project Azraq, who is organising weekly presentations about the marine life in the Red Sea and organising clean up dives (Dive against Debris), Poseidon Divers is going to host the clean up dive, providing free tanks and weights for all participants. The results of the clean up dives will be collected by Project Azraq and sent to Project Aware.
How do you see the SCUBA / Freediving / snorkeling industry overall? What changes would you make?
Difficult question. I'm not sure what I would like to change. Maybe more education? Specially here in Dahab. People arrive by bus, hire snorkel equipment and a life jacket and then happily walk over the reef, smoking cigarettes flicking their buds in the sea, not realizing what they are doing.
What would you say to our visitors to promote the diving you have to offer?
Shorediving, laidback and easy going. More than 15 beautiful dive sites with exciting names like The Islands, Mashraba, Lighthouse Reef Eel Gardens, Three Pools, Golden Blocks, Caves, and of course the world famous Blue Hole and Thistlegorm Wreck.
Diving in the Red Sea is one of the best experiences you will ever have. We dive whole year around, watertemp in feb 19 C and in August around 26C, Visibility average 15 meters!
We have enthusiastic and experienced instructors and dive masters on our team who are looking forward to show you the best dive sites. We offer tailor made package deals including hotel and airport transfers. Want to do 1 dive a day, start later? Or 3 dives on one particular site? We are happy to help you organise the best diving holiday you have ever had!
Where can our visitors find out more about your business?
Email: info@poseidondivers.com
WhatsApp: +20 109 006 1971
New Red Sea Aggressor IV to explore Southern Egyptian Red Sea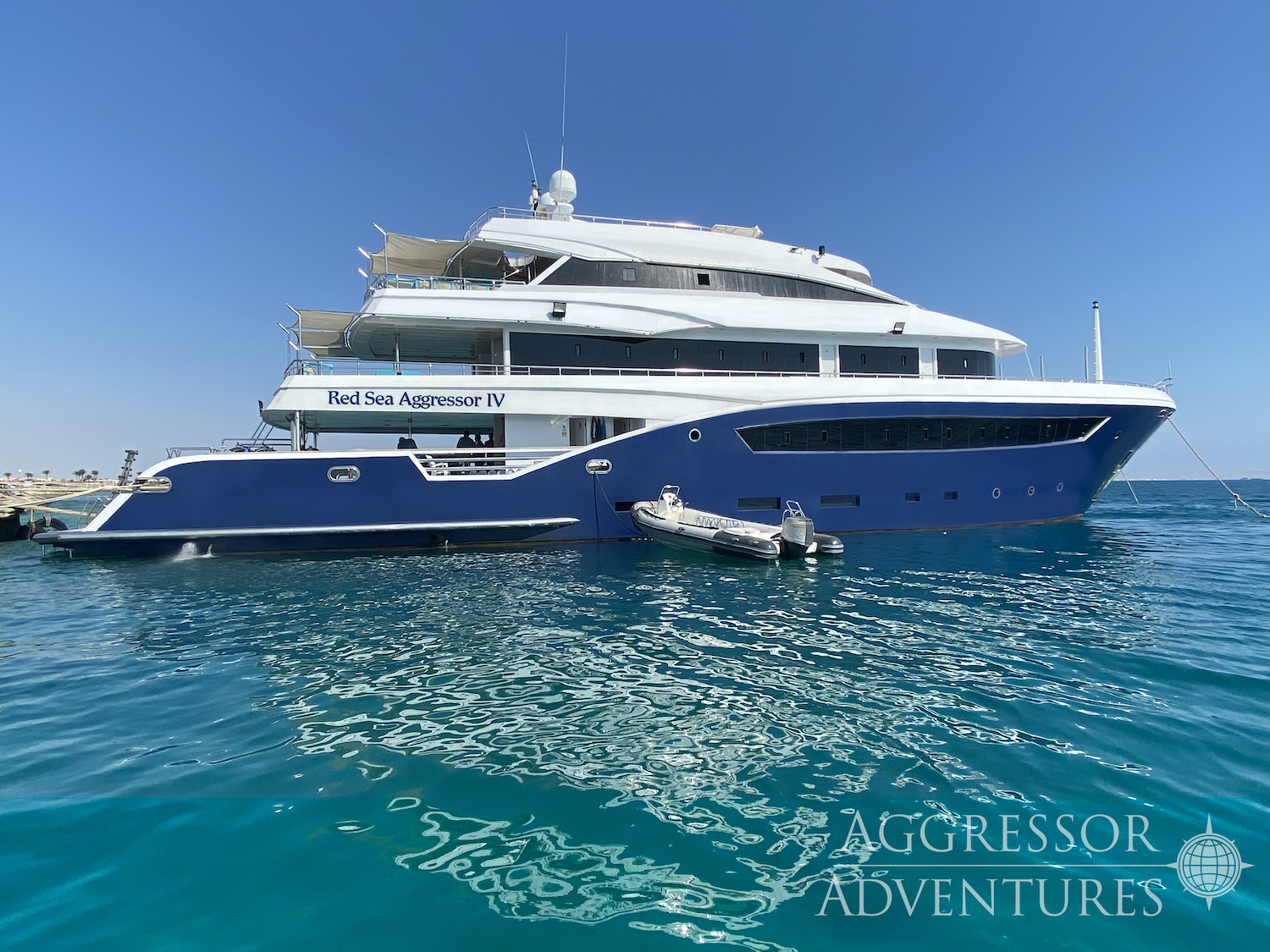 Aggressor Adventures® introduces new Red Sea liveaboard in March 2023
On March 4, 2023, the new Red Sea Aggressor IV® dive yacht will cast off from Port Ghalib, Egypt for the liveaboard's seven-day maiden voyage exploring the magnificent dive sites of St. John's Reef, Marsa Shoana, Sataya Reef and Daedalus Reef.
Up to 26 guests will cruise the southern Red Sea aboard the 143-foot/44-meter liveaboard, which features the ultimate personal amenities including 13 spacious staterooms, a restaurant serving chef-prepared meals, state-of-the-art dive center with Nitrox fills, multiple open-air lounges with wet bars, two hot tubs and a fly bridge for enjoying memorable sunsets. All scuba dives are safely conducted from three, 21-foot/6.4-meter dive tenders.
The yacht's St. Johns route is just one of three thrilling, southern Egypt itineraries explorers may choose. The second dive program, Brothers-Daedalus-Elphinstone, begins at the shark-filled waters of the two Brothers Islands, then moves to the Daedalus Reef. The week culminates with stops at Elphinstone and Sha'ab Maksour with its pristine hard coral gardens.
The third Red Sea Aggressor IV® itinerary ventures even farther south beyond Ras Banas. The Deep South dive schedule makes stops at Fury Shoal and Habili Orman before reaching its destination—the remotes sites of Habili Aly, Habili Gaffar and Dangerous Reef. All three itineraries provide guests underwater pelagic encounters with sharks, manta rays and friendly dolphins, and up-close views of the Red Sea's trademark brilliantly colored soft corals.
"The southern Egyptian Red Sea is a very special place to the Aggressor Adventures® family. It has been an Aggressor destination since 2014 and we are so excited to welcome the new Red Sea Aggressor IV® into our fleet," says Wayne Brown, CEO of Aggressor Adventures. "It's a spectacular yacht operated by a five-star staff."
Saturday-to-Saturday from the Port Ghalib, Egypt yacht marina, Red Sea Aggressor IV® adventures start at $2,699.00 per person and include scuba diving, snorkeling, deluxe onboard accommodations, scrumptious meals, snacks, soft beverages, beer, wine and service from a professional staff.
For more, visit www.aggressor.com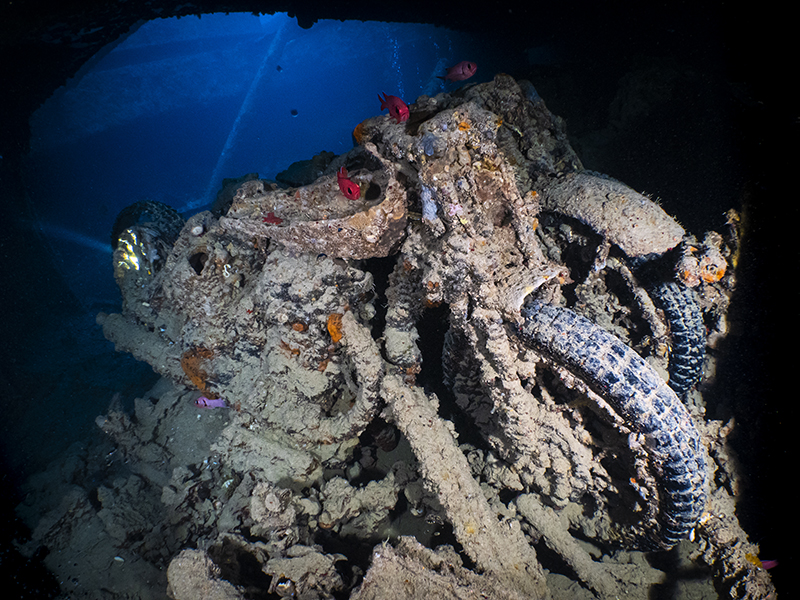 By now, you will have hopefully read the first blog from my recent trip to the Red Sea with The Scuba Place on M/Y Big Blue. If you haven't, you can find the link to the blog here.
I've been diving since 2011, although I didn't get really serious about diving until 2013. In the November of that year I joined Scuba School on a trip to Sharm El Sheikh to complete my Advanced Open Water course. That was the first time I heard about the famous SS Thistlegorm and its cult status in the wreck diving world. Unfortunately, as I, along with a lot of the group were novice divers, and so we were unable to dive it on that 2013 trip, along with a lot of the other famous wrecks from the North. Little did I know, I wouldn't return to the Northern Red Sea until this trip in September 2022 with The Scuba Place. The wrecks remained mysterious all those years but I was soon getting the full experience. After the first two and a half days exploring the amazing reefs, it was time to break my Thistlegorm virginity and get the true "lust for rust" experience of the Northern itinerary.
As we moored up at the SS Thistlegorm for the afternoon dive, I got a strange sense of anticipation run through my body. More so than at any other specific dive site. Strange really, as I don't normally get excited about wreck diving, but here was a site that I'd heard so much about but was still so mysterious. I'd always thought it was a difficult dive and had a slight fear of it, as I wasn't allowed to do it all those years back. Then, after watching a 20 minute film explaining the story of the wreck and listening to the stories of survivors,. I knew it was a site that demanded respect. As Mo went through the dive briefing, I quickly realised it seemed a lot more simple than I had in mind. I then became more excited than fearful as me and my dive buddy went through our plan. 
There was an eerie feeling as we submerged below the gentle swell. The visibility was a lot more milky compared to the clear blue I was used to in the Red Sea. However, the wreck soon came into view as we dropped down the shot line. The first thing that struck me and in my opinion just made the wreck extra special, was the life on it.
Instantly, crocodile fish and scorpion fish were spotted resting on the wreck, as we made our way to the anti-aircraft gun on the stern. I made a quick visit to take some photos before we turned back and penetrated the wreck for the first time. A surreal experience but the numerous glassfish and lionfish at the entry point kept me entertained before seeing the remnants of yesteryear. The different vehicles that still keep their place in the decks are the main highlight, but it was the boots that struck a chord with me: signs of the human lives that were present on the fateful day the bomb hit. I got a real buzz from my first time on the Thistlegorm, with a school of batfish greeting us on our safety stop finishing off the adventure. John and I ascended from a great dive with a high five, knowing I'd fulfilled a special memory.
I enjoyed three more dives on the Thistlegorm, giving me chance to explore a little more and see a little more life. Some cool nudibranch and a cuttlefish making their home inside the wreck added to the array of life I'd already seen. It was the night dive that truly hit the marine life spot. It really came to life at night and I soon lost count of the amount of scorpionfish I saw. The contrast of the dark and wreck against the blue spotted stingrays made their colours really pop as around six or seven were spotted. Eels, lionfish and crocodilefish making up the rest of the weird and wonderful sights on the wreck at night. Amazing memories from my first time exploring the Thistlegorm that will last forever.
After the two morning dives on the Thistlegorm, we headed off to the Barge wreck site for an afternoon and night dive. It's not much of a wreck when you compare it to the others on the trip. It lies like a flat platform on the seabed with some sides rising out from the reef providing extra space for coral growth and marine life to enjoy. While it doesn't provide a real wreck fix with penetration, it is a haven for marine life, littered with all types of hard and soft corals. Look closely and the Barge is a great spot for the weird and wonderful. The numerous nudibranch and grey moray eels provided my macro fix on the night dives, while the occasional buzz from huge hunting giant trevally provided the entertainment. A nice contrast of wrecks before moving on to Abu Nuhas.
Abu Nuhas is a really unique place. Its submerged reef has been bad luck for five passing ships, with five cargo shipwrecks lining its northern slopes. While it was more than unfortunate for some, the wrecks have provided fortune for those looking for a wreck diving haven. Our day consisted of diving three of the wrecks  – The Carnatic, Giannis D and Marcus/Chrisoula K in that order.
Going into the trip, it was the Giannis D that I was most keen to dive. I'd always admired the wide angle stern shots I'd seen over the years, with it staying pretty much intact and creating a dramatic image as it lies on its side. It was a fantastic dive with some interesting and easy penetration; I also took some shots of the stern in all its glory. A huge grouper sitting inside the wreck provided the wildlife fix, as it floated with ease looking out into the blue from an opening on the wreck. I think it was the Carnatic that stole the show personally though. Her open windows out to the blue that are covered in soft coral were unique, and glassfish dancing in formation inside mesmerised into a truly memorable dive. The Marcus provided the adventure as penetration was a little more difficult to work my way through the wreck.
The day at Abu Nuhas was the best of the trip for me and that wasn't solely because of the wrecks….. YES!! Once again it was marine life that had me screaming with joy underwater and a buzz through my body like no other. FINALLY!!!!! After 9 years of taking photos underwater, I was able to share the water with dolphins (bottlenose in this instance) and shoot them in all their glory.
Our journey to and from the wrecks on each dive took us through the channel on the ribs, where dolphins were seen on every pass playing in the slight waves. After the second dive, the guides asked if we wanted to try to snorkel with them. It was a resounding yes and as the speedboat whipped up a wave storm, the dolphins headed to the surface to play. I dropped in with no elegance at all, as my excitement took over. I was wondering whether they would stay once we entered, but how they stayed and played was beyond anything I could imagine. Bringing seaweed to us and then, with a flick of their tails, speeding off after teasing with a slow approach. There were nine in total and they even came by to show off the baby of the group. It was definitely up there as one of my greatest moments in the water. 
We finished the liveaboard trip with three more amazing reef dives, with the highlight being a small cave full of glassfish and MANY lionfish. I entered to take photos of the glassfish before the lionfish started to sneak out of every crevice and reveal themselves from their camouflaged rest spots.
It got a little hairy but made for a truly interesting moment to finish the week on Big Blue. The fun wasn't done though, as John eluded to the fact that I was on the same late flight as them on the Saturday and asked if I'd like to join his group for a night at Roots Red Sea. Sounds like a good plan!! Also, if we got there in time, a night dive on the house reef that's a haven for the weird and wonderful would be on offer. What an amazing surprise end to the trip at an amazing dive resort: secluded, with a beautiful desert backdrop, sitting just metres from the sea. Thankfully, we made it for a night dive and it was as incredible as John said it would be. Reef squid, numerous cuttlefish, a bouncing stonefish jumping over sea moths AND a dwarf lionfish made this one of the best night dives ever, and a perfect end dive to a perfect trip. A final day of relaxation at Roots pool and enjoying the beautiful food finished it in style. 
For more information about diving on Big Blue: