Diving with… Rose Kuipers, Poseidon Divers, Dahab
In this ongoing series, we speak to the people who run dive centres, resorts and liveaboards from around the world about their businesses and the diving they have to offer…
---
What is your name?
Rose Kuipers
What is the name of your business?
Poseidon Divers
What is your role within the business?
MSDT & Front office manager
How long has the business operated for?
21 yrs
How long have you dived for, and what qualification are you?
About 12 years. Now Master Scuba Diver instructor, working as a Front office manager.
What is your favorite type of diving?
Shore diving: – don't have to go deep, love swimming along the colorful reefs of Dahab, always something to see. But I also really enjoy boat safaris once in a while.
If you could tell people one thing about your business (or maybe more!) to make them want to visit you what would it be?
We have a team of professional and enthusiastic divemasters and instructors, plus Aqualung dive equipment in tip top condition. We have high standards considering safety and reef conservation and love to show our guests all the best places in Dahab. Friendly atmosphere, easy going.
What is your favorite dive in your location and why?
It's very hard to choose as there are so many. I like the Blue Hole but I guess that's one of the obvious. So my own personal favourite:
I love Mashraba, it is a dive site in the bay and the beauty of it very underestimated by the rest of the dive centres in Dahab. I have dived there over a hundred times and still enjoy it very much! There is always something special too.
The dive starts with a sandy slope, easy entry and exit and perfect for a swimming safety stop at the end of the dive. On the slope you can find porcupine pufferfish, box fish, sea cucumbers and other creatures. Then the sand makes place for soft hills with sea grass. There are some statues placed there as an artificial reef , where you can find plenty of Lionfish, Octopus, damselfishes, stone fish, Red Sea Walkman, and seahorses!
Now the best part. To the right side you will bump into Roman's Rock, a big rock covered with beautiful corals and full with life. Photographers never make it further than this Rock. Sometimes turtles or Napoleon wrasses pass by, or if you are lucky an eagle ray is resting at the deep end of the rock (26 meters).
If you make it past that Rock, you can look forward to table corals, and a garden with rock formations in all shapes. There is a secret little swim through at 36 meters (for Deep Divers). Then in about 30 minutes of the dive a rock formation that is called "glassfish pinnacle" and time to turn around. Following the reef along the coast, a perfect route to spot stone fish scorpion fish, crocodile fish, sea bream, octopus, butterfly fish, etc.
As you can tell by now… I really looove this dive!
Its also great for night dives, amazing feather stars, little crabs, shrimps Spanish Dancer etc.
What types of diving are available in your location?
In Dahab, it is all shore diving. We can dive the whole year and most dive sites are accessible for all level of scuba divers. There is a couple of sites where you have to be AOW (for instance Canyon, Blue Hole, Caves). There are hardly any currents and an visibility is most of the times around 20 meters. Water t emp in the summer can go up to 26C, and in winter lowest temp I had in 10 years was 18C.
We also organise 1 day Boat safaris to the most Southern dive sites in Dahab, called Gabr el Bint. Camel dive Safari to the Northern dive sites in Ras Abu Gallum, daysafari's to the world famous Thistlegorm Wreck with Ras Mohamed, and this year we will be promoting more 3 day liveaboards for people that are into wreck diving and like to see sharks when the season is there.
What do you find most rewarding about your current role?
As a counter girl, I like to see the happy faces from our guests when they return to the dive centre after a great day of guided diving and the proud faces of students and instructors when students receive their dive certifications.
We also train Divemasters and Instructors. A whole different level as they usually stay with us for a longer period of time. It makes me proud when they find great diving jobs abroad and do well.
As a MSDT, I really enjoy teaching children or people that need a little bit more extra attention. The happiness on their faces when you come up from the dive is just priceless.
What is your favourite underwater creature?
Of all the underwater creatures that you can see here, I think I like the huge male Napoleon wrasses the most. They look so gentle, always keeping a fair distance but definitely interested in the divers.
Are there any exciting changes / developments coming up in the near future?
We are working together with Project Azraq, a project run by volunteers and marine biologists in Dahab. Every month they organise at least one presentation of an animal creatures that can be found here, and next month we are going to host one of their clean up dives.
Of course the new liveaboards are also very exciting and I hope I get the chance to join one.
But to be honest, every day is special. I live in Paradise and have the best job in the world.
As a center what is the biggest problem you face at the moment?
The biggest problem we're facing at the moment is the lack of affordable flights to the nearest airport, Sharm el Sheikh and the media telling people that it is not safe to come here. I have lived here now for more than 10 yrs and I have never experienced feeling unsafe. The locals are very friendly and welcoming. The expats living here form a strong community, together with the locals.
Is your center involved in any environmental work?
The C.D.W.S. (Chamber of Diving and Water Sports) is trying to implement more rules for reef conservation and protection of our National Parks. The dive centres are checked on an annually base if they follow all the rules and regulations. As a PADI 5* CDC with high standards about safety and environmental awareness it is actually not a problem. We are one of the supporters of Project Azraq, who is organising weekly presentations about the marine life in the Red Sea and organising clean up dives (Dive against Debris), Poseidon Divers is going to host the clean up dive, providing free tanks and weights for all participants. The results of the clean up dives will be collected by Project Azraq and sent to Project Aware.
How do you see the SCUBA / Freediving / snorkeling industry overall? What changes would you make?
Difficult question. I'm not sure what I would like to change. Maybe more education? Specially here in Dahab. People arrive by bus, hire snorkel equipment and a life jacket and then happily walk over the reef, smoking cigarettes flicking their buds in the sea, not realizing what they are doing.
What would you say to our visitors to promote the diving you have to offer?
Shorediving, laidback and easy going. More than 15 beautiful dive sites with exciting names like The Islands, Mashraba, Lighthouse Reef Eel Gardens, Three Pools, Golden Blocks, Caves, and of course the world famous Blue Hole and Thistlegorm Wreck.
Diving in the Red Sea is one of the best experiences you will ever have. We dive whole year around, watertemp in feb 19 C and in August around 26C, Visibility average 15 meters!
We have enthusiastic and experienced instructors and dive masters on our team who are looking forward to show you the best dive sites. We offer tailor made package deals including hotel and airport transfers. Want to do 1 dive a day, start later? Or 3 dives on one particular site? We are happy to help you organise the best diving holiday you have ever had!
Where can our visitors find out more about your business?
Email: info@poseidondivers.com
WhatsApp: +20 109 006 1971
Calling all ocean torchbearers in Hurghada, Egypt!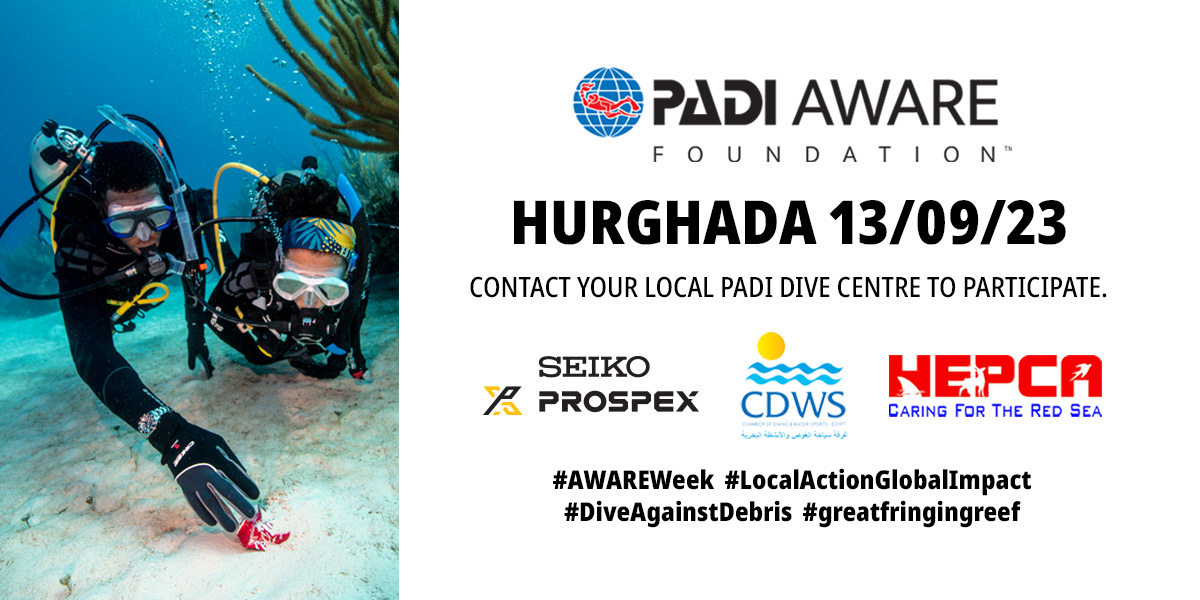 As part of PADI AWARE Week, we are thrilled to announce an exciting collaboration between PADI, PADI AWARE, Seiko, HEPCA, and CDWS. Join them for an extraordinary underwater clean-up event at Magawish Island, Hurghada, on the 13th September 2023.
Guided by local PADI dive centers and marine experts from HEPCA, you can participate in a Dive Against Debris and make a tangible difference in saving our ocean.
Imagine diving into the crystal-clear waters of the Red Sea, surrounded by vibrant marine life, while actively contributing to its preservation. Plus, you'll have the opportunity to connect with your local dive community and experience the wonders of this remarkable ecosystem.
Participants can also enjoy some fantastic giveaways, including hats, T-shirts, metal water bottles, and more.
Key Information
Date: 13th September 2023
Time: 10am
Location: Magawish Island, Hurghada
Requirements: Participants must be PADI Open Water certified
To secure your spot simply sign up here or contact a participating local PADI Dive Center in Hurghada.
Participating PADI Dive Centers at time of writing:
Emperor Divers welcome divers to Seven Seas with 20% off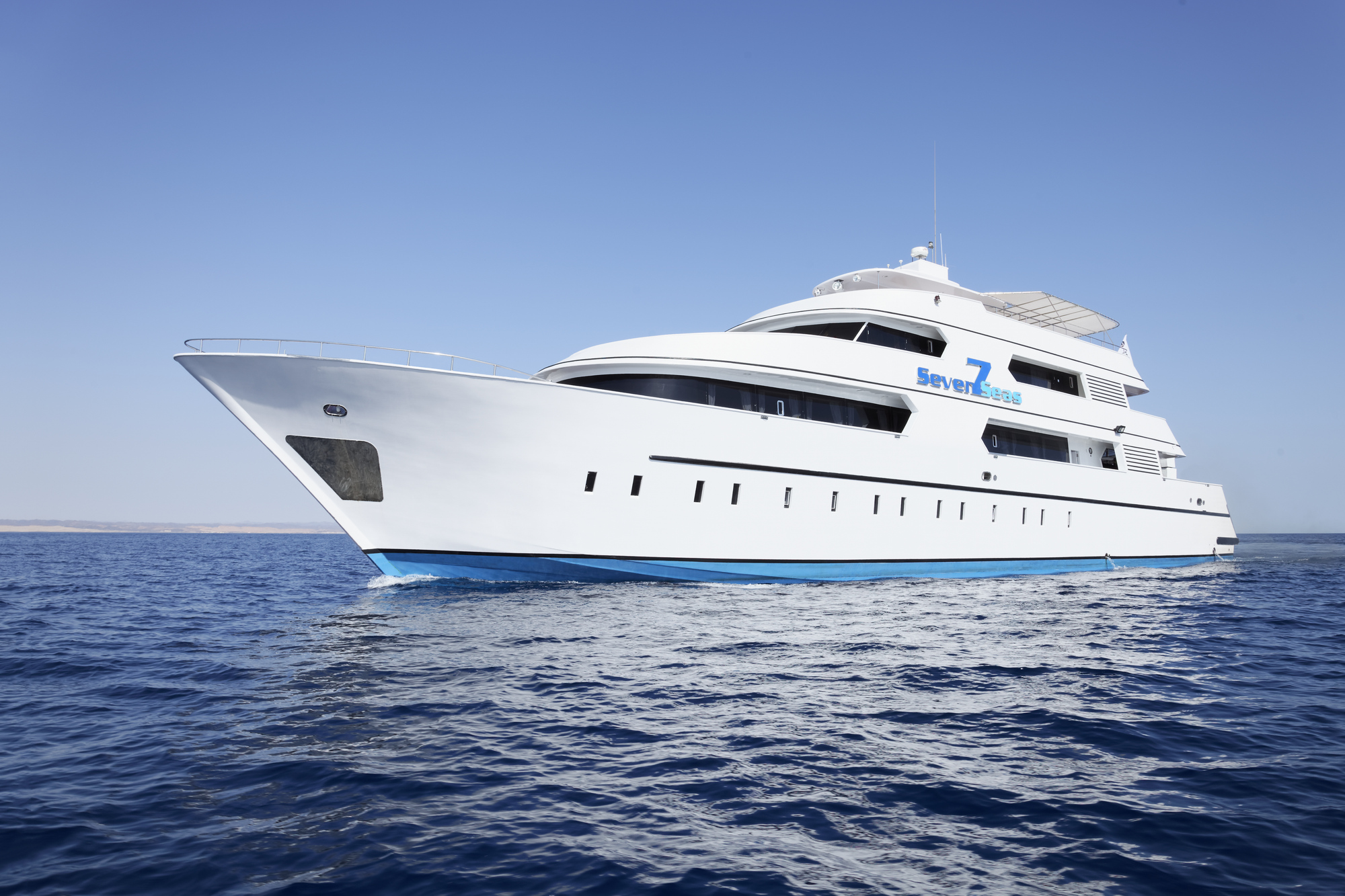 The much-loved Red Sea liveaboard Seven Seas has become a full member of the Emperor Divers fleet.
Having worked in collaboration with the Seven Seas team in recent months, Emperor have now integrated her into their fleet to make her their flagship vessel in the region.
Seven Seas has won the "Best Liveaboard in the Red Sea" award on five occasions which speaks volumes for the quality of trip she offers. She is a true icon of liveaboard holidays in this region providing a great diving experience from truly elegant surroundings.
At 41 metres long with 12 spacious cabins – each with marble clad en-suite and separate shower room – there is plenty of room to relax, while the five-star service on board includes sensational food and wonderful facilities. She is perfect for diving as the large deck has spacious and powerful zodiac tenders with ladders.
The view from the barbecue lounge – where freshly-grilled food is produced – on the upper deck is amazing while there is also a large dining room, welcoming bar and beautiful sundeck.
Bringing such a fantastic boat into the team is a real cause for celebration at Emperor who will now do everything they can to continue providing the high-quality diving holidays for which Seven Seas is renowned.
SPECIAL WELCOME OFFER – GET 20% OFF!
Anyone booking a 2023 sailing on Seven Seas will receive 20% off the cost of their trip. That's a massive saving and a great way to welcome Seven Seas to the Emperor family.
For more, visit www.emperordivers.com