Big Blue savings… book up now for 2022/23 Red Sea liveaboard adventures
The Scuba Place, the UK's exclusive Travel Agent for MV Big Blue, are delighted to announce its post-Covid relaunch with huge savings for 2022 and 2023.
Having been completed in early 2020, immediately before the global lockdown, the British owned and operated Big Blue was launched in Egypt's Red Sea as Covid decimated the dive travel industry. With Egypt now firmly placed on the 'Rest of The World' list, and with the all clear given from the FCDO, travel is now GO GO GO!
Big Blue – she is BIG! At 42m length, she is one of the largest vessels offering Red Sea safaris there is, but space doesn't mean hundreds of divers! Built by divers for divers, she sleeps a maximum of 24 people in 12 large, air-conditioned cabins. No more squeezing past your room buddy or banging knees as you squeeze into the bathroom sideways!
There are also accessible cabins on the main deck, with doors in and out that are wide enough (and level enough) for wheelchair access.
Then there are the deck areas – the dive deck itself being deliberately over-size, a huge kitting up area that can accommodate twin-set and rebreather divers, camera tables, rinse tanks – all designed for maximum space. For the sun-lovers and for between dives, the other decks are super-spacious too – no jacuzzi taking up unnecessary space, but comfortable loungers, bean bags and cushioned seating, both under cover and in the sun.
The boat is important to all liveaboard divers – there is nothing worse than being crammed into dated, damp and tiny cabins with dodgy blankets and leaking air-conditioning units. Big Blue fixes these issues, but there is then the question of food. As Big Blue is British built and owned, expect quality food, ample quantity, and lots of snacks available between dives too. All soft drinks are provided, including on-demand tea, coffee, juices and sodas. The bar? An important part of any trip, it offers a selection of local and well-known beers and wines at very sensible prices – if you want the hard stuff, bring your own from Duty Free and let us know in advance what mixers you want – they will be provided!
The most important part of a liveaboard trip is of course the diving. Operated by Pharaoh Dive Clubs, owned by the 30+ year experienced Steve and Clare Rattle, you need to expect the totally open and flexible approach to diving. No rigid itineraries, no dictated dive times, no forced guiding – wherever possible, Big Blue operates a 'Pool is open' approach – grab your buddy, tell the deck manager, and dive!
The itineraries offered are special too – there is always a plan but the plan is flexible, based not only on the Captain's decisions and the weather as per normal, but based on you, the diver! Staying on the Thistlegorm for an extra day, following dolphins, sharks or whalesharks in the South for example – everything, within reason and consensus of course, is an option. And there is normally something different offered to other vessels too on each trip – add in Ras Mohammed and Tiran on a Northern safari, dive the Thor Guardian Support vessel at Tiran, or add in a visit to the Salem Express if you are on one of the Southern itineraries – or, specify your own custom-itinerary, and we will build it!
Nitrox is of course included and 15l, extra tanks for sidemount, twinset and even support for rebreather and tech divers can be provided.
Available for part and full charters, and with some sailings for individuals, Big Blue will set the standards for liveaboard diving in the Red Sea. To celebrate the 'post Covid relaunch', the team are keeping full charter prices at 2020 levels all the way through to 2023, subject to bookings being made by the 1st December 2021. A sensible deposit secures your charter, so grab your Club or build your own gang of buddies, or even join on of The Scuba Places' hosted trips – but do it soon!
As a guide, prices start from Just £695 (plus flights) per person in Low Season, including Port Fees, Marine Park Fees, Government Reef Protection fees and Nitrox, based on a full charter for Northern Wrecks itinerary, rising to £925 for a Deep South itinerary, again including all fees and in High Season. Book after the 1st December, and prices will have increased by at least 10%.
See The Scuba Place website for itineraries, or their e-brochure – or even better, just get in touch with the team at The Scuba Place (0203 515 9955 or john@thescubaplace.co.uk) and get planning your trip! They will build your trip to include flights if required, and offer full ATOL Protection.
Emperor Divers to work in cooperation with Seven7Seas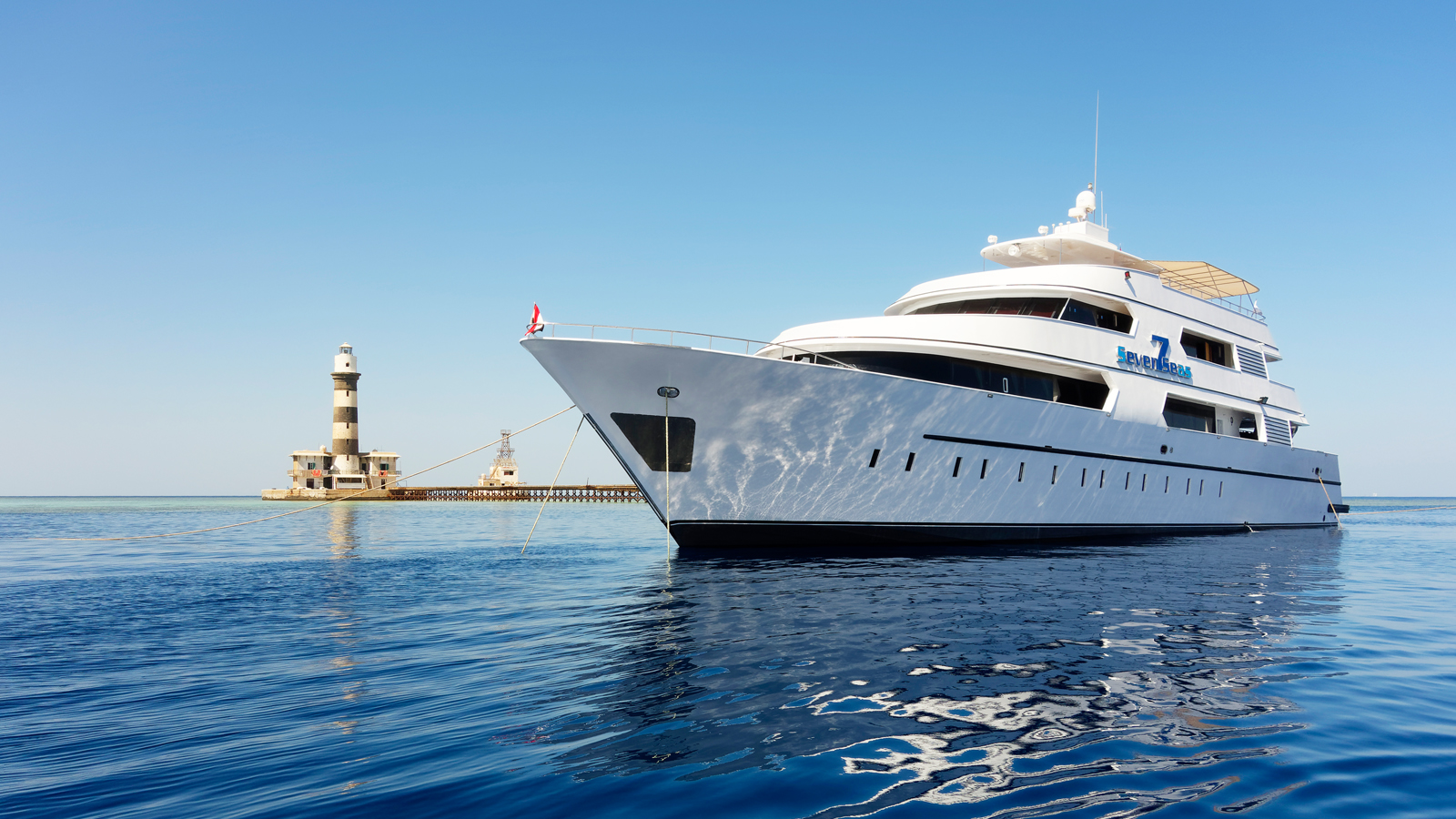 Emperor Divers is delighted to have established a new working relationship with Seven7Seas.
The cooperation will see Emperor help to promote the Seven7Seas brand and assist in the running of this hugely-popular, Egypt-based boat.
A five-time winner of the 'Best Liveaboard in the Red Sea', Seven7Seas is 41 metres long and has 12 spacious cabins each with en-suite and separate shower room.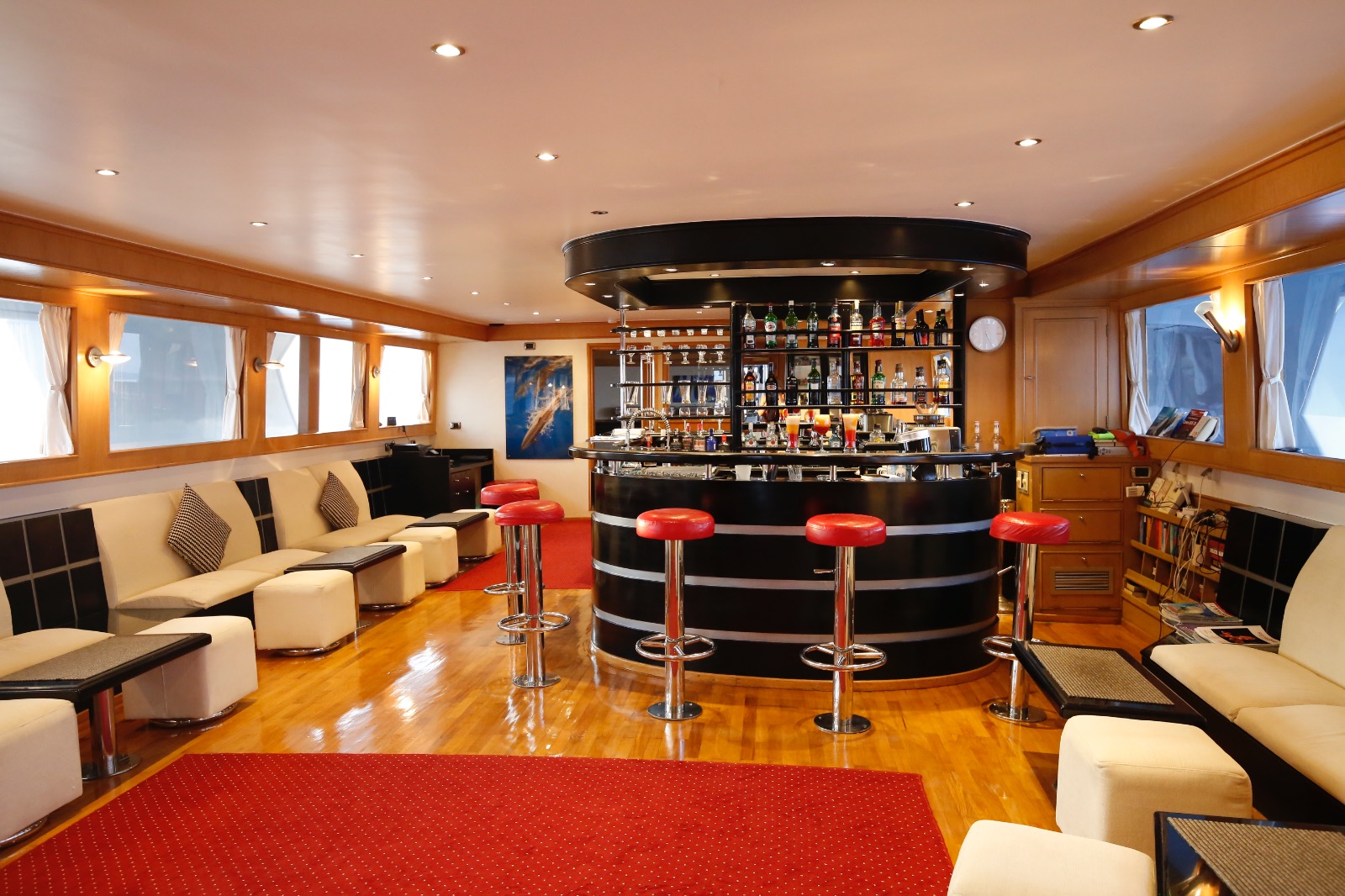 The boat's 5-star service brings great food and facilities and is perfect for exploring the waters with its large dive deck which has individual storage space and dedicated rinse tanks.
One of the most popular aspects of Seven7Seas is the view from the barbecue lounge – where freshly-grilled food is produced – but it also has a large dining room, welcoming bar and beautiful sundeck.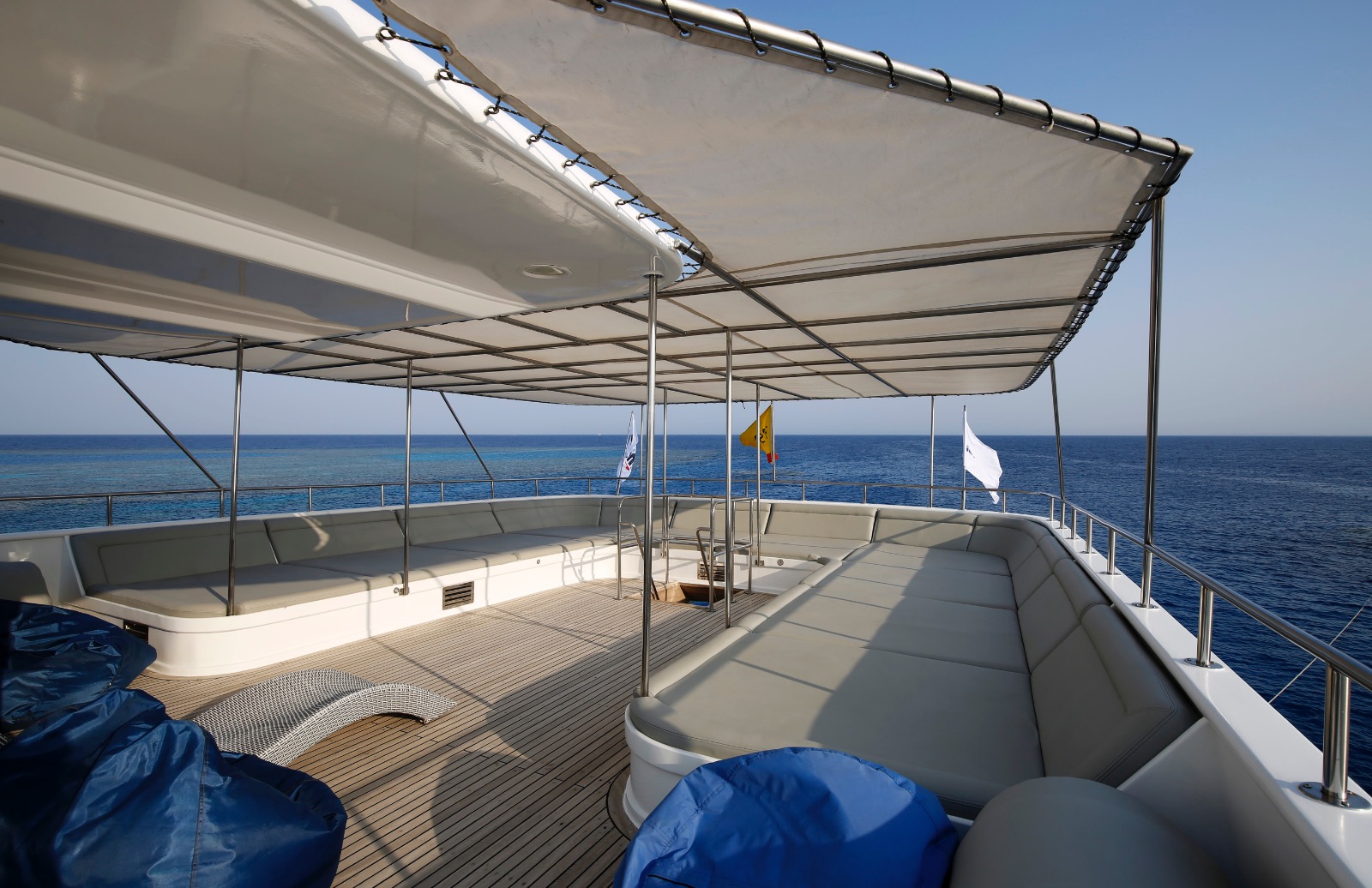 Emperor Divers CEO Alex Bryant said: "We are so happy to have been able to create this cooperation with Seven7Seas.
"She is a beautiful boat and a real favourite with divers in the Red Sea.
"With the reputation and quality Seven7Seas has, coupled with the knowledge and experience possessed by Emperor Divers, we believe by working together we can continue to create special trips for the many divers who already love visiting her and, also, for those yet to find out what a superb liveaboard she is.
"We are really looking forward to developing this relationship and seeing Seven7Seas go from strength to strength."
Anyone wanting more information on Seven7Seas can visit https://www.emperordivers.com/seven-seas-cooperation/or email reservations@emperordivers.com.
Ross Kemp on… Blue O Two's Blue Melody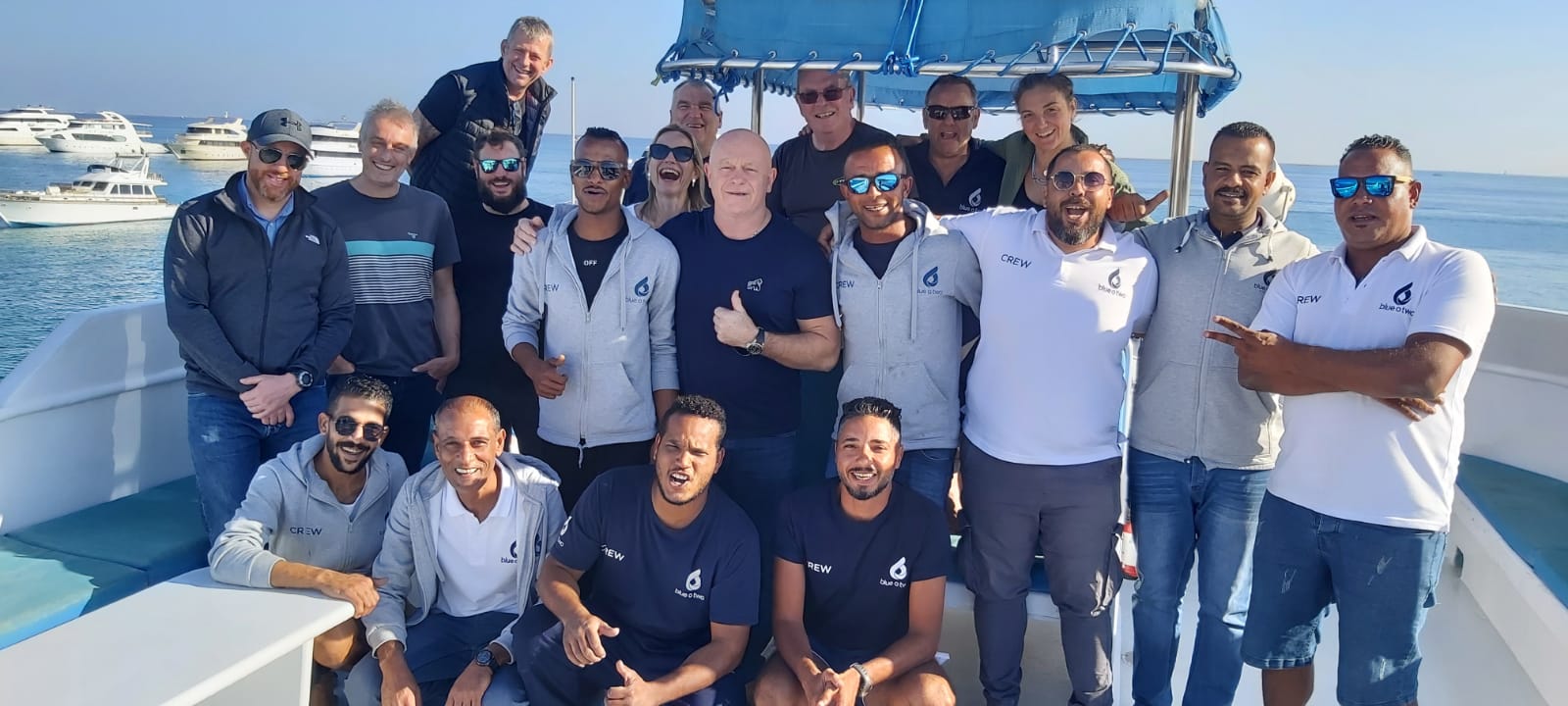 Blue O Two were recently delighted to welcome Ross Kemp on board their award-winning Red Sea liveaboard, Blue Melody. He was filming for his latest documentary series, Ross Kemp: Deep Sea Treasure Hunter, which is now on Sky History on Mondays at 9pm (UK).
The series follows Ross as he explores remnants of some of the most significant moments in British history. During his stay on Blue Melody, he uncovered some of Britain's Imperial past in the Red Sea.
Other episodes include a visit to the site of one of the most famous shipwrecks ever discovered, the Mary Rose, to mark the 40th anniversary of the ship being raised. Ross and his team also dived abandoned D-Day and Cornish wrecks. Among others in his team, Ross was joined in the Red Sea by marine archaeologist, Mallory Hass, legendary Dive Master, Neil Brock, as well as safety diver, Mark Culwick.
Aside from his many other exploits, Ross is a recognised figure in the UK diving industry. He delighted audiences at Go Diving Show 2023, as one of the speakers.
Mel Hicks, Blue O Two's customer representative in the Red Sea resort, gave the low down of her experience with Ross.
"I spent the day with him and the crew on Saturday as we had a bus to go around Hurghada and do some filming on land.  He got recognized by some Brits on holiday while we were out and was very down to earth and chilled out about it – not like his Eastenders character at all!
I asked him if he gets recognized a lot still and does he mind it. He said not at all. When he's out drinking, people often like to buy him drinks and have a good knees up, like Grant would do in the Old Vic pub, and only the occasional drunk ones want to try and fight with him.
The crew were constantly joking with him while we were driving around and he took it really well. News got around Hurghada that he was here and he said he would be happy to sign autographs/photos to send to people as he couldn't make a night out due to prepping for filming.
For his departure transfer me and Teresa did sing the theme tune to Eastenders for him, which if you have ever heard me singing karaoke, it's not a pleasant experience!"
Poor Ross! And what a lovely chap he is.
Visit www.blueotwo.com to find out more about Blue Melody and the wonders of diving in the Red Sea.