Big Blue savings… book up now for 2022/23 Red Sea liveaboard adventures
The Scuba Place, the UK's exclusive Travel Agent for MV Big Blue, are delighted to announce its post-Covid relaunch with huge savings for 2022 and 2023.
Having been completed in early 2020, immediately before the global lockdown, the British owned and operated Big Blue was launched in Egypt's Red Sea as Covid decimated the dive travel industry. With Egypt now firmly placed on the 'Rest of The World' list, and with the all clear given from the FCDO, travel is now GO GO GO!
Big Blue – she is BIG! At 42m length, she is one of the largest vessels offering Red Sea safaris there is, but space doesn't mean hundreds of divers! Built by divers for divers, she sleeps a maximum of 24 people in 12 large, air-conditioned cabins. No more squeezing past your room buddy or banging knees as you squeeze into the bathroom sideways!
There are also accessible cabins on the main deck, with doors in and out that are wide enough (and level enough) for wheelchair access.
Then there are the deck areas – the dive deck itself being deliberately over-size, a huge kitting up area that can accommodate twin-set and rebreather divers, camera tables, rinse tanks – all designed for maximum space. For the sun-lovers and for between dives, the other decks are super-spacious too – no jacuzzi taking up unnecessary space, but comfortable loungers, bean bags and cushioned seating, both under cover and in the sun.
The boat is important to all liveaboard divers – there is nothing worse than being crammed into dated, damp and tiny cabins with dodgy blankets and leaking air-conditioning units. Big Blue fixes these issues, but there is then the question of food. As Big Blue is British built and owned, expect quality food, ample quantity, and lots of snacks available between dives too. All soft drinks are provided, including on-demand tea, coffee, juices and sodas. The bar? An important part of any trip, it offers a selection of local and well-known beers and wines at very sensible prices – if you want the hard stuff, bring your own from Duty Free and let us know in advance what mixers you want – they will be provided!
The most important part of a liveaboard trip is of course the diving. Operated by Pharaoh Dive Clubs, owned by the 30+ year experienced Steve and Clare Rattle, you need to expect the totally open and flexible approach to diving. No rigid itineraries, no dictated dive times, no forced guiding – wherever possible, Big Blue operates a 'Pool is open' approach – grab your buddy, tell the deck manager, and dive!
The itineraries offered are special too – there is always a plan but the plan is flexible, based not only on the Captain's decisions and the weather as per normal, but based on you, the diver! Staying on the Thistlegorm for an extra day, following dolphins, sharks or whalesharks in the South for example – everything, within reason and consensus of course, is an option. And there is normally something different offered to other vessels too on each trip – add in Ras Mohammed and Tiran on a Northern safari, dive the Thor Guardian Support vessel at Tiran, or add in a visit to the Salem Express if you are on one of the Southern itineraries – or, specify your own custom-itinerary, and we will build it!
Nitrox is of course included and 15l, extra tanks for sidemount, twinset and even support for rebreather and tech divers can be provided.
Available for part and full charters, and with some sailings for individuals, Big Blue will set the standards for liveaboard diving in the Red Sea. To celebrate the 'post Covid relaunch', the team are keeping full charter prices at 2020 levels all the way through to 2023, subject to bookings being made by the 1st December 2021. A sensible deposit secures your charter, so grab your Club or build your own gang of buddies, or even join on of The Scuba Places' hosted trips – but do it soon!
As a guide, prices start from Just £695 (plus flights) per person in Low Season, including Port Fees, Marine Park Fees, Government Reef Protection fees and Nitrox, based on a full charter for Northern Wrecks itinerary, rising to £925 for a Deep South itinerary, again including all fees and in High Season. Book after the 1st December, and prices will have increased by at least 10%.
See The Scuba Place website for itineraries, or their e-brochure – or even better, just get in touch with the team at The Scuba Place (0203 515 9955 or john@thescubaplace.co.uk) and get planning your trip! They will build your trip to include flights if required, and offer full ATOL Protection.
Calling all ocean torchbearers in Hurghada, Egypt!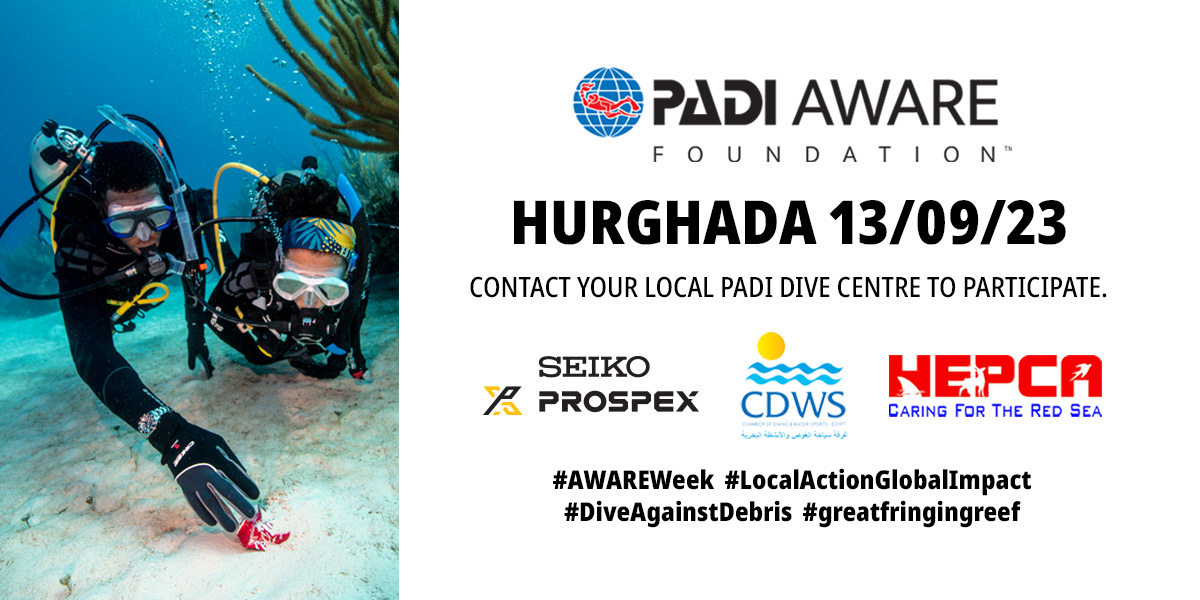 As part of PADI AWARE Week, we are thrilled to announce an exciting collaboration between PADI, PADI AWARE, Seiko, HEPCA, and CDWS. Join them for an extraordinary underwater clean-up event at Magawish Island, Hurghada, on the 13th September 2023.
Guided by local PADI dive centers and marine experts from HEPCA, you can participate in a Dive Against Debris and make a tangible difference in saving our ocean.
Imagine diving into the crystal-clear waters of the Red Sea, surrounded by vibrant marine life, while actively contributing to its preservation. Plus, you'll have the opportunity to connect with your local dive community and experience the wonders of this remarkable ecosystem.
Participants can also enjoy some fantastic giveaways, including hats, T-shirts, metal water bottles, and more.
Key Information
Date: 13th September 2023
Time: 10am
Location: Magawish Island, Hurghada
Requirements: Participants must be PADI Open Water certified
To secure your spot simply sign up here or contact a participating local PADI Dive Center in Hurghada.
Participating PADI Dive Centers at time of writing:
Emperor Divers welcome divers to Seven Seas with 20% off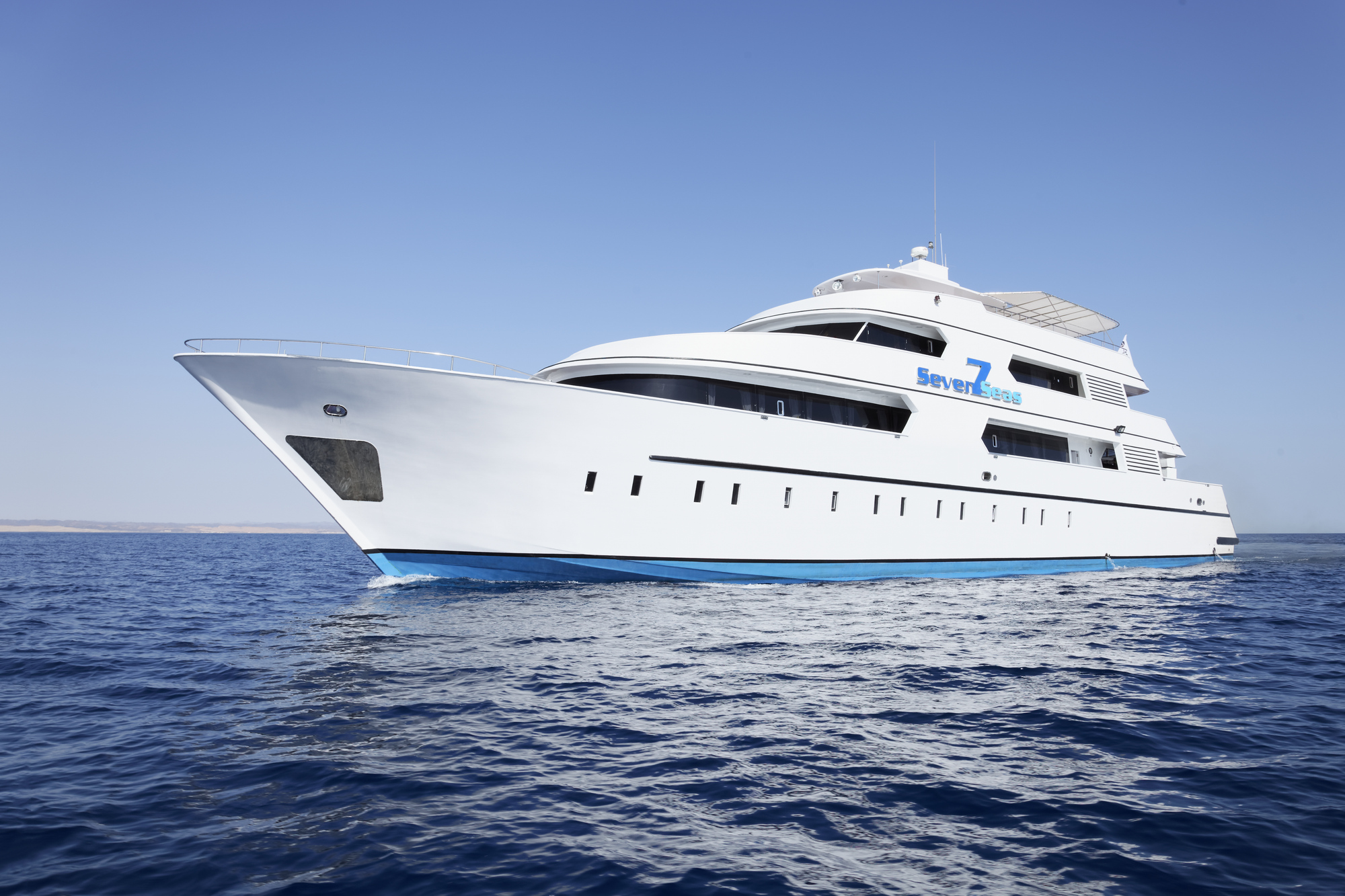 The much-loved Red Sea liveaboard Seven Seas has become a full member of the Emperor Divers fleet.
Having worked in collaboration with the Seven Seas team in recent months, Emperor have now integrated her into their fleet to make her their flagship vessel in the region.
Seven Seas has won the "Best Liveaboard in the Red Sea" award on five occasions which speaks volumes for the quality of trip she offers. She is a true icon of liveaboard holidays in this region providing a great diving experience from truly elegant surroundings.
At 41 metres long with 12 spacious cabins – each with marble clad en-suite and separate shower room – there is plenty of room to relax, while the five-star service on board includes sensational food and wonderful facilities. She is perfect for diving as the large deck has spacious and powerful zodiac tenders with ladders.
The view from the barbecue lounge – where freshly-grilled food is produced – on the upper deck is amazing while there is also a large dining room, welcoming bar and beautiful sundeck.
Bringing such a fantastic boat into the team is a real cause for celebration at Emperor who will now do everything they can to continue providing the high-quality diving holidays for which Seven Seas is renowned.
SPECIAL WELCOME OFFER – GET 20% OFF!
Anyone booking a 2023 sailing on Seven Seas will receive 20% off the cost of their trip. That's a massive saving and a great way to welcome Seven Seas to the Emperor family.
For more, visit www.emperordivers.com