Diving with…Hannah Brown, Eagle Divers, Sharm el Sheikh, Red SeaDiving with, Eagle Divers, Egypt, featured, Hannah Brown, holiday, Ras Mohammed, red sea, sharm el sheikh, Travel, vacation
In this ongoing series, we speak to the people who run dive centres, resorts and liveaboards from around the world about their businesses and the diving they have to offer…
---
What is your name?
Hannah Brown
What is the name of your business?
Eagle Divers, Sharm el Sheikh, Egypt
What is your role within the business?
Marketing & Reservations Manager, and PADI Dive Instructor
How long has the business operated for?
6.5 years
How long have you dived for, and what qualification are you?
I've been diving for 10 years, with the first few years based in Scotland before moving to the Red Sea for the slightly warmer and clearer water. I'm currently a PADI Master Scuba Diver Trainer, certified in 2013.
What is your favourite type of diving?
I'm equally as happy in the shallows searching for macro life as I am hanging deep in the blue looking out for Hammerheads.
If you could tell people one thing about your business (or maybe more!) to make them want to visit you what would it be?
That we're not just a business! We're friends and family who work hard together with a shared passion and aim to provide some seriously great diving and course experiences during your well-earned holiday. We're really proud of the comments our previous guests have left on TripAdvisor, referring to 'family atmosphere', 'fun', 'trusting', 'friendly' and 'safe.' Feedback like this doesn't make us complacent, quite the opposite in fact, as it pushes us to continue to provide the best level of service we can. We're developed enough to be able to provide you with any type of diving or course you might want, but small enough to still provide that personal service which I believe is why people keep coming back to dive with us.
What is your favorite dive in your location and why?
My favourite dive site is Shark Observatory in Ras Mohamed, either from the shore or boat. From the shore, the entrance is the coolest, dropping through a hole in the rock before moving through a small cave and coming out to a drop-off too deep to see the bottom. The site is mainly a steep wall dive with inlets and overhangs, which are completely covered in colour and life. The site obviously got its name from being a place where sharks were easily observed, although nowadays they're not as common but there's still potential. If you don't get a shark you won't be disappointed; you've got a great chance of spotting giant trevally, tuna, eagle ray, turtle and huge napoleon wrasse instead.
It might not be one of the best known or most talked about sites in the Northern Red Sea, but for me it's one of the best……second up would be Small Crack, but you need to come dive it for yourself to find out why.
What types of diving are available in your location?
Nearly every type of dives/diving you can get are possible in the Northern Red Sea. We have a couple of cracking shore dives, my favourite being at the site where we camp in Ras Mohamed, but mainly dives are conducted from purpose built dive boats. We've got drift, mooring, wall, deep, canyons, plateaus, lagoons, blue water, macro, wrecks… the list goes on. It doesn't matter if you're new to diving or a seasoned pro, dives are geared to the level of the diver with routes altered so no two dives are ever the same.
What do you find most rewarding about your current role?
I love seeing the excitement on someone's face when they jump into the Red Sea and realise how amazing the visibility is, or when they spot their first turtle/shark/manta/eagle ray. However, the most rewarding part of being a Dive Instructor for me is when you take a non-diver and help them become a really confident and capable diver.
What is your favorite underwater creature?
Hammerhead sharks because they are just incredible to watch underwater, or torpedo rays because of the way they shake their butt's when swimming – it always makes me laugh.
Are there any exciting changes / developments coming up in the near future?
YES! I am beyond excited to announce that our diving centre has just acquired its very own dive boat, Eagle One. This has been a dream of ours since the beginning and through hard work and dedication to that dream from our entire team, we've managed to get there in not such a long time. I get the great job of accessorizing items such as the mugs, flags and reusable water bottles, so I'm excited about that also!
2017 also saw us run our first three Southern Red Sea liveaboards, after primarily focusing on Northern routes the previous years. Due to the success of the trips we already have the dates for 2018 'Best of the Southern Red Sea' in the diary with flights available to book now. If anyone fancies joining us for a week exploring Daedalus, Rocky, and Zabargad feel free to get in touch, we're hoping for more hammerheads and maybe even a tiger shark this year!
There's one more development on the cards which will be announced very soon, so keep checking our Facebook, Instagram and newsletter for more details.
As a center what is the biggest problem you face at the moment?
Well, it would be nice if the UK Government would finally lift the direct flight restrictions currently still in place. Although that being said, many of our British guests who have been diving out in Sharm with us for the past 6 years have been finding alternative routes out, so the impact is really not as big anymore. Combined with all the other countries who do provide direct flights, the diving industry as a whole has picked back up which is really lovely to see. The direct flights would just make it that little bit more convenient travelling here. The restrictions will be lifted in the not too distant future I'm sure, but I guess the UK Government has a lot on its plate at the moment so it isn't much of a priority.
Is your center involved in any environmental work?
Absolutely; now that we have our own boat we are working hard to reduce the amount of daily waste, specifically with reference to disposable plastic cups and bottles, which are all too common in Egypt. We encourage all passengers (during the initial boat briefing) to fill their own water bottles throughout the day and to ensure any rubbish from snacks are secure in the bins to prevent it from accidentally blowing into the sea. Every dive is a dive against debris, with divers and snorkelers encouraged to remove any rubbish they find during a dive and dispose of it properly, and obviously it goes without saying that the no touch policy for coral and marine life is emphasized and enforced during dives.
In general the dive community here in Sharm is really good at looking after the marine environment and it's not uncommon for organised clean-up dives to recover very little in terms of trash because of the positive attitude to keeping the sea clean. There's always room for improvement of course, personally I'd love to see the whole country rid of single use plastic bags, there is just no need for them.
How do you see the SCUBA / Freediving / snorkelling industry overall? What changes would you make?
I feel like the industry is growing at a natural pace, especially with SCUBA and freediving becoming more accessible around the world and to people of different abilities. The whole trend for mermaids which started lasted year has seen a massive increase in popularity of water-based activities, especially for children, and in turn has also increased people's awareness of the different sports which is great.
What would you say to our visitors to promote the diving you have to offer?
We want you to have the best dives, and the best holiday possible, so if you're looking for a top notch experience with some of the best diving on offer at a competitive price, you now know where to find us!
 Where can our visitors find out more about your business?
They can check out our website at www.eaglediversegypt.com and if they like, sign up to the monthly newsletter which includes special offers, events and blogs. Of course we've also got the Eagle Divers Egypt Facebook page which lists the available services, upcoming events and daily diving updates plus the dive centre Instagram account. If you need a question answered quickly, then the best route is to either email us at info@eagle-divers.com or send us a message on WhatsApp at +44 7598 007375.
Emperor Divers to work in cooperation with Seven7Seas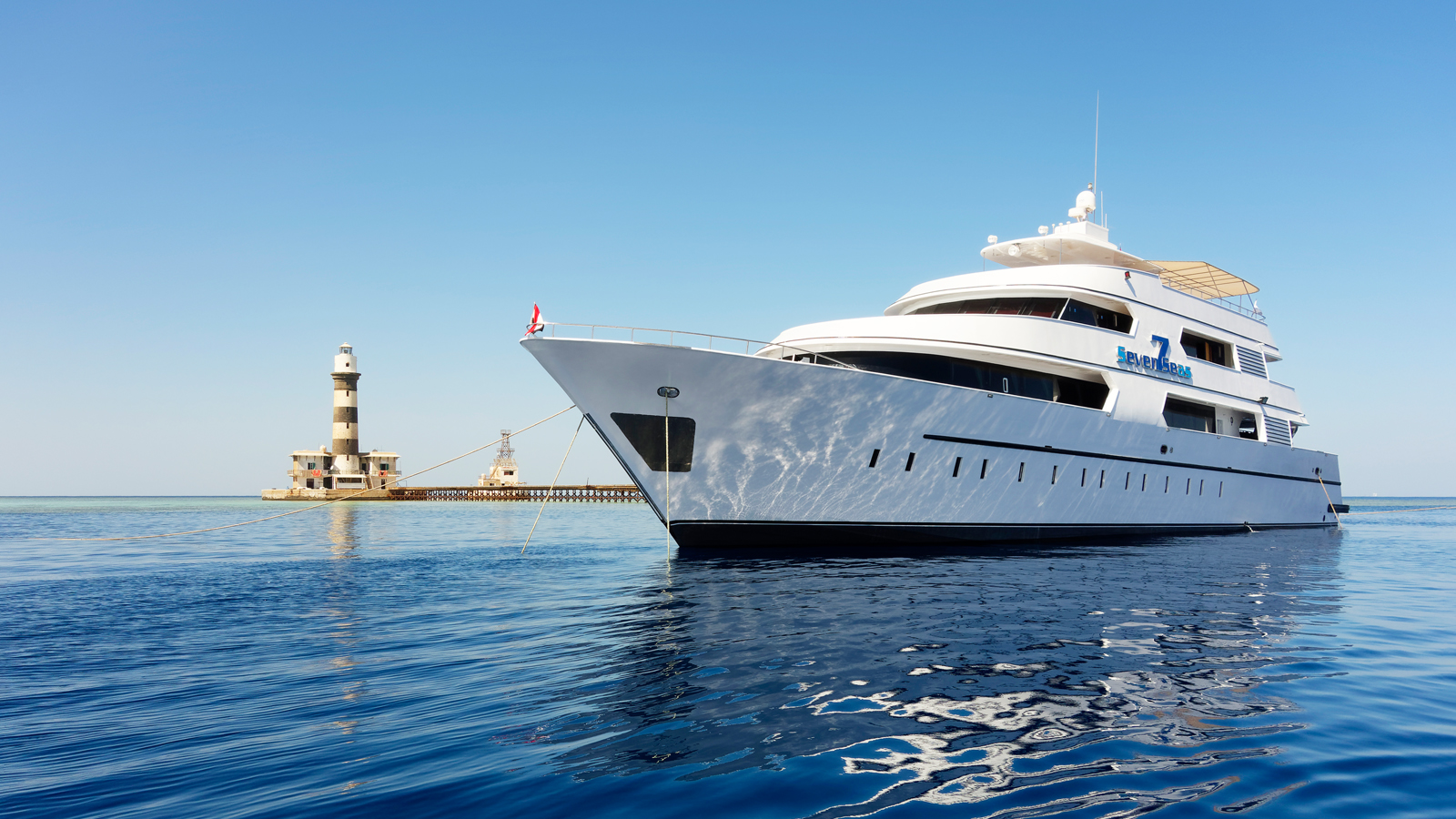 Emperor Divers is delighted to have established a new working relationship with Seven7Seas.
The cooperation will see Emperor help to promote the Seven7Seas brand and assist in the running of this hugely-popular, Egypt-based boat.
A five-time winner of the 'Best Liveaboard in the Red Sea', Seven7Seas is 41 metres long and has 12 spacious cabins each with en-suite and separate shower room.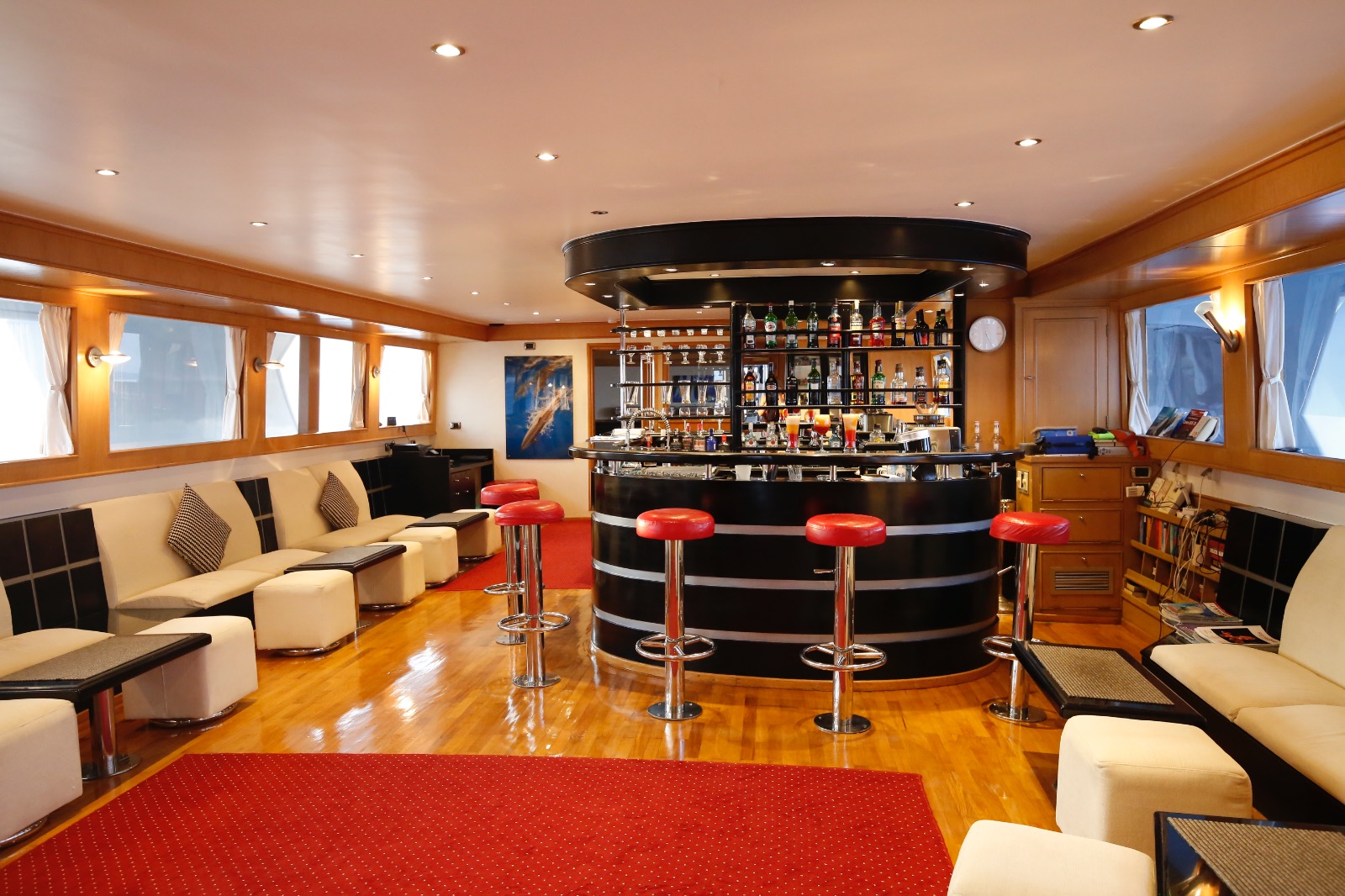 The boat's 5-star service brings great food and facilities and is perfect for exploring the waters with its large dive deck which has individual storage space and dedicated rinse tanks.
One of the most popular aspects of Seven7Seas is the view from the barbecue lounge – where freshly-grilled food is produced – but it also has a large dining room, welcoming bar and beautiful sundeck.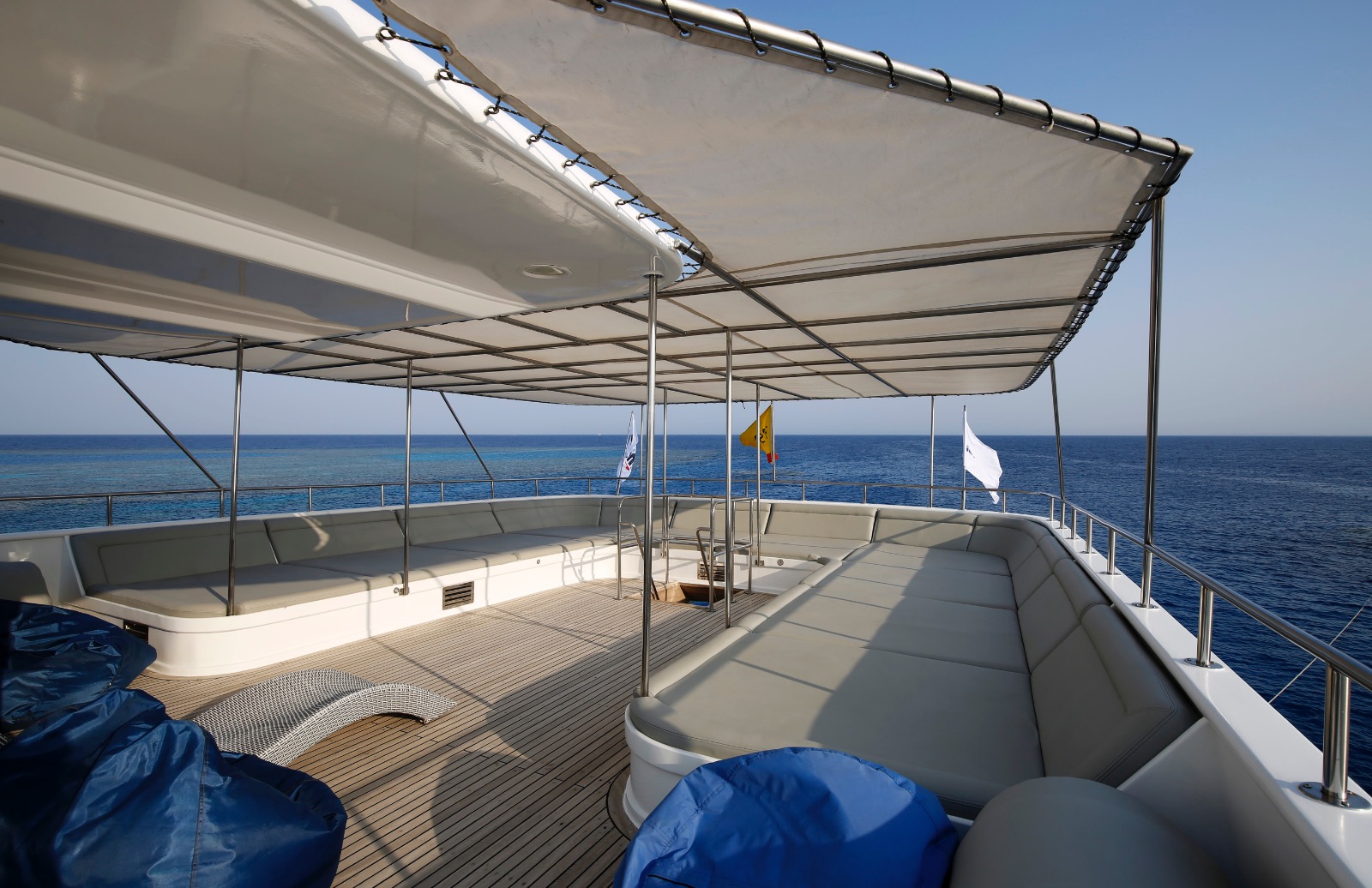 Emperor Divers CEO Alex Bryant said: "We are so happy to have been able to create this cooperation with Seven7Seas.
"She is a beautiful boat and a real favourite with divers in the Red Sea.
"With the reputation and quality Seven7Seas has, coupled with the knowledge and experience possessed by Emperor Divers, we believe by working together we can continue to create special trips for the many divers who already love visiting her and, also, for those yet to find out what a superb liveaboard she is.
"We are really looking forward to developing this relationship and seeing Seven7Seas go from strength to strength."
Anyone wanting more information on Seven7Seas can visit https://www.emperordivers.com/seven-seas-cooperation/or email reservations@emperordivers.com.
Ross Kemp on… Blue O Two's Blue Melody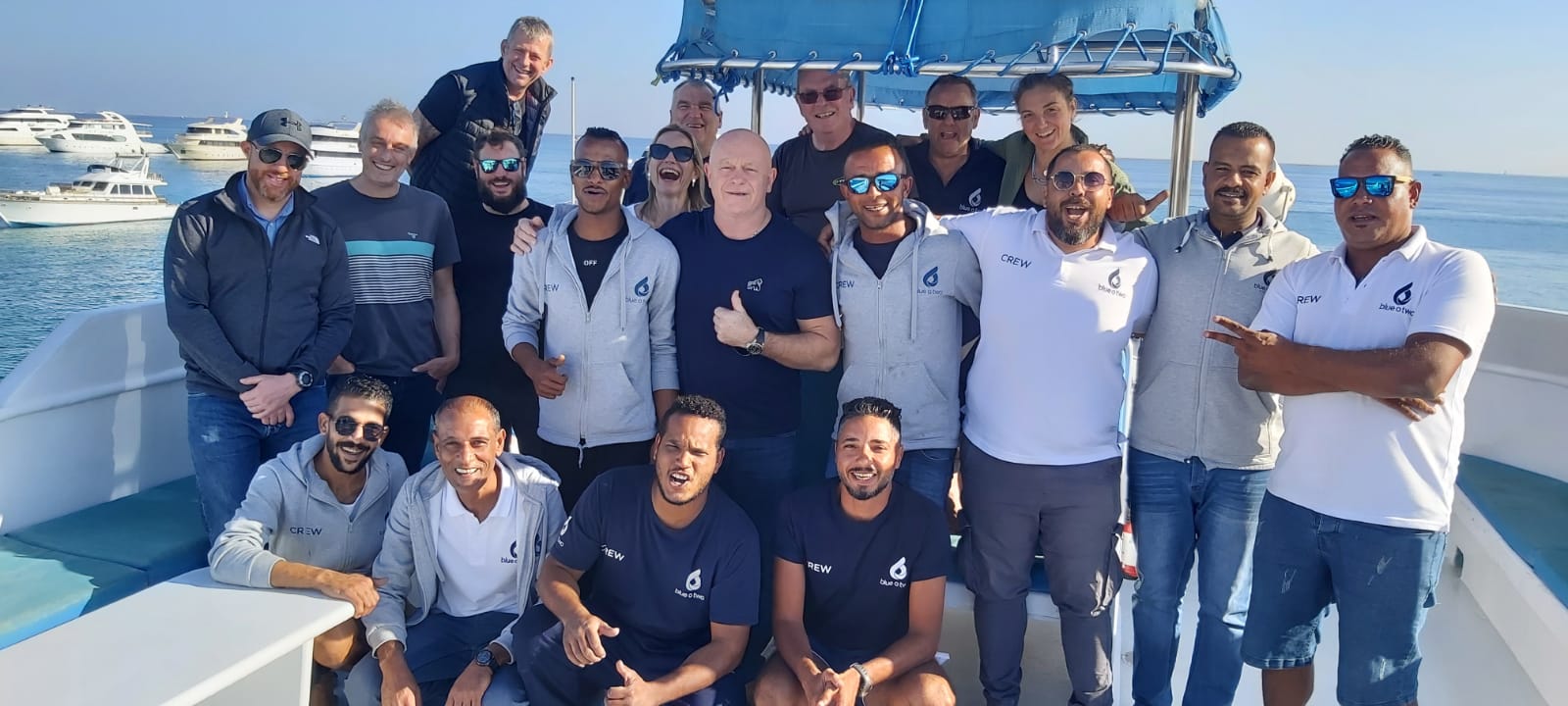 Blue O Two were recently delighted to welcome Ross Kemp on board their award-winning Red Sea liveaboard, Blue Melody. He was filming for his latest documentary series, Ross Kemp: Deep Sea Treasure Hunter, which is now on Sky History on Mondays at 9pm (UK).
The series follows Ross as he explores remnants of some of the most significant moments in British history. During his stay on Blue Melody, he uncovered some of Britain's Imperial past in the Red Sea.
Other episodes include a visit to the site of one of the most famous shipwrecks ever discovered, the Mary Rose, to mark the 40th anniversary of the ship being raised. Ross and his team also dived abandoned D-Day and Cornish wrecks. Among others in his team, Ross was joined in the Red Sea by marine archaeologist, Mallory Hass, legendary Dive Master, Neil Brock, as well as safety diver, Mark Culwick.
Aside from his many other exploits, Ross is a recognised figure in the UK diving industry. He delighted audiences at Go Diving Show 2023, as one of the speakers.
Mel Hicks, Blue O Two's customer representative in the Red Sea resort, gave the low down of her experience with Ross.
"I spent the day with him and the crew on Saturday as we had a bus to go around Hurghada and do some filming on land.  He got recognized by some Brits on holiday while we were out and was very down to earth and chilled out about it – not like his Eastenders character at all!
I asked him if he gets recognized a lot still and does he mind it. He said not at all. When he's out drinking, people often like to buy him drinks and have a good knees up, like Grant would do in the Old Vic pub, and only the occasional drunk ones want to try and fight with him.
The crew were constantly joking with him while we were driving around and he took it really well. News got around Hurghada that he was here and he said he would be happy to sign autographs/photos to send to people as he couldn't make a night out due to prepping for filming.
For his departure transfer me and Teresa did sing the theme tune to Eastenders for him, which if you have ever heard me singing karaoke, it's not a pleasant experience!"
Poor Ross! And what a lovely chap he is.
Visit www.blueotwo.com to find out more about Blue Melody and the wonders of diving in the Red Sea.