Aggressor Adventures announces new liveaboard, Red Sea RE Aggressor
Aggressor Adventures® announces the addition of the Red Sea Royal Evolution (RE) Aggressor to its excursion lineup in Egypt. The new liveaboard joins the Red Sea Aggressor II and Red Sea Aggressor III, which offer diving throughout Egypt to Ras Mohamed and the Straits of Tiran, along with the Nile Queen, Aggressor's river cruise sailing adventure on the Nile River.
"We're excited to add the Red Sea RE Aggressor to our offerings in Egypt, which is already one of our most popular destinations," says Wayne Brown, CEO of Aggressor Adventures. "The Red Sea is one of the most spectacular diving destinations in the world due to its incredible visibility and breath-taking soft corals. These pristine waters and rarely visited sites offer astounding shark dives with massive schooling hammerheads, whale sharks, grey and silky sharks. We know our customers are going to love this addition to our offerings."
Starting February 2022, the Red Sea RE Aggressor will offer three unique itineraries to Sudan, Deep South Sudan and Deep South Egypt. All Sudan itineraries along with the Deep South Egypt itinerary depart from and return to Port Ghalib, Egypt. The Red Sea RE Aggressor departs from Port Gahlib to the remote Swakin Islands including Masamarit, Loka and Dahrat Abid. The return route north visits to Sha'ab Rumi, Abington Reef, Pfeiffer Reef and St. John's Reef with all itineraries departing from and returning to Port Ghalib, Egypt.
Deep South Egypt itineraries are eight days and begin diving at St. John's and Dangerous Reefs. The week commences with stops at Fury Shoal and Dolphin House. Travelers will spend two days at Zabargad and Rocky Islands, where swift currents draw manta rays, dolphins and silvertip sharks.
Fourteen-day Sudan itineraries have check-out dives at Fury Shoal before cruising south to the Umbria Wreck and the Sanganeb Plateau. Sha'ab Rumi is home to Jacques Cousteau's Conshelf II underwater structures and fantastic hammerhead, grey and silky shark encounters.
"Guests can take their Red Sea RE Aggressor adventure to the next level by adding a relaxing river cruise on the Nile Queen, or Cairo or Luxor exploration or a back to back Red Sea Aggressor II or III adventure. Aggressor travel agents can also customize a land program specific to each guest's wants and needs, complete with private transfers, accommodations, and private guided tours," says Bob Thompson, Manager of Aggressor Detours.
For more information about the Red Sea RE Aggressor and intro specials, visit https://aggressor.com/destination/RedSea-Sudan.
---
Source: www.divenewswire.com
Calling all ocean torchbearers in Hurghada, Egypt!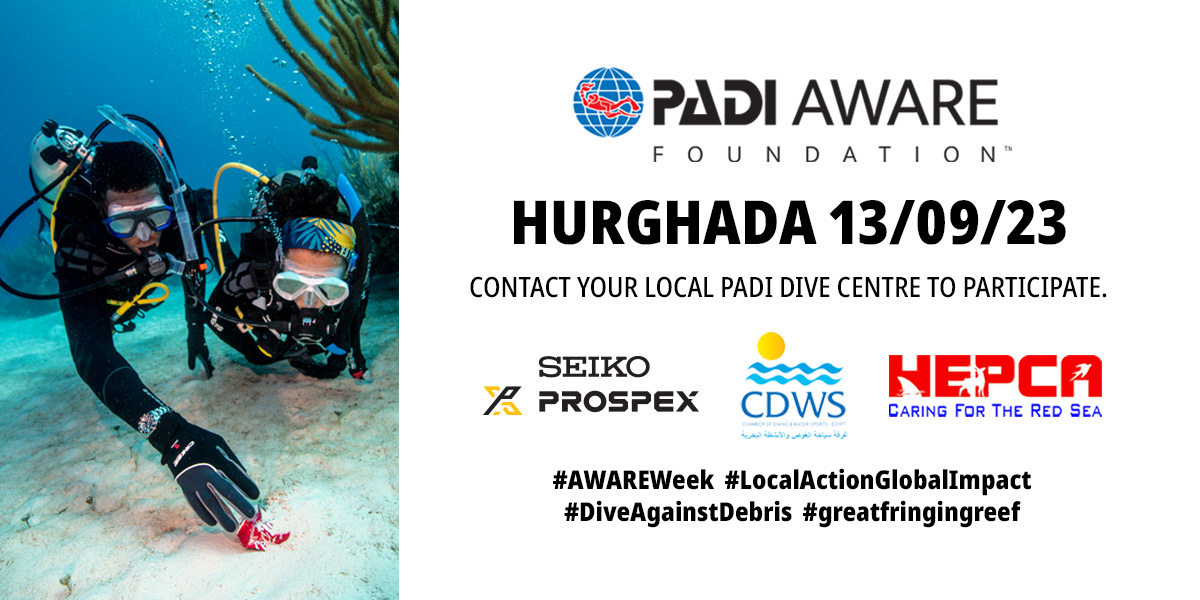 As part of PADI AWARE Week, we are thrilled to announce an exciting collaboration between PADI, PADI AWARE, Seiko, HEPCA, and CDWS. Join them for an extraordinary underwater clean-up event at Magawish Island, Hurghada, on the 13th September 2023.
Guided by local PADI dive centers and marine experts from HEPCA, you can participate in a Dive Against Debris and make a tangible difference in saving our ocean.
Imagine diving into the crystal-clear waters of the Red Sea, surrounded by vibrant marine life, while actively contributing to its preservation. Plus, you'll have the opportunity to connect with your local dive community and experience the wonders of this remarkable ecosystem.
Participants can also enjoy some fantastic giveaways, including hats, T-shirts, metal water bottles, and more.
Key Information
Date: 13th September 2023
Time: 10am
Location: Magawish Island, Hurghada
Requirements: Participants must be PADI Open Water certified
To secure your spot simply sign up here or contact a participating local PADI Dive Center in Hurghada.
Participating PADI Dive Centers at time of writing:
Emperor Divers welcome divers to Seven Seas with 20% off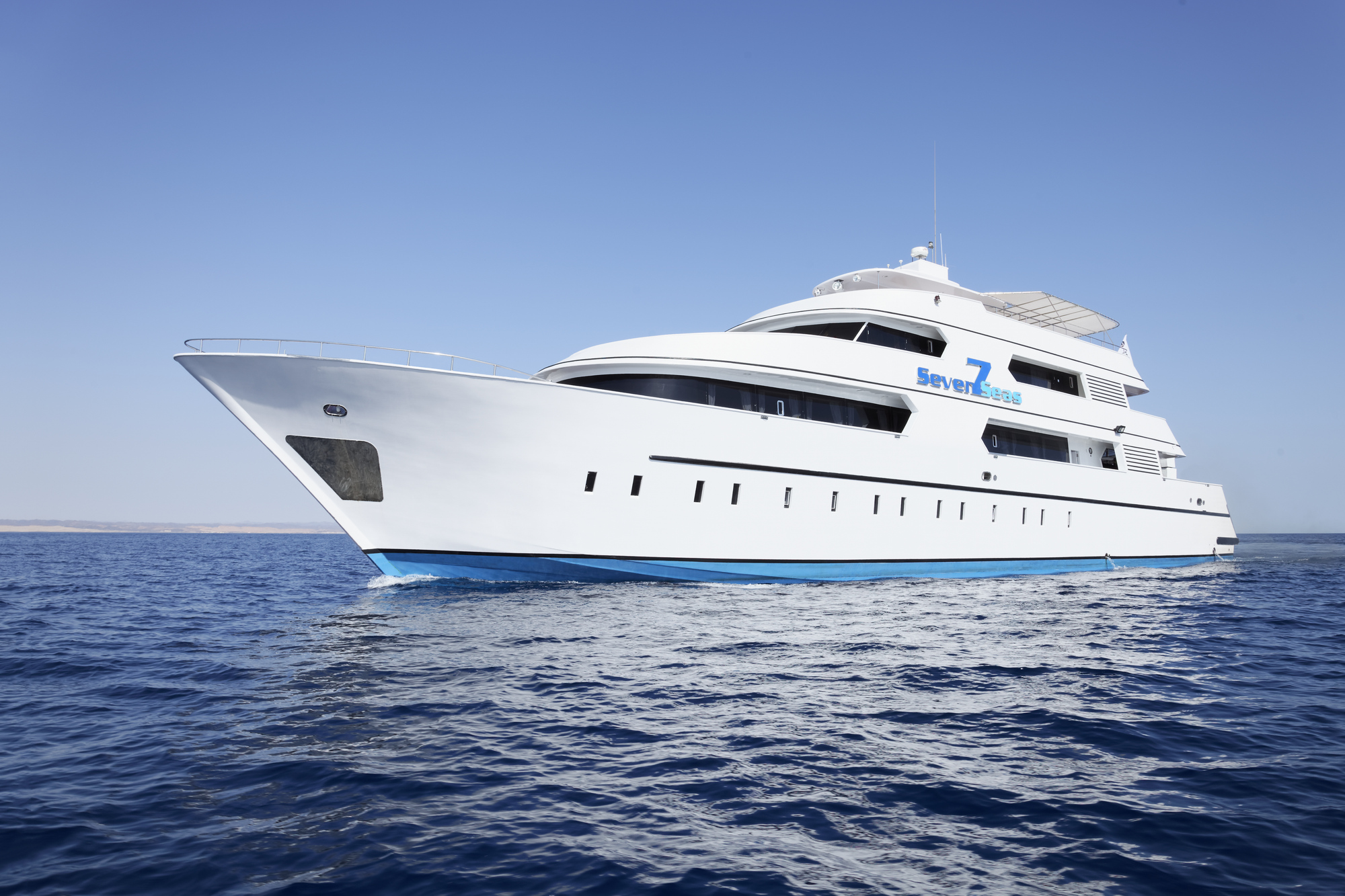 The much-loved Red Sea liveaboard Seven Seas has become a full member of the Emperor Divers fleet.
Having worked in collaboration with the Seven Seas team in recent months, Emperor have now integrated her into their fleet to make her their flagship vessel in the region.
Seven Seas has won the "Best Liveaboard in the Red Sea" award on five occasions which speaks volumes for the quality of trip she offers. She is a true icon of liveaboard holidays in this region providing a great diving experience from truly elegant surroundings.
At 41 metres long with 12 spacious cabins – each with marble clad en-suite and separate shower room – there is plenty of room to relax, while the five-star service on board includes sensational food and wonderful facilities. She is perfect for diving as the large deck has spacious and powerful zodiac tenders with ladders.
The view from the barbecue lounge – where freshly-grilled food is produced – on the upper deck is amazing while there is also a large dining room, welcoming bar and beautiful sundeck.
Bringing such a fantastic boat into the team is a real cause for celebration at Emperor who will now do everything they can to continue providing the high-quality diving holidays for which Seven Seas is renowned.
SPECIAL WELCOME OFFER – GET 20% OFF!
Anyone booking a 2023 sailing on Seven Seas will receive 20% off the cost of their trip. That's a massive saving and a great way to welcome Seven Seas to the Emperor family.
For more, visit www.emperordivers.com